Dozier's rare feat: HRs in 7 straight vs. KC
Twins second baseman has nine home runs in August, leading MLB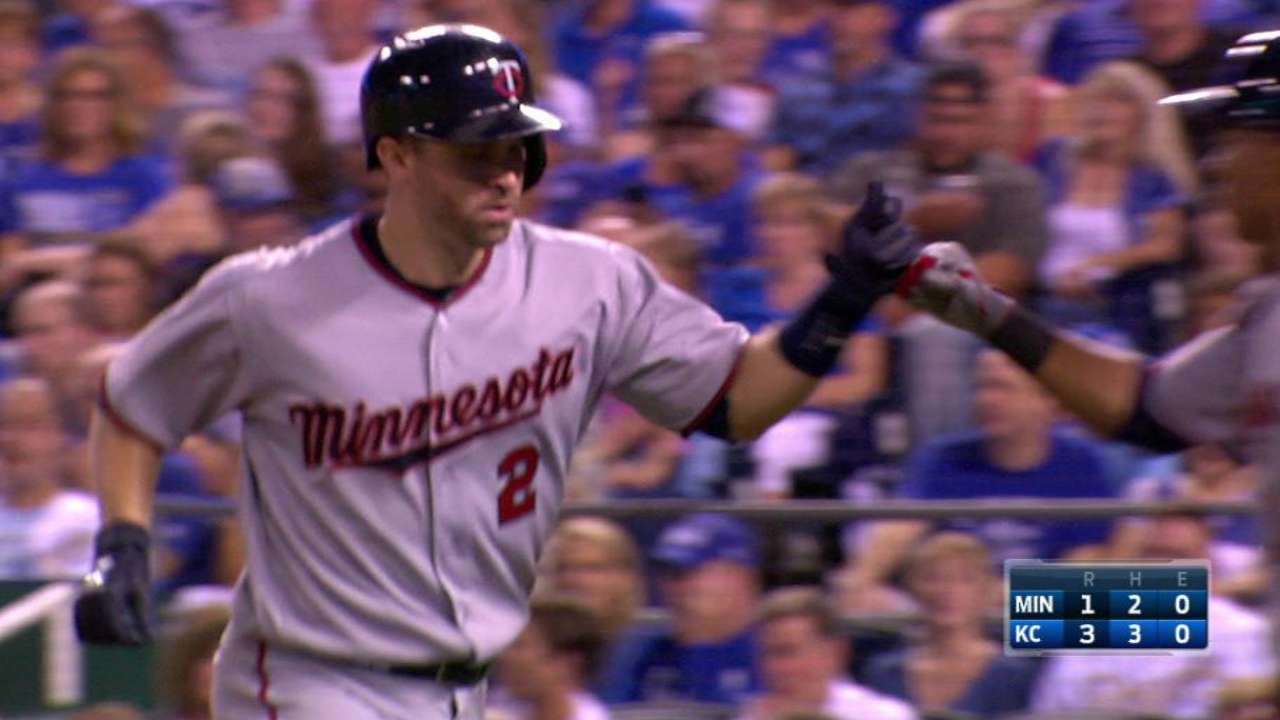 KANSAS CITY -- Brian Dozier continued to terrorize the Royals on Friday, as he accomplished a rare feat by homering in seven straight starts against Kansas City, becoming the fourth player in Major League history to homer in that many consecutive games against one team.
But it came in a difficult 5-4, 11-inning loss that featured a three-hour, three-minute rain delay and a 12-minute electrical delay because half of the lights went out at Kauffman Stadium at 12:17 a.m. CT.
Before the lengthy delays and the hit that saw the game end at 2:16 a.m. on Eric Hosmer's walk-off RBI single off J.T. Chargois, Dozier smashed a solo shot off Royals right-hander Edinson Volquez in the third inning for his 28th homer, tying his career high that was set last year. It was crushed to center, leaving the bat at 105.7 mph and traveling a projected 454 feet, his longest homer of the Statcast™ era going back to last year.
"The one tonight that was a long one," Twins manager Paul Molitor said. "What I like about it is that the vector of his home runs seems to be expanding. It may be a trivial point to some, but it's not all the same spot to left field on the pull side. He's gaining confidence he doesn't have to hit to the corner to have a chance."
Dozier joined Ken Griffey Jr., Harmon Killebrew and Joe Adcock as the only four players to homer in at least seven straight games against one team. Griffey Jr. did it in seven straight against the Rangers in '94, Killebrew in nine consecutive vs. the Kansas City A's in 1961 and Adcock in nine straight against the Dodgers in '56.
It was also Dozier's ninth homer in August, and he leads the Majors with 20 homers dating back to June 25, a span of 49 games.
"Everything feels good," Dozier said. "I got a good pitch to hit. I worked the count. Spit on a few breaking balls in the dirt and got a fastball right down the middle."
Dozier, though, nearly lost out on his second homer in the last 10 days, as the game was delayed with one out in the fifth with the Twins and Royals tied at 4. If the game would've been postponed -- like what happened on Aug. 9 against the Astros, when Dozier homered in a game that was ultimately washed out by rain -- the Twins second baseman would've had another homer erased.
Dozier said his teammates teased him about it during the rain delay, but he would've traded in his homer for a chance at a win, even if it meant replaying the game.
"Looking at now," Dozier said, "I wish it would've got washed out."
Rhett Bollinger has covered the Twins for MLB.com since 2011. Read his blog, Bollinger Beat, follow him on Twitter @RhettBollinger and listen to his podcast. This story was not subject to the approval of Major League Baseball or its clubs.