Brewers activate Santana, call up Suter
Flores DFA'd, Magnifico optioned in corresponding moves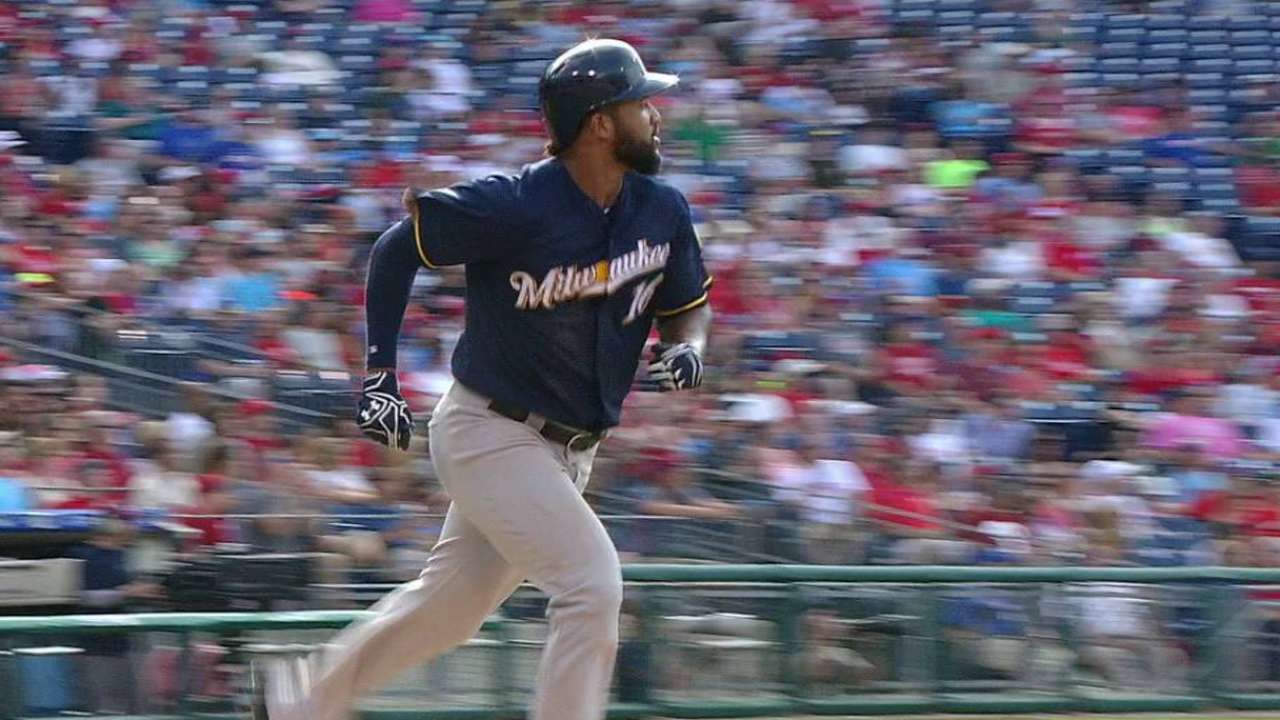 SEATTLE -- The Brewers reinstated outfielder Domingo Santana from the 15-day disabled list on Friday, in time to start him in right field and bat him sixth in the opener of a three-game weekend series against the Mariners at Safeco Field.
Santana finished 1-for-3 with a walk in a 7-6 loss to Seattle.
The move coincided with left-handed pitcher Brent Suter being selected from Triple-A Colorado Springs to start Friday night's game in his MLB debut. He allowed four runs on seven hits in 4 1/3 innings.
Outfielder Ramon Flores was designated for assignment to make room on the roster for Santana, and right-hander Damien Magnifico was optioned to Colorado Springs to make room for Suter.
The Brewers have been waiting for Santana to return to health since he went on the DL on June 10, retroactive to June 8, because of right elbow soreness. It was Santana's second stint on the DL this year, as he was out from May 20-June 2 because of right shoulder soreness.
As for Flores, it remains to be seen what happens now that he's been designated. Brewers manager Craig Counsell said he hopes Flores stays in the organization but admitted that the 24-year-old, who played all three outfield positions and first base and slashed .205/.294/.261 in 249 at-bats with the Brewers this year, scuffled at the big league level.
"Ramon had a good chance to play," Counsell said. "In May and June, he was playing quite a bit. He never quite got going. I think there's a talented hitter in there, but he just never got going this year, for whatever reason."
Anderson ready to pitch
Starter Chase Anderson, who exited his Tuesday outing against the Cubs after 11 pitches when he was hit in the left thigh by a 107 mph Kris Bryant line drive, was deemed ready to pitch by Counsell on Friday.
But the Brewers skipper said Anderson would be an option out of the bullpen this weekend until the Milwaukee staff figures out how they'll fit him back into the rotation.
"He's made progress every day," Counsell said. "He's ready to pitch in a game."
Braun to see some DH time
Left fielder Ryan Braun, who sprained his knee and ankle on Tuesday in Chicago, was penciled in at designated hitter Friday night, one day after coming back and going 0-for-5 in the series finale against the Cubs.
Counsell wouldn't commit to a full weekend's worth of DH time for Braun, though.
"I've kind of got some ideas on the next couple days," Counsell said. "We'll see how he is. I do want to get him off his feet if I can. He played yesterday and did fine, but it's good that we can get him off his feet today. But there are other players, too, because of the week we had in Chicago, that I think could benefit from getting off the field, too."
Worth noting
• Counsell didn't point to any specific reason for the odd fact that Suter's start Friday night was the first by any Brewers left-hander since the 2013 season.
"I think it's a little fluky," Counsell said. "It's certainly nothing to do with player development … the intention of how we acquire players. It's just a funny statistic. It's not meant to be that way."
• Expect Hernan Perez to get a lot of playing time. Counsell said he'll slot the utility man in whenever -- and wherever -- he can.
"He can play right field, he can play third base, he can play shortstop, he can play second base, he can play first base," Counsell said. "I've got five choices. There's a lot of places for him to play."
• Starter Junior Guerra, on the DL with right elbow soreness, threw a bullpen session without incident, although as Counsell pointed out, "It's the day after, anyway, that's more important."
Doug Miller is a reporter for MLB.com. Follow him on Twitter @DougMillerMLB. This story was not subject to the approval of Major League Baseball or its clubs.