Mariners recall Romero, activate Cishek from DL
Lee, Wieland optioned to Triple-A Tacoma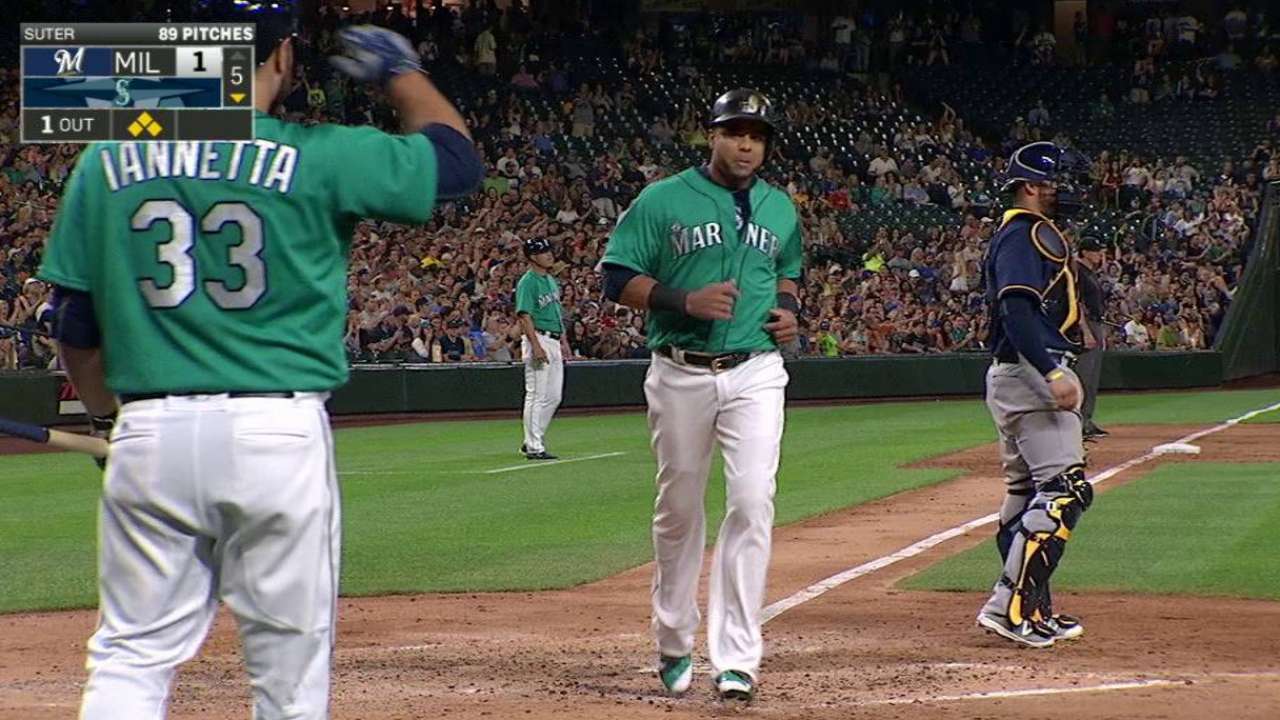 SEATTLE -- The Mariners recalled infielder/outfielder Stefen Romero from Triple-A Tacoma and activated reliever Steve Cishek from the 15-day disabled list on Friday. Seattle also optioned struggling first baseman Dae-Ho Lee and spot starter Joe Wieland to Tacoma.
Romero gives the Mariners a right-handed hitting option to platoon with Adam Lind at first base, a job Lee filled very well in the first half of the season. But the 34-year-old rookie from Korea has hit just .109 with one home run in 20 games since the All-Star break and will be given a chance to regain his form by playing every day in Tacoma.
"I lost confidence in my bating," Lee said through his interpreter, D.J. Park.
A hand injury that bothered him out of the break is now completely healed, he said, but he has yet to get his timing back.
Romero has hit .314 with a .922 OPS in 96 games for Tacoma, with 19 home runs and 80 RBIs while earning a starting spot for the Pacific Coast League in the 2016 Triple-A All-Star Game. He's played 15 games at first base for Tacoma along with 64 games in the outfield. While he will primarily play first base against left-handed pitching, he could fill in elsewhere.
Romero has played parts of the past three seasons with Seattle. He finished 1-for-2 with a walk and an RBI single in Friday's 7-6 win over the Brewers.
"This is an opportunity for him," manager Scott Servais said before the game. "At some point you just have to take a deep breath and say, 'Hey, what do I have to lose?' And that for me has kind of been our battle cry for quite awhile, at least the last month or so. Let's just have fun, go play, let it rip, what do I have to lose?"
Lee was one of the top rookies in the American League in the first half, batting .288 with 12 home runs and 37 RBIs in 64 games prior to the All-Star break. But his average has fallen to .246 since and he's totaled 13 homers and 41 RBIs in 84 games.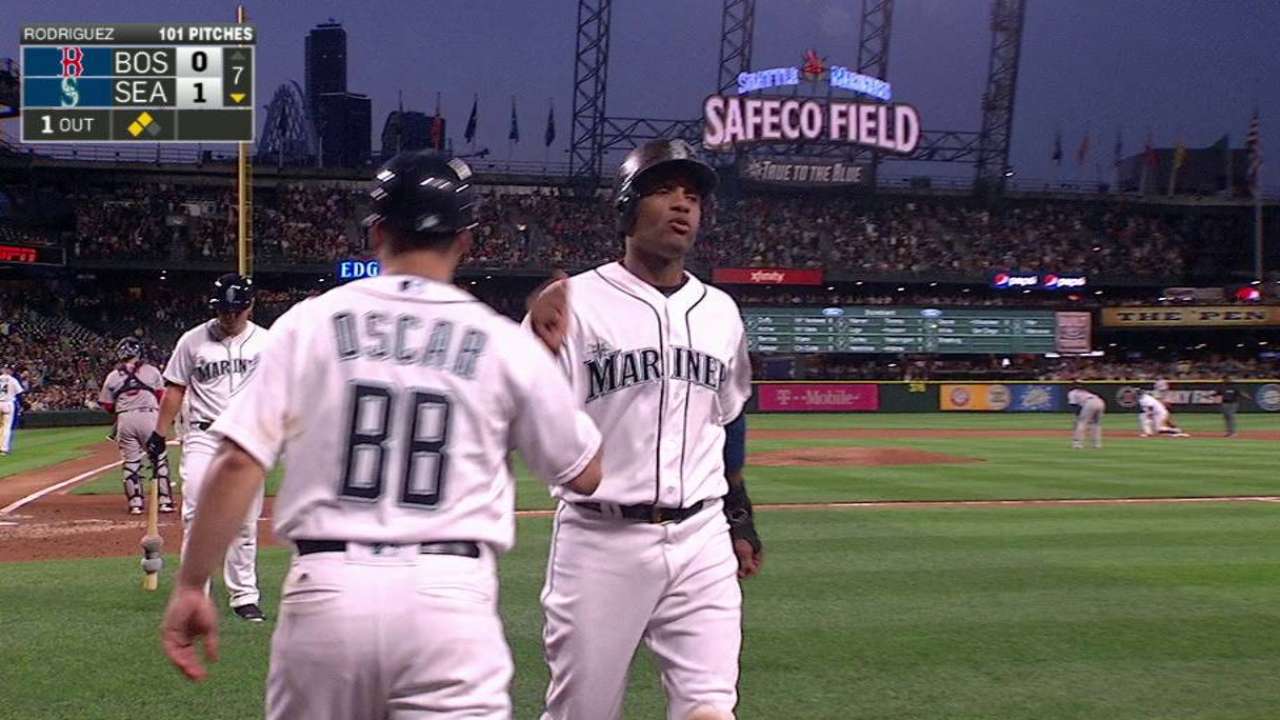 Cishek rejoins the club after spending 17 days on the disabled list with a left hip labrum tear. The 30-year-old pitched twice for Class A Everett on a rehab assignment, allowing five hits and three runs with five strikeouts in two innings.
"Just health-wise, he feels good about it and where he's at, how the ball's coming out, being able to finish his pitches off," Servais said. "He gave up a few hits down there which is not worrisome. You're going off the reports, the people that are seeing him and looking at the video."
Cishek was the Mariners closer for the first four months and was 2-6 with 25 saves and a 3.40 ERA and 62 strikeouts in 47 2/3 innings, but he'll work now in earlier innings as rookie Edwin Diaz has solidified the closing role with eight straight saves and has 62 strikeouts in 34 innings on the season. Cishek could also get a save opportunity once in a while to ensure that the young closer isn't over-worked.
Wieland filled in for one start on Aug. 12 in his Mariners debut, giving up six runs on nine hits over five innings in a 6-3 loss at Oakland. The 26-year-old is 11-5 with a 5.38 ERA in 22 games for Tacoma.
Worth noting
• Servais was pleased with right-hander Taijuan Walker's progress in Triple-A Tacoma. Walker threw 6 1/3 shutout innings Thursday and only allowed three hits. He mixed in more of his secondary pitches, Servais said, with positive results.
"I think we all know we need him," Servais said. "Hopefully he can help us at some point here. The timing, when he comes back, not quite sure yet."
• Right-handed reliever Tony Zych also had a good outing for Tacoma. He didn't allow a hit in the one inning he pitched Thursday. Zych is on the 60-day DL with right rotator cuff tendinitis and has not pitched in a Major League game since May 1. Because he has been out for so long and the Mariners' bullpen has been effective lately, they will not rush him back.
"Let him get his feet under him, keep going, keep throwing the ball well," Servais said.
• Former Major League player Billy Bean threw out the ceremonial first pitch for Pride Night on Friday at Safeco Field. Bean became the Major League Baseball vice president for social responsibility and inclusion in 2014. The former first baseman and outfielder played from 1987-89 and 1993-95. He came out four years after his playing career ended.
"If I can shine a little more visibility, more social media traffic, it's a good thing," he said.
He travels the country to provide support and training to the clubs regarding the LGBT community.
"Being a former player, that allows me to have an initial conversation that's not uncomfortable or clumsy with most of the guys," Bean said. "And I appreciate their courage and seeing that it is more than just, what's my on-base percentage and OPS-plus and whatever. It's about, I'm wearing the city's name on my chest, and that has an expectation, or a platform."
Greg Johns has covered the Mariners since 1997, and for MLB.com since 2011. Follow him on Twitter @GregJohnsMLB and listen to his podcast.Maddie Lee is a reporter for MLB.com based in Seattle. This story was not subject to the approval of Major League Baseball or its clubs.