Kiermaier, Franklin exit game early
Former left with left hip tightness, latter placed on 7-day concussion DL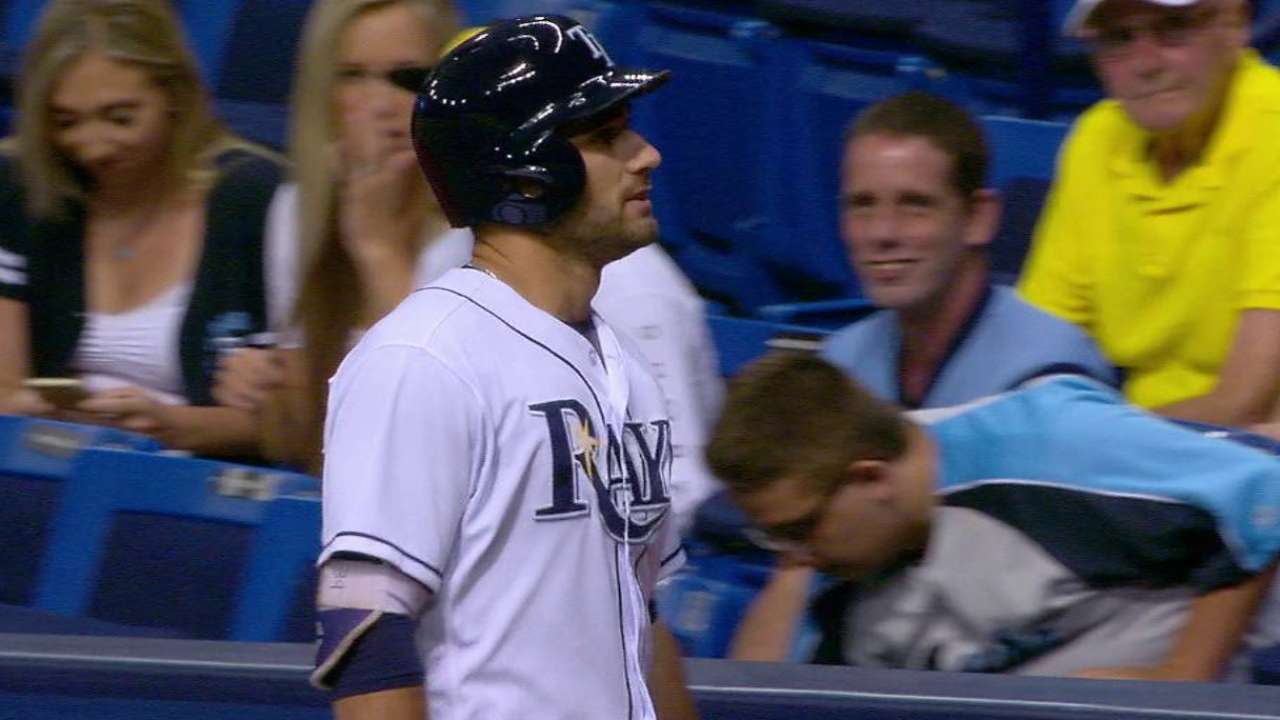 ST. PETERSBURG -- Nick Franklin was placed on the seven-day concussion disabled list after exiting Friday's 6-2 loss to the Rangers following the third inning. Center fielder Kevin Kiermaier also exited Friday's game as a precaution with left hip tightness.
Franklin was hit the helmet on Wednesday afternoon while waiting in the on-deck circle with the bat of Kiermaier, who was also warming up. Franklin said earlier on Friday that he felt totally fine, but he needed to exit the game shortly after entering it.
A corresponding move to replace Franklin on the roster was not yet announced.
Kiermaier was replaced by Franklin after the second inning on Friday. Franklin was eventually replaced by Corey Dickerson in the fourth.
"I thought everything was fine," Franklin said. "Then I went out to [batting practice] and everything seemed to be going fine, going great. No discomfort. And then, for some reason, right after my at-bat, right after I ran, I had cotton mouth. I felt like when I went out to left field, I could just pass out there. It was kind of a really weird feeling."
Franklin said he will get as much rest as he can. He said he passed a concussion test on Wednesday and another on Friday. He had one prior concussion in 2011.
The Rays will wait until pregame on Saturday to decide if Kiermaier can be in the lineup. Cash said the Gold Glover came to the ballpark on Friday with a sore hip. Returning to the dugout after the second inning, he told the staff that he didn't feel right.
The Rays were also without Logan Forsythe on Friday. He hasn't played the past three games after experiencing back spasms on Tuesday.
Sam Blum is a reporter for MLB.com based in St. Petersburg. This story was not subject to the approval of Major League Baseball or its clubs.