Weaver set back by four Yankees homers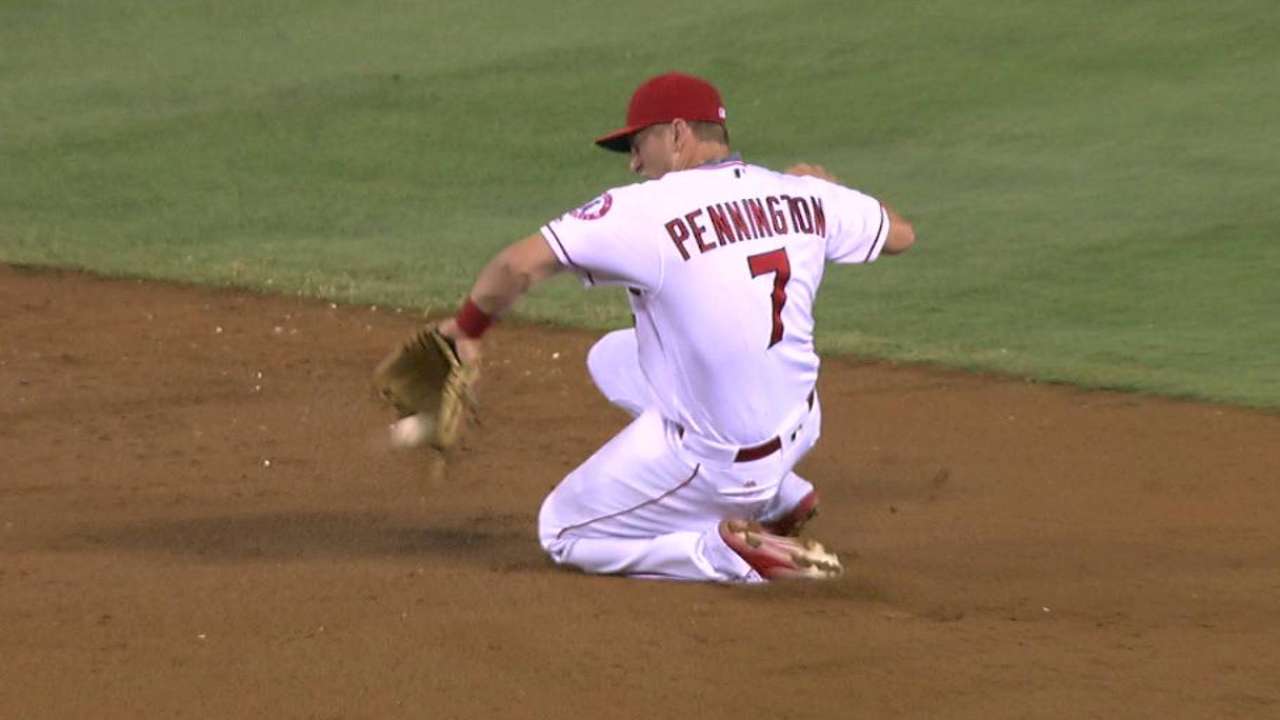 ANAHEIM -- A difficult start from Jered Weaver on Friday night against the Yankees did little to offer any clarity regarding his uncertain future with the Angels, the only organization he's ever known.
Weaver, a free agent at the end of the season, surrendered four home runs and was charged with five runs on 10 hits in 4 2/3 innings in a 7-0 defeat in the opener of a three-game series at Angel Stadium.
The four home runs allowed matched the most he's given up in a start in his 11 seasons with the Angels.
"Couldn't keep the ball in the yard," said Weaver, who last allowed four homers in a game on April 6, 2014, against the Astros. "Didn't fool too many people tonight."
Like much of the Angels this season, things typically haven't gone right for Weaver. Friday's loss dropped him to 8-11, and his ERA rose to 5.47.
"Nothing hurts worse than letting your teammates down, and I've been doing that on a pretty consistent basis, so it's definitely a tough pill to swallow," said Weaver.
It's not clear where Weaver fits into the Angels' plans moving forward.
"We'll see how the next six weeks transpires and we'll have time for that when we get into October, November, December, etc. etc.," Angels general manager Billy Eppler said of Weaver potentially coming back in 2017.
The club needs pitching next year, with both Nick Tropeano and Andrew Heaney likely out for the entire 2017 season after undergoing Tommy John surgery this summer. Garrett Richards is a question mark, too, as he's trying to avoid the same procedure as he works back from a UCL injury to his pitching elbow.
Weaver has made at least 24 starts in each of the last 10 seasons. He made 19 starts as a rookie in 2006.
"Right now, having guys that can toe the rubber and can get us 90-100 pitches into a game are welcome additions at this point," Eppler said.
Angels manager Mike Scioscia believes Weaver can still be effective with a fastball that sits in the mid 80s.
That was not the case on Friday night against the Yankees.
Weaver got off to an inauspicious start, as the third pitch he made to Jacoby Ellsbury was ripped to right field for the Yankees' first leadoff homer of the season.
Weaver retired six of the next seven batters, but things turned south again in the third, as the Yankees scratched across another run with a double and single to open the frame.
Weaver was hit hard in the fifth. Ronald Torreyes led off with a homer left, and two batters later Didi Gregorius took Weaver deep to right.
The Angels' defense did its part, with center fielder Mike Trout fielding a double off the scoreboard and starting a relay to nail Gary Sanchez trying to stretch a triple.
But the good feelings didn't last long, as Brian McCann followed with a towering homer over the same scoreboard to end Weaver's night.
"At times, he made some really good pitches, but he was having trouble getting some pitches where he wanted to, and those guys didn't miss them," Scioscia said. "We'll just turn the page on that one."
Weaver sounded like it wouldn't be so simple to put this start out of his mind.
"It's going to be tough," he said. "I have five days to dwell on it and see what happens after that."
The Angels have six more weeks with Weaver in the rotation. Beyond that, nothing is certain.
"You never know what the offseason is going to bring, but I know Weav wants to pitch," Scioscia said. "I think he understands the challenge in front of him, of what he needs to do in the winter, and we all certainly hope he gets there. As far as where he's going to be or what the situation's going to be, nobody has a crystal ball, and free agency gets complicated. We're going to take this one step at a time."
Laymance is a reporter for MLB.com based in Los Angeles. This story was not subject to the approval of Major League Baseball or its clubs.