Braves' Hall enshrinement humbles Andruw
Longtime star center fielder lauded by teammates Glavine, Chipper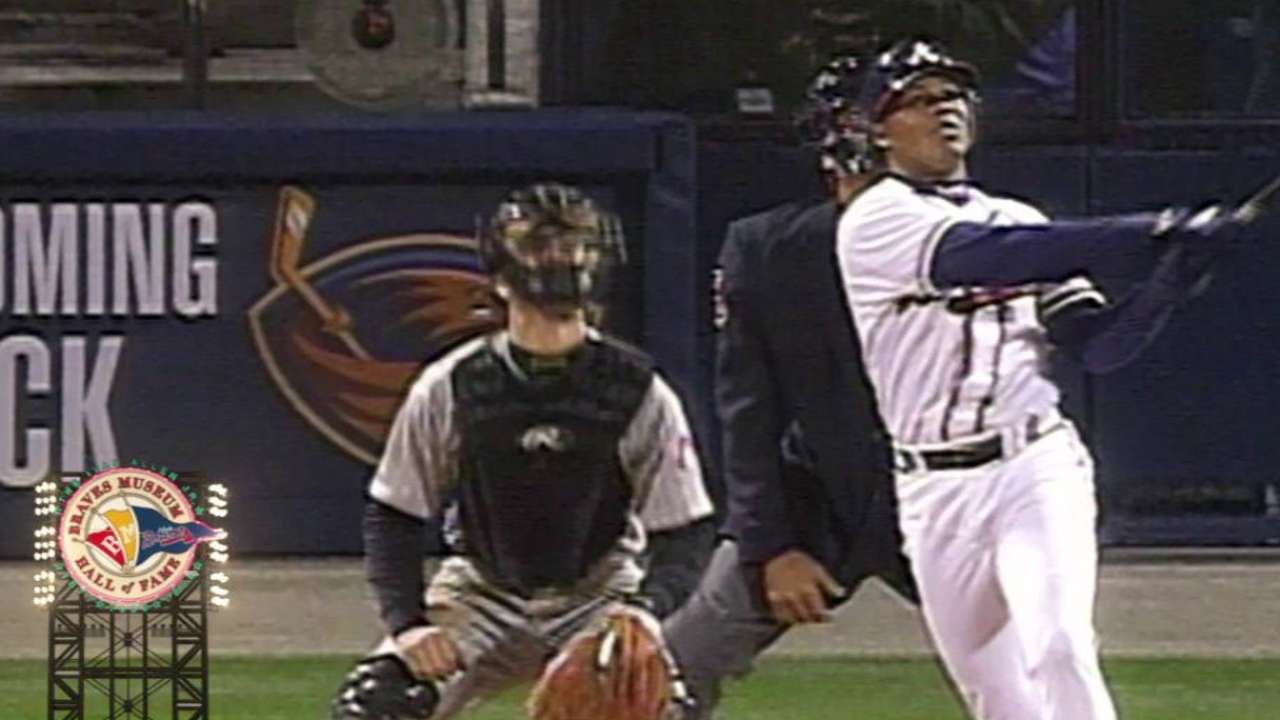 ATLANTA -- Almost 20 years to the date he arrived in Atlanta to make his big league debut as a 19-year-old phenom, Andruw Jones flashed that same trademark smile as he was inducted into the Braves' Hall of Fame on Friday afternoon.
"[The smile] defined who he was and how he went about his business," Hall of Famer Tom Glavine said. "All of us at some point in time were envious of that. When something is going bad, you often want to snap something or break something. But he always had that you-know-what-eating grin on his face. That was just him. That probably drove people crazy a little bit because they thought this kid doesn't care. But that's just how he was wired and it served him well."
The Braves inducted Jones and their legendary executive John Schuerholz into the team's Hall of Fame during a Friday afternoon luncheon that was attended by many former Braves, including Glavine and Chipper Jones.
• Schuerholz feted as he enters Braves' Hall
"I never saw Willie Mays play," Chipper Jones said. "I never saw Mickey Mantle play or Joe [DiMaggio]. I certainly heard a lot about all of them. But when people talk about the best outfielders they've ever seen, those are the names that come up. The definition of a Hall of Famer is sustained consistency and sustained greatness. I don't care what any of the old-timers say, [Andruw Jones] was the best defender, maybe at any position, I've ever seen."
Andruw Jones grabbed the attention of the baseball world when he homered in his first two career World Series at-bats while he was still a teenager in 1996 at Yankee Stadium. He won 10 consecutive Gold Glove Awards and finished second in the National League MVP balloting when he hit a franchise-record 51 home runs in 2005.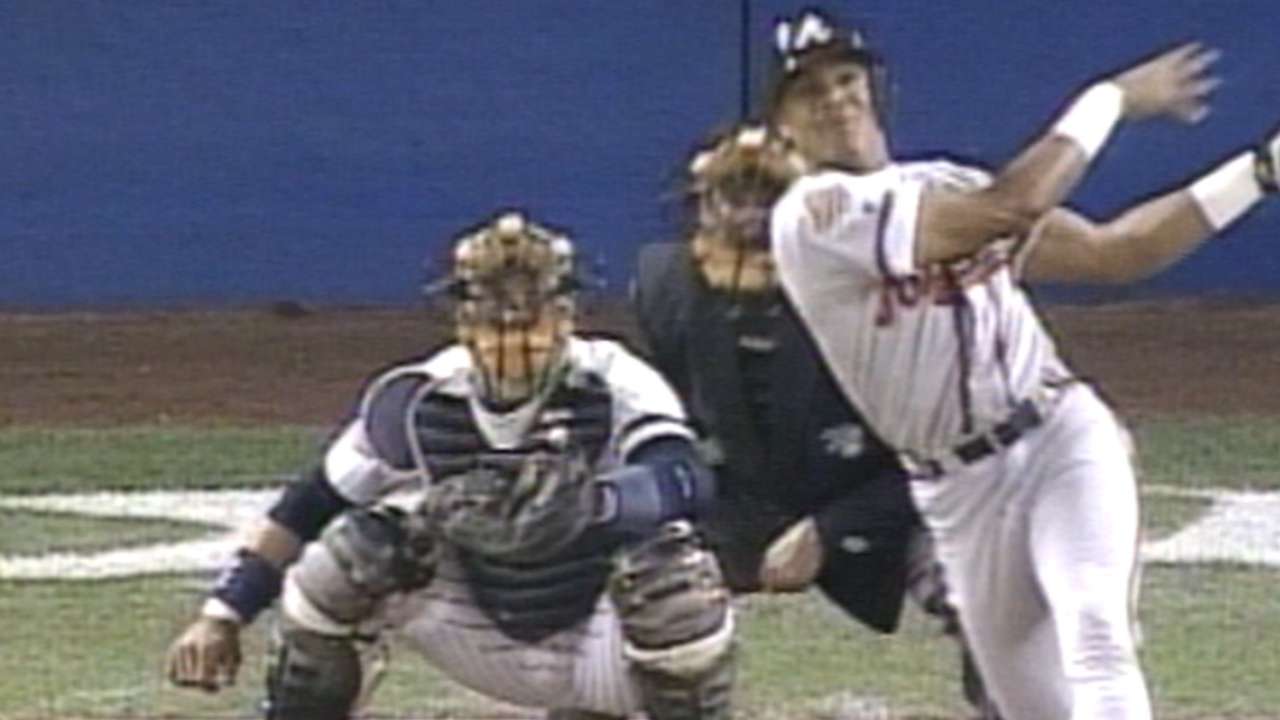 As he has often done, Jones made a point to credit his longtime manager, Bobby Cox, for much of the success he experienced while growing from a boy into a man during his decorated career with the Braves.
"Without him, I wouldn't be here doing this," said Jones, who has long considered Cox a father figure who provided both discipline and love. Cox also attended the luncheon.
After watching a video montage of some of his greatest catches during Friday's ceremony, Jones said, "There were some catches up there where I looked and got chills. I was like, 'Wow, that was a good one.'"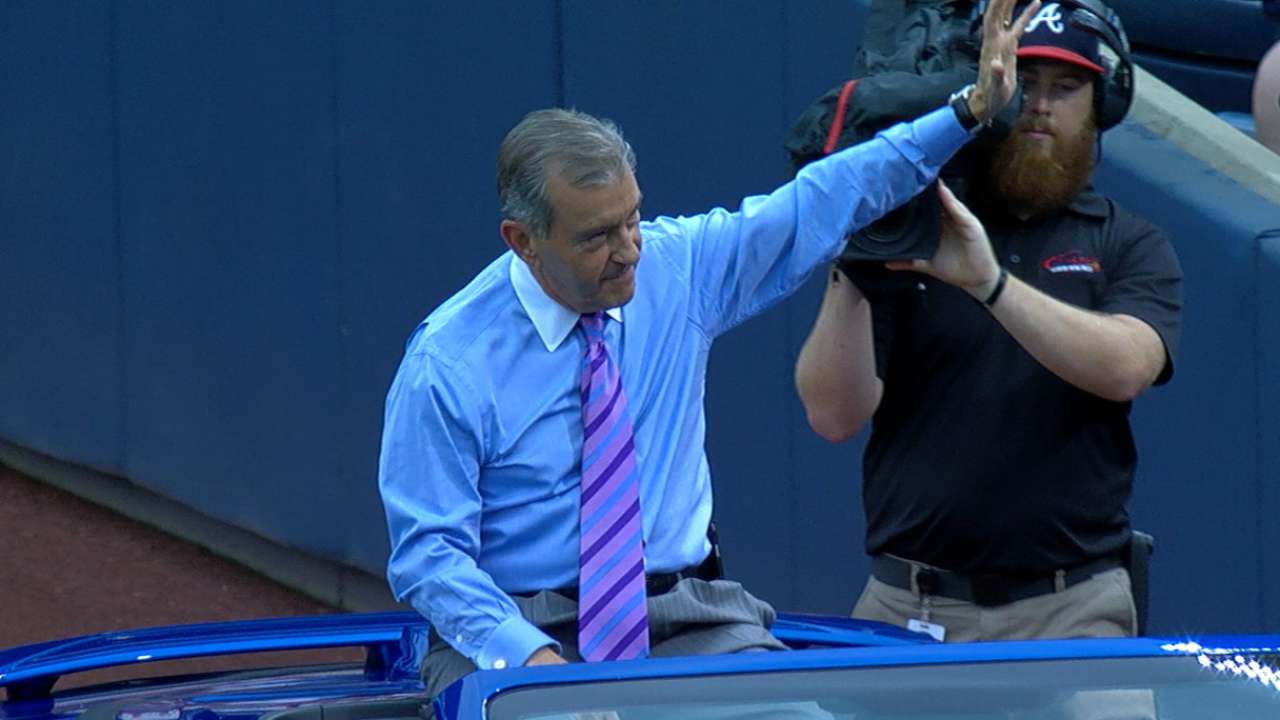 One of the most memorable catches occurred at Montreal's Olympic Stadium on May 22, 2002, when Jones raced into left-center field and made a diving catch that concluded a shutout for Glavine, who continued to express amazement as he discussed the Friday.
"It was just a blast and a great time," Jones said. "Hearing everybody talk about you makes it special. I'm just humble and happy to be in this select group with a bunch of Hall of Famers, especially in an organization like the Atlanta Braves. It's a huge honor."
Mark Bowman has covered the Braves for MLB.com since 2001. This story was not subject to the approval of Major League Baseball or its clubs.