Tanaka doesn't miss a beat with Sanchez
Yankees' ace throws 7 2/3 scoreless innings in first game with rookie catcher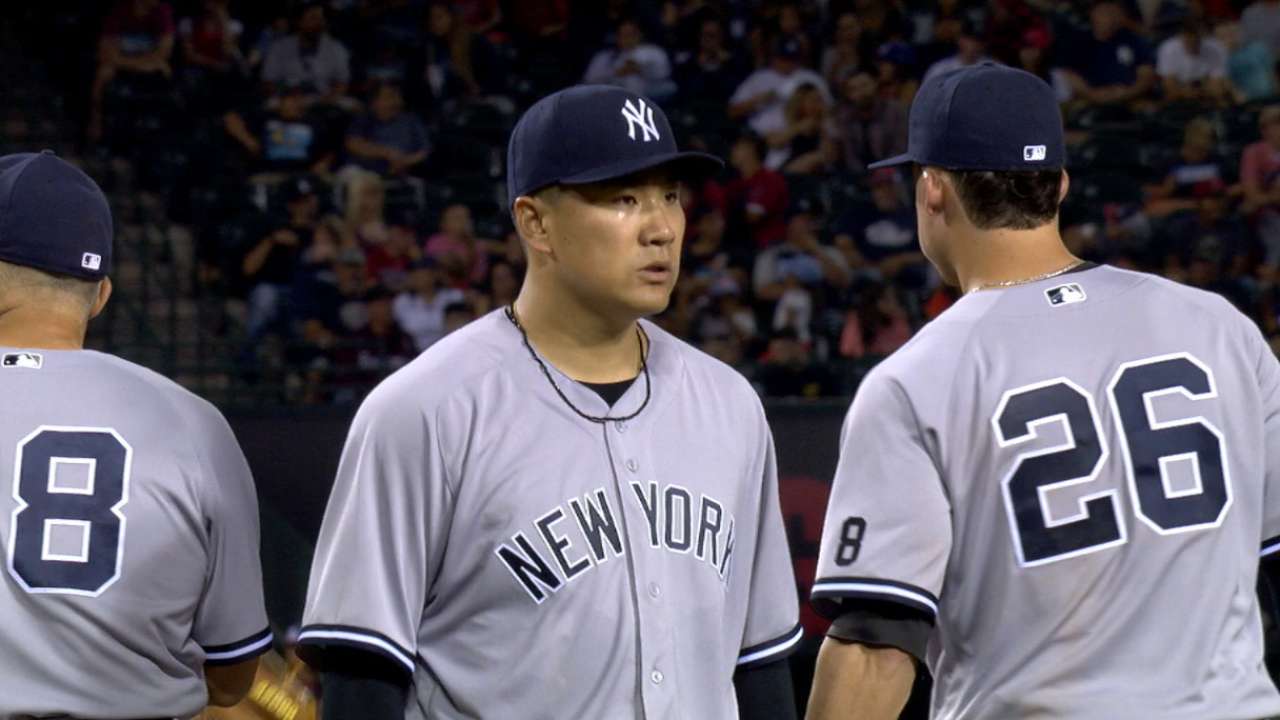 ANAHEIM -- Masahiro Tanaka putting up a great start isn't unfamiliar to fans, but it might have been to the guy behind the plate.
Rookie catcher Gary Sanchez has done just about everything the Yankees could want from him, with 10 extra-base hits in 14 games, but one thing he hadn't done is catch Tanaka. Friday's series opener at Angel Stadium was the first time the two teamed up, and the new combination worked out pretty well, as Tanaka threw 7 2/3 impressive innings in a 7-0 runaway win over the Angels.
"The key when you catch a pitcher that you've never caught in a big league game is the preparation before the game," Sanchez said through an interpreter. "We got together before the game, we put together a plan and it worked out very well for us."
Sanchez had a front-row seat as Tanaka continued a historic run. The Japanese right-hander struck out at least eight and walked none for a third straight start, just the ninth such streak in MLB history (but just the third time this season, along with Clayton Kershaw and Matt Shoemaker). In total, Tanaka hasn't walked a batter in his last four starts and 123 batters faced. He struck out nine on Friday.
The connection between Sanchez and Tanaka saw little friction, with Tanaka shaking off the catcher no more than he normally does with Brian McCann and others. Helping the issue was that all of Tanaka's pitches were working, at least in the eyes of manager Joe Girardi.
"I think my fastball was really good tonight," Tanaka said through an interpreter. "Having that good fastball, my secondary pitch, the splitter was working well."
Through seven innings, Tanaka was borderline unstoppable. Angels hitters not named Mike Trout combined to go 1-for-21 with seven strikeouts, and even Trout managed just a pair of singles off him. The only danger, if there is such a thing with a seven-run lead, came in the eighth when singles from Jett Bandy and Gregorio Petit put runners on the corners with two outs.
With Tanaka at 100 pitches, Girardi decided to bring in reliever Tommy Layne, then Adam Warren to end the inning.
"I thought he had done his job. He got to the eighth," Girardi said of Tanaka. "We talk about trying to keep him strong. It was a good point to pull him."
On the other side of the scoreboard, Sanchez had yet another great night at the plate, going 3-for-4 with two doubles and his first career stolen base. Through 58 big league plate appearances, he is hitting .389/.431/.759 with five homers.
Jack Baer is a reporter for MLB.com based in Los Angeles. This story was not subject to the approval of Major League Baseball or its clubs.