Coats gaining feel for pinch duties in Majors
White Sox rookie says, 'Nerves are finally almost gone'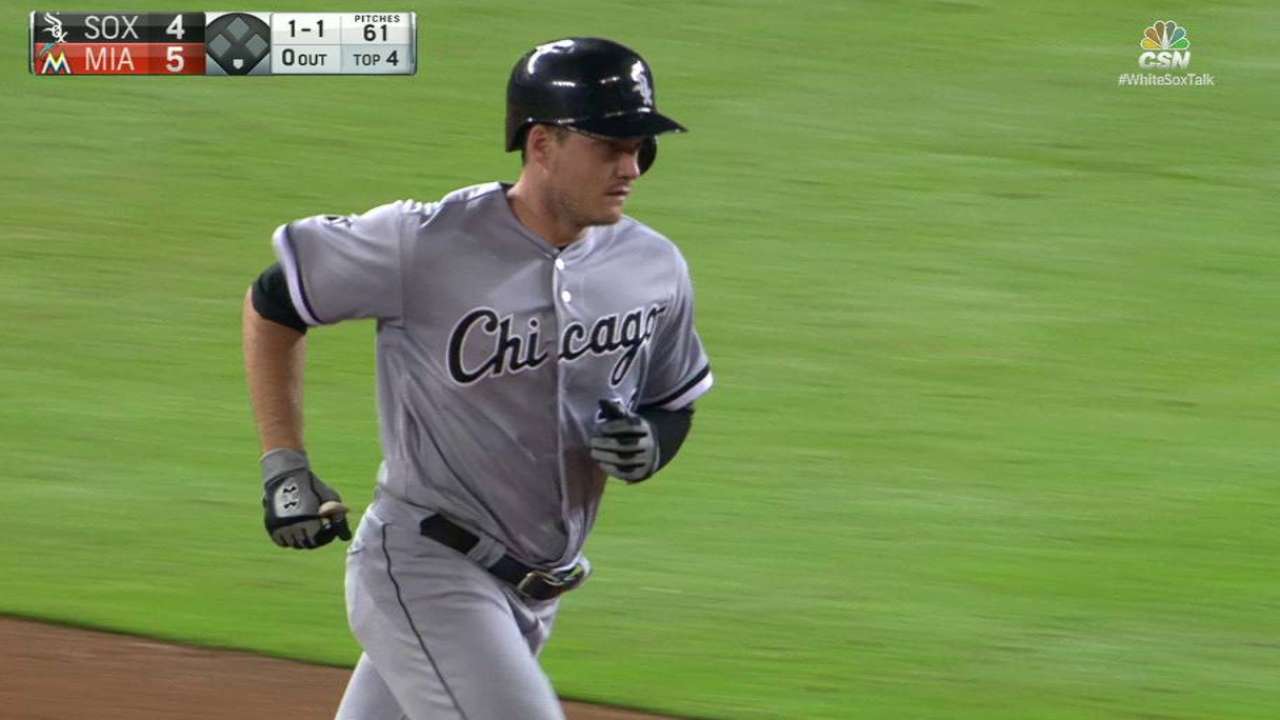 CHICAGO -- When Jason Coats arrived at second base in the ninth inning of Cleveland's walk-off victory Thursday night, the White Sox rookie received a message of praise from infielders Francisco Lindor and Jason Kipnis.
Cleveland's double-play combination humorously referred to Coats as a "bad man" for coming off the bench and driving a double off the right-field wall against a pitcher of Andrew Miller's vast ability. Coats started in right field Friday night in the series opener against the A's, but he's prepping for life as a pinch-hitter this season after serving as an everyday player for his entire Minor League career.
"Come around the fifth or sixth inning, I start working in the cages trying to get loose," Coats said. "I'm most likely going to go in there against a left-hander, so I do a little bit more studying on them. I do take a look at everybody else, just like everybody here does, get a feel for what the pitcher has.
"Especially in my case, I haven't faced any of these guys before so I need to spend a little more time down there on the film since I haven't had any actual at-bats. Mental reps are sometimes just as good as physical reps, and I'm just trying to do whatever I can to be ready when my name is called."
Coats has gone 4-for-14 against left-handers and feels more comfortable with each passing day as part of the White Sox. He started 2-for-22 with two runs scored and no RBIs, but is 4-for-8 since with a homer and two RBIs.
"Nerves are finally almost gone. Just playing within myself again and not trying to do too much, trying to press. It's helping a lot," Coats said. "I knew I could hit. I knew this was just a rough start. I felt like anywhere I've gone and played at every level, if I didn't have success right away, I had to figure some stuff out. But then I finally kept it going. I never doubted myself."
"At-bat-wise, he's past the point of it's his first time and feeling a bit uneasy about going up there," White Sox manager Robin Ventura said. "His approach has been great when he's been in there. Even in Miami, he got a start, which was nice. And even the at-bat last night, against a guy like Miller, it's impressive for him to go up there and see him adjust and do some different things."
Those adjustments produced Coats' first career pinch-hit and praise from the opposition.
"He flipped me a first-pitch slider in there, good pitch, no way I'm hitting that," a smiling Coats said. "Luckily he made a mistake and left a fastball out over the plate and I just got my barrel there and got enough of it to get it over the outfielder's head. I didn't do that much. I watched some film on him and heard be ready for the fastball."
Scott Merkin has covered the White Sox for MLB.com since 2003. Read his blog, Merk's Works, follow him on Twitter @scottmerkin, on Facebook and listen to his podcast. This story was not subject to the approval of Major League Baseball or its clubs.