Gee repays Yost's faith in win over Twins
Right-hander allowed one run over seven quality innings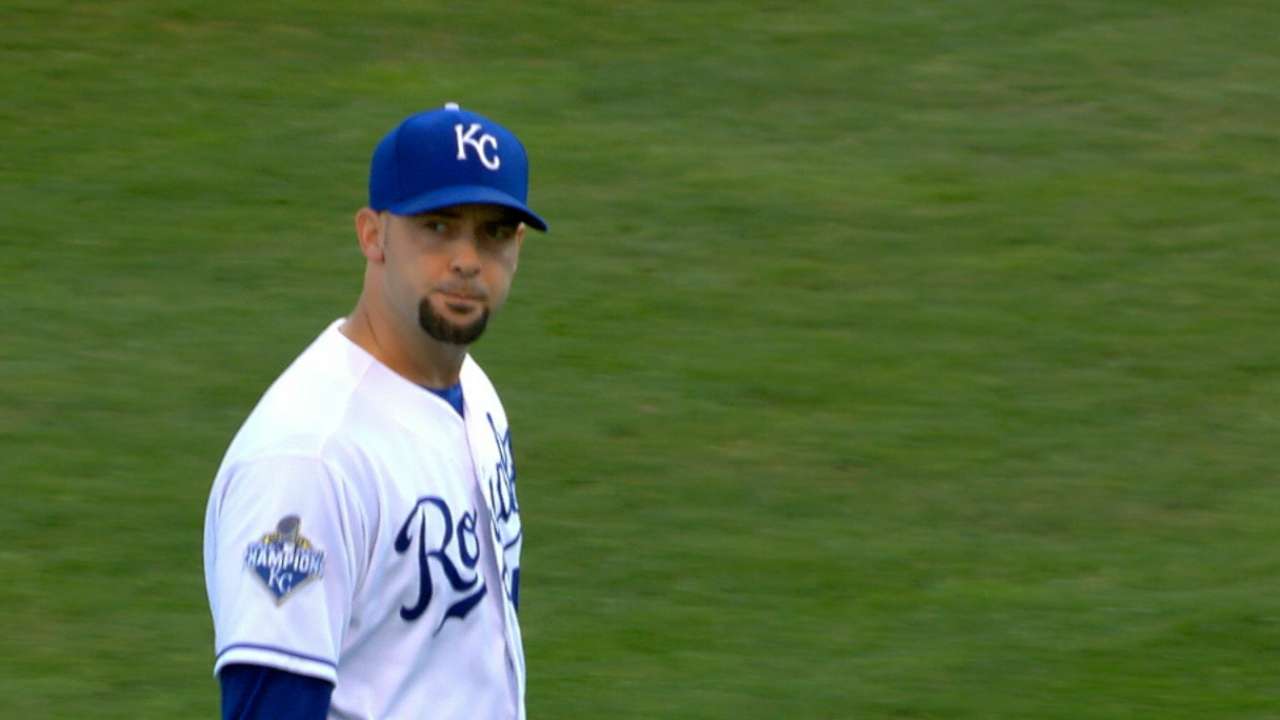 KANSAS CITY-- Before right-hander Dillon Gee took the mound for his start on Thursday, Royals manager Ned Yost proclaimed his faith in the right-hander, despite the team's 2-7 record in his first nine starts.
Some five hours later, Yost sat in front of the media again. This time, it was following Gee's best start of the season. The right-hander gave up one run in seven innings against the Twins, as the Royals won their fifth in a row and scratched their way back above .500 for the first time since July 23.
"He's giving us the opportunity to win," Yost said, asked how good Gee had been over his last few starts. "He's kind of filled that spot for us, and quite effectively."
Gee's outing Thursday followed in line with a Royals rotation that has stifled opposing offenses as of late, posting a combined 2.53 ERA over the last 14 games. Yost was hesitant to say the success was contagious among the starters, but he admitted that seeing the others pitch well played into the equation.
"Guys kind of compete against each other. I saw that in Atlanta with [Greg] Maddux, [Tom] Glavine, and [John] Smoltz," Yost said. "[Danny] Duffy has turned the corner. We see [Yordano] Ventura turning the corner. Eddy [Volquez] has been good. [Ian] Kennedy has been great since the trade deadline. And now Dillon has been locked in too. [We're] just on a nice pitching run."
But early on, that run was in question. Gee's outing against the Twins got off to a shaky start as he gave up a leadoff home run to Brian Dozier in the first.
At that point, Gee had surrendered home runs in three straight at-bats dating back to his last outing and looked to be in for a long night.
"Don't throw [Dozier] fastballs down the middle, that's for sure," Gee said. "I just made bad pitches to him. He has almost 30 home runs already. You just can't make mistakes to that guy."
But Gee quickly recovered, getting out of the first without allowing another baserunner. In fact, he'd only allow one runner to reach scoring position over the rest of his outing.
"Awesome, man. Awesome. ... The dude just killed it," Duffy said of Gee. "You knew he was going to roll. ... He was lights out the rest of the night."
And more than just one outing, Gee's numbers have started to turn around.
While he did allow five runs against the Twins on August 13, a start which came on short rest after he was called on three days earlier for two innings of relief, Gee's ERA for the month has dropped below 4.00.
And after making his second quality start in the month, Gee acknowledged the success he's experienced, although he said he felt like he could've been just as good earlier in the year as well.
"It's been frustrating, because I've felt like I've thrown the ball well at times. It's just the results aren't showing it," Gee said. "And tonight, I was able to throw up a pretty good game."
Scott Chasen is a reporter for MLB.com based in Kansas City. This story was not subject to the approval of Major League Baseball or its clubs.