MLB.com Columnist
Jim Callis
What to expect from Rockies' Hoffman in big leagues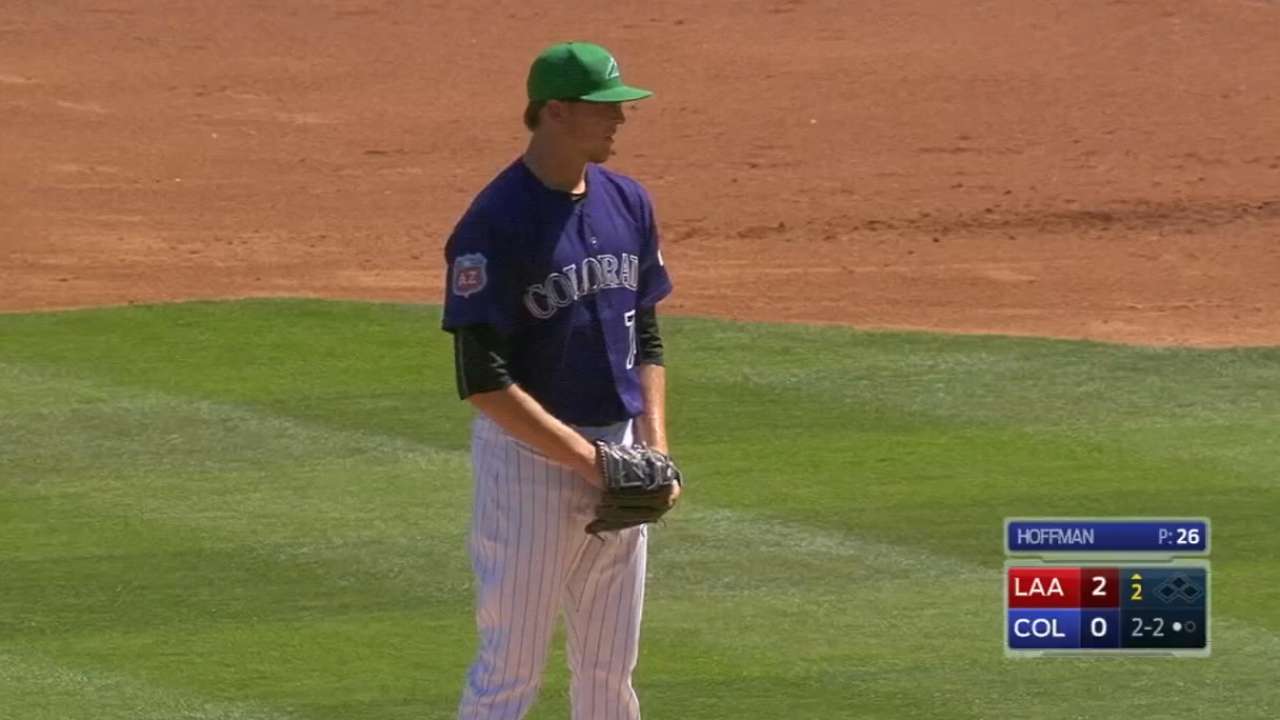 Undrafted out of a New York high school in 2011, Hoffman began to blossom at the Connie Mack World Series that August, and he emerged as a first-round talent in the Cape Cod League the following summer. He starred at East Carolina and became a legitimate candidate to go No. 1 overall in the 2014 Draft, before his elbow gave out and required Tommy John surgery that May.
Undaunted by Hoffman's injury, the Blue Jays selected him ninth overall and signed him for $3,080,800. He made his pro debut in May 2015, a year after having his elbow reconstructed, and registered 99 mph on radar guns in his first game back. Two months later, Toronto shipped Hoffman to Colorado as the headline prospect in the Troy Tulowitzki trade.
Few pitching prospects can rival Hoffman's combination of stuff and strike-throwing ability. Both his mid-90s fastball (which features velocity and sink) and his big-breaking power curveball are well-above-average offerings. Hoffman's changeup is a plus pitch at times, and he has resumed throwing a slider that shows signs of becoming a solid fourth weapon.
Considering the quality of his pitches, Hoffman didn't have a history of missing as many bats as expected before 2016. He averaged 7.6 strikeouts per nine innings at East Carolina and just 6.5 during his pro debut, but he has boosted his whiff rate to 9.4 this year at Triple-A Albuquerque, one of the toughest places to pitch in the Minors. In 22 starts with the Isotopes, Hoffman has gone 6-9 with a 4.02 ERA, a 124/44 K/BB ratio and a .261 opponent average in 118 2/3 innings.
Wary of overdoing it with a pitcher who's two years removed from Tommy John surgery and who hadn't pitched more than 104 innings in a pro season, the Rockies have limited Hoffman to roughly 75 pitches per start since the All-Star break. The team hasn't publicly stated an innings limit, but he likely won't pitch much more than another 20-30 frames this year.
Hoffman almost certainly won't hold down a spot in Colorado's rotation throughout the final seven weeks of the season, but his arrival is more about the future than the present. He can't quite match Gray's pure stuff, but he has a deeper repertoire and more polish, so Hoffman could be the Rockies' No. 1 starter in the long run.
Jim Callis is a reporter for MLB.com. Follow @jimcallisMLB on Twitter and listen to him on the weekly Pipeline Podcast This story was not subject to the approval of Major League Baseball or its clubs.