Jankowski's impressive leadoff stats
Rookie reaches base 45 percent of the time when leading off inning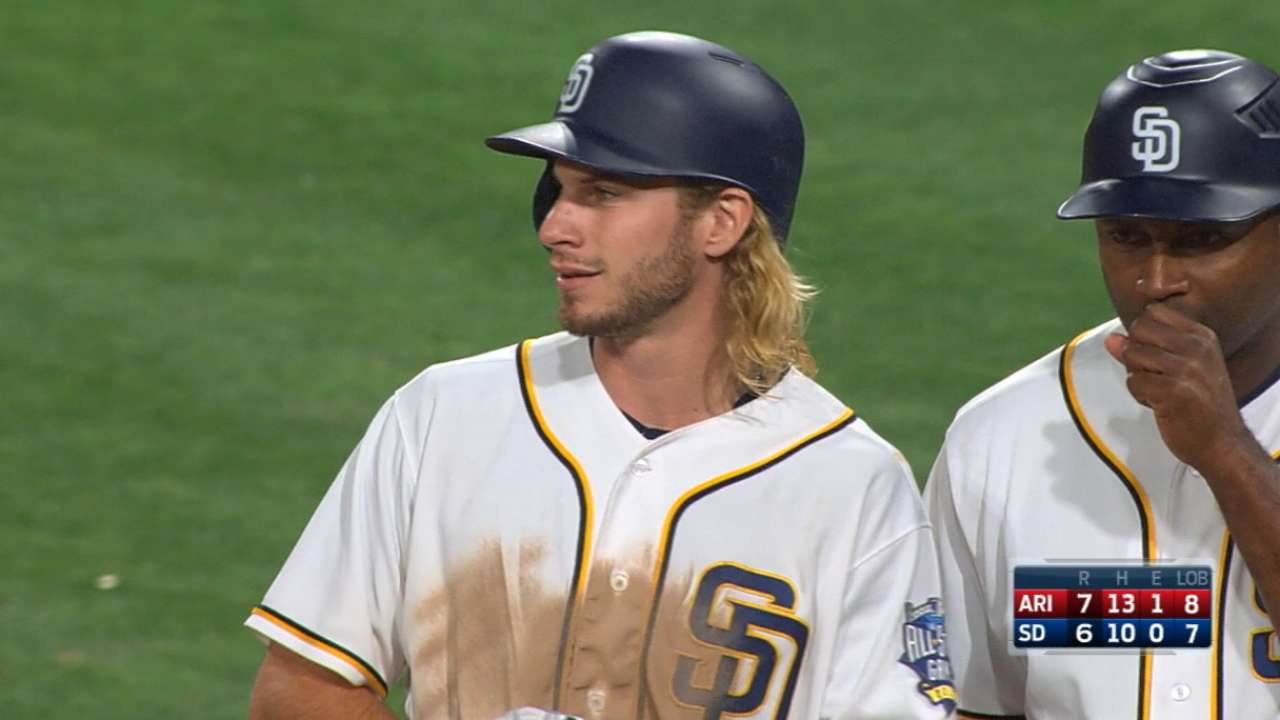 Bill Center, longtime sportswriter for U-T San Diego, is an employee of the Padres.
The first thing Alex Dickerson discussed Thursday night after delivering his game-winning, three-run double was not the hit. He talked about Travis Jankowski, who started the decisive eighth-inning rally with his fourth hit of the night.
"I can't imagine being on the other side of that," Dickerson said of Jankowski. "He uses his speed in so many different ways. It has to be disruptive for a pitcher to have him on base or even in the batter's box."
The rookie center fielder had a career-high four hits Thursday night, going 4-for-5 with a double, three runs scored and a steal. It was Jankowski's third game of three or more hits and his sixth multihit game in his last 16 games. Jankowski has become a force at the top of the Padres' order. He is hitting .345 (30-for-87) when leading off an inning this season. He's also drawn 16 walks for a .447 on-base percentage when leading off an inning. And he's hitting .432 (16-for-37) with a .523 on-base percentage when leading off a game.
In 17 games since July 31, Jankowski is hitting .365 (23-for-65) with nine steals and 17 runs scored.
The D-backs must be particularly tired of Jankowski. He is hitting .382 (13-for-34) in 13 career games against Arizona.
NOTES FROM THE SCOREBOOK
• Right-hander Paul Clemens has yet to go longer than five innings in any of his five starts with the Padres. On Thursday night, he allowed three runs on eight hits and three walks in five innings. Although he has a 4.61 ERA with the Padres, the club is 3-2 in his five starts.
"I like the direction I am going, but I'm not happy with the results," said Clemens.
• First baseman Wil Myers was 2-for-4 with a RBI and two runs scored to widen those home-road splits. Myers is hitting .347 (78-for-225) in 58 games at Petco Park this season with 18 doubles, a triple and 15 home runs, which equals the single-season record for Petco Park. He has 44 RBIs and 48 runs scored at home. On the road, Myers is hitting .201 (46-for-229) with six doubles, a triple, eight home runs, 27 RBIs and 32 runs scored.
• Third baseman Yangervis Solarte was 2-for-4 with a walk, a RBI and two runs scored. He is hitting .314 (58-for-185) in 48 games since June 18 with 11 doubles, nine homers and 32 RBIs and 30 runs scored. Solarte is a .328 career hitter (39-for-119) against the D-backs.
• Dickerson drove in four runs, tying his career high. His other four-RBI game came on May 10, when he hit a pinch-hit grand slam against the Cubs in Chicago.