Jankowski pivotal in Padres' three rallies
Center fielder has career-high four hits vs. D-backs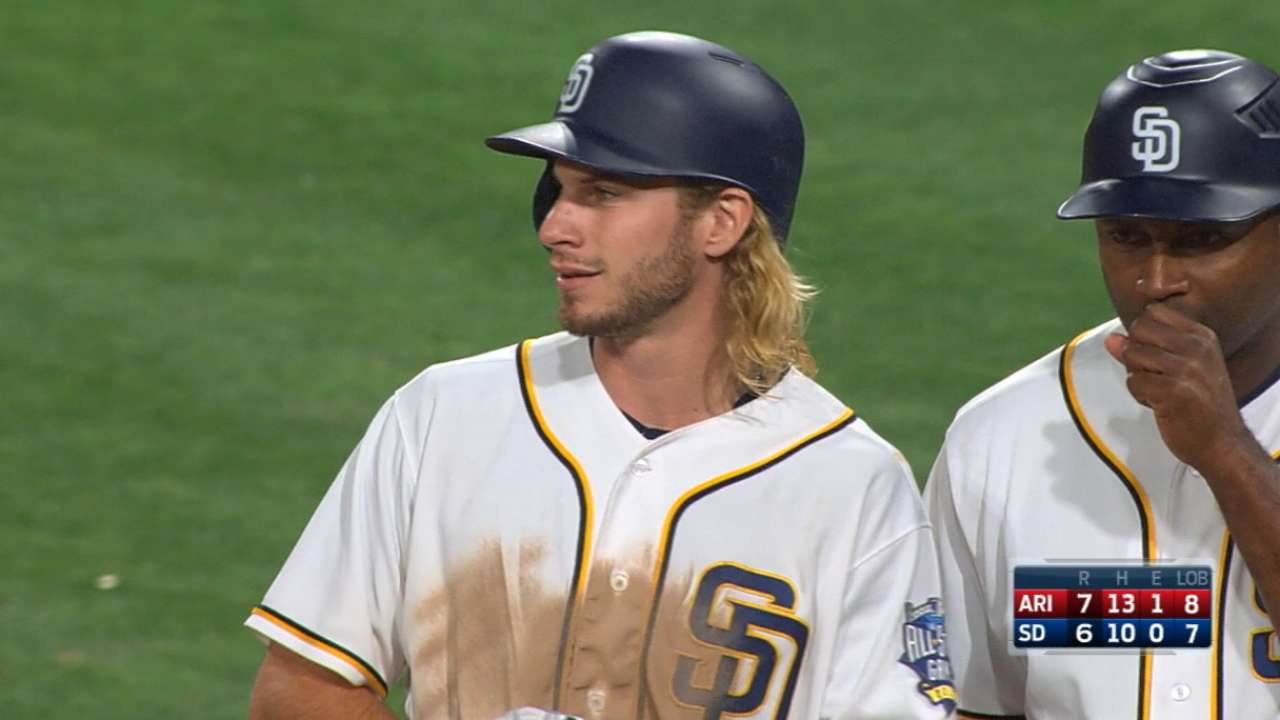 SAN DIEGO -- The Padres' offense staged three critical rallies during Thursday night's come-from-behind, 9-8 victory over Arizona.
In the first inning, they offered a quick response to the D-backs' opening barrage. In the fifth, they jumped on top with a flurry of singles. And in the eighth, they grabbed the lead for good when Alex Dickerson's gapper cleared the bases.
What, exactly, did those three rallies have in common?
The man who started them -- rally-starter extraordinaire, Travis Jankowski.
The Padres' rookie center fielder finished with a career-high four hits and added his 26th steal of the season for good measure. On top of that, he spent most of the evening wreaking havoc on the bases, commanding the constant attention of his opponents.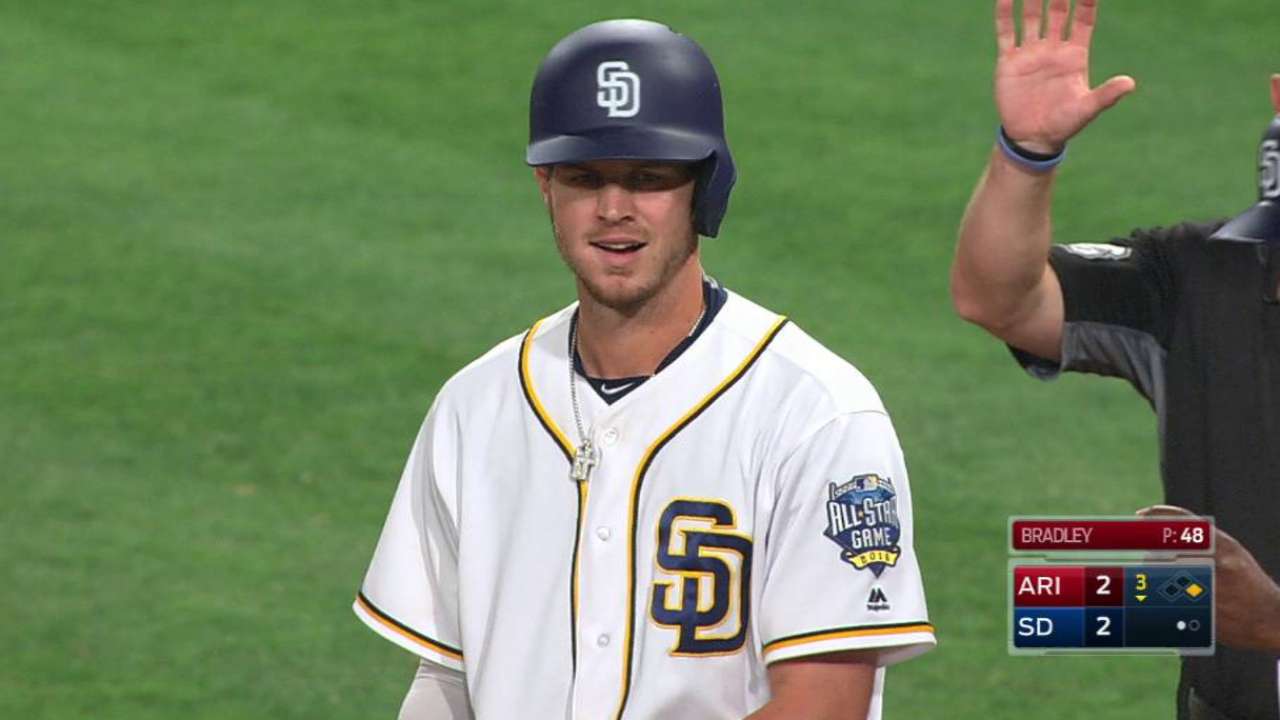 "I couldn't imagine what it would be like on the other side of that," said Dickerson. "He's putting the ball in play, always a threat. He's taking his walks, and any time he's on base he can do damage to you."
Added Padres manager Andy Green: "I don't think anybody wants to throw a breaking ball with him on base. They're more concerned about him at first base, stealing second base than sometimes even Wil Myers or [Yangervis] Solarte in the box. He's got a lot of their attention, and, in doing that, causes mistakes from the pitchers."
Jankowski's eighth-inning at-bat started out uneventfully enough. He strode to the plate with the bases empty and two outs, before smacking an opposite-field single.
That's when the floodgates opened. Myers tacked on another hit, and Solarte walked, setting the stage for Dickerson's heroics.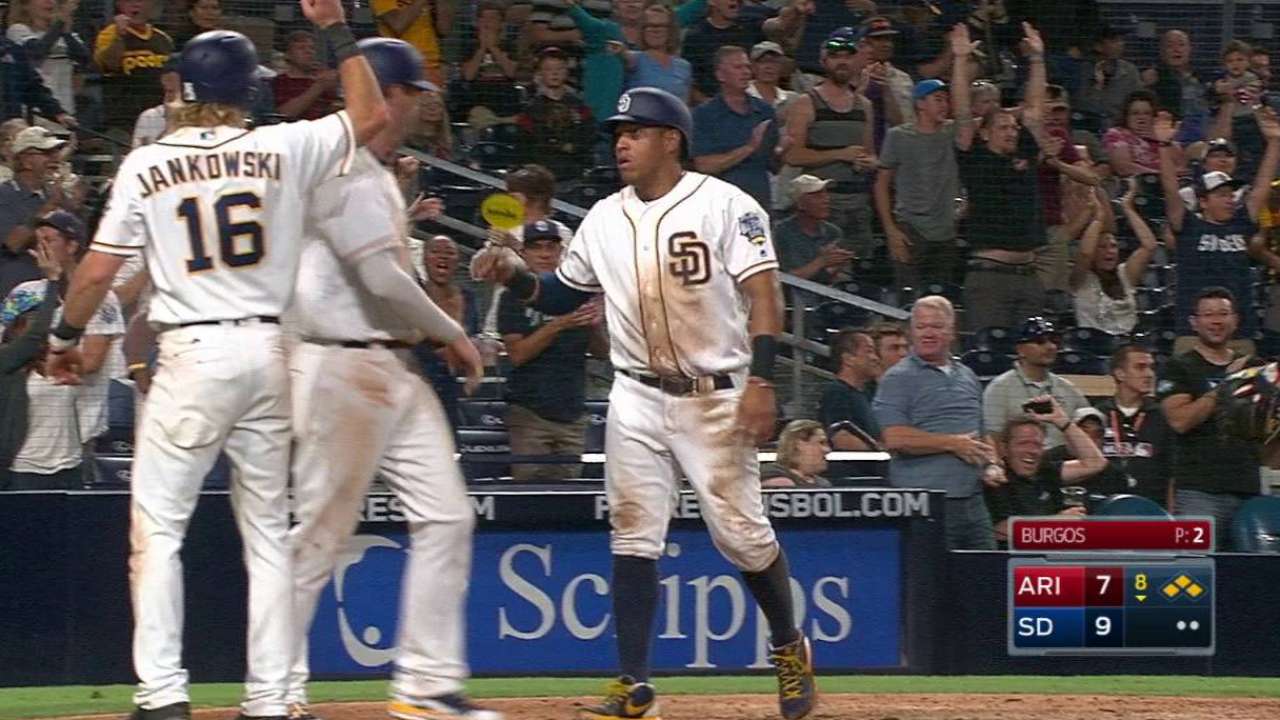 "If I can start a rally as a leadoff hitter and ... cause havoc on the bases, build rallies, that's what's going to help the team win," Jankowski said. "That's just really what we need."
And that's exactly what Jankowski has done since being handed the keys to the everyday center-field job about a month ago. He's reaching base at a .370 clip over the past 28 days. And when leading off an inning, he's doing so at a .447 clip.
Then, there's the pivotal role he plays on the basepaths.
"Making the pitcher uncomfortable and making him think about me at first -- I think that's just as important as stealing a base," he said. "If I can divert his attention enough to where he might make a mistake or just miss out of the zone, get our hitters in good counts, that's just as good as a stolen base, in my opinion."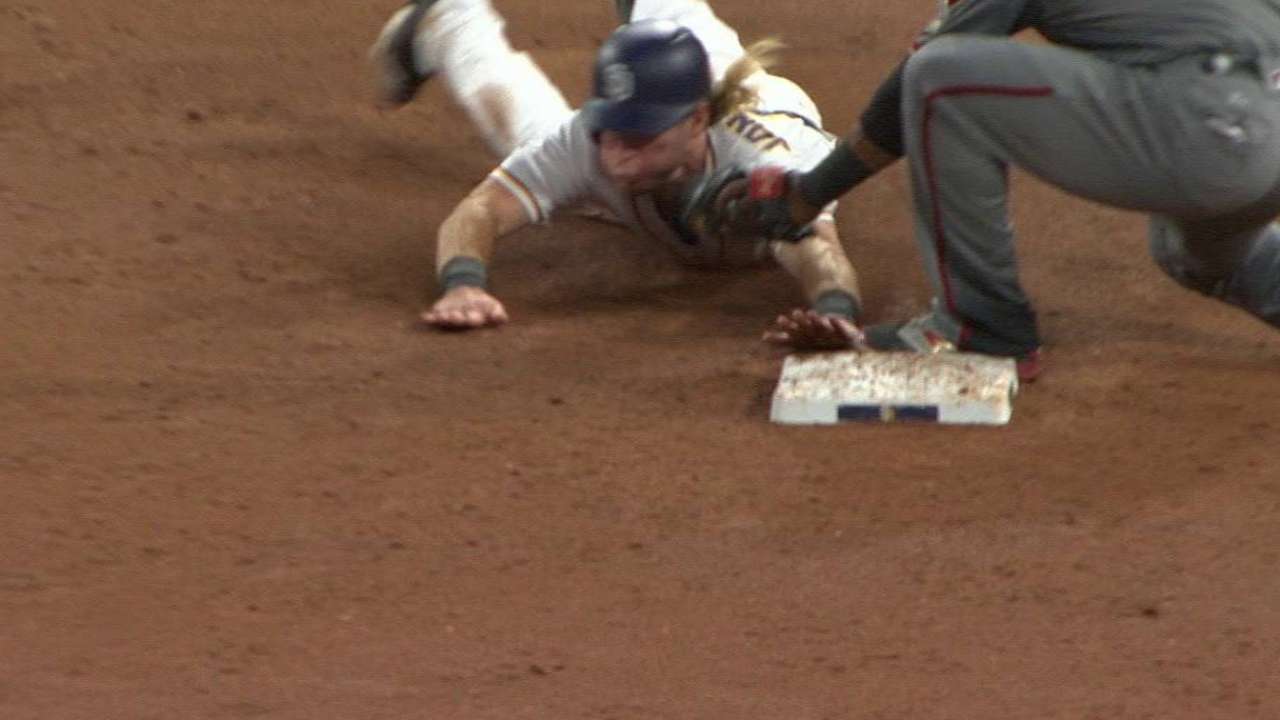 In the last month, San Diego has traded two of its three Opening Day outfielders -- Melvin Upton Jr. and Matt Kemp. The other, Jon Jay, is on the disabled list, nursing a broken right forearm.
In the meantime, the Padres have made a firm commitment to youth, and Jankowski is just one example. His everyday reps offer a chance for the organization to see what kind of player it has for the future.
So far, he's done nothing but impress, while making an impact on the offense that reaches well beyond his numbers.
"The game he had today was every bit of why we scored so many runs," Dickerson said. "He makes pitchers uncomfortable while they're pitching. He makes defenses uncomfortable while he's on base. After all that's said and done, he plays a good defense out there. He's a great player."
AJ Cassavell covers the Padres for MLB.com. Follow him on Twitter @ajcassavell. This story was not subject to the approval of Major League Baseball or its clubs.