Davis heats up with two-homer night for O's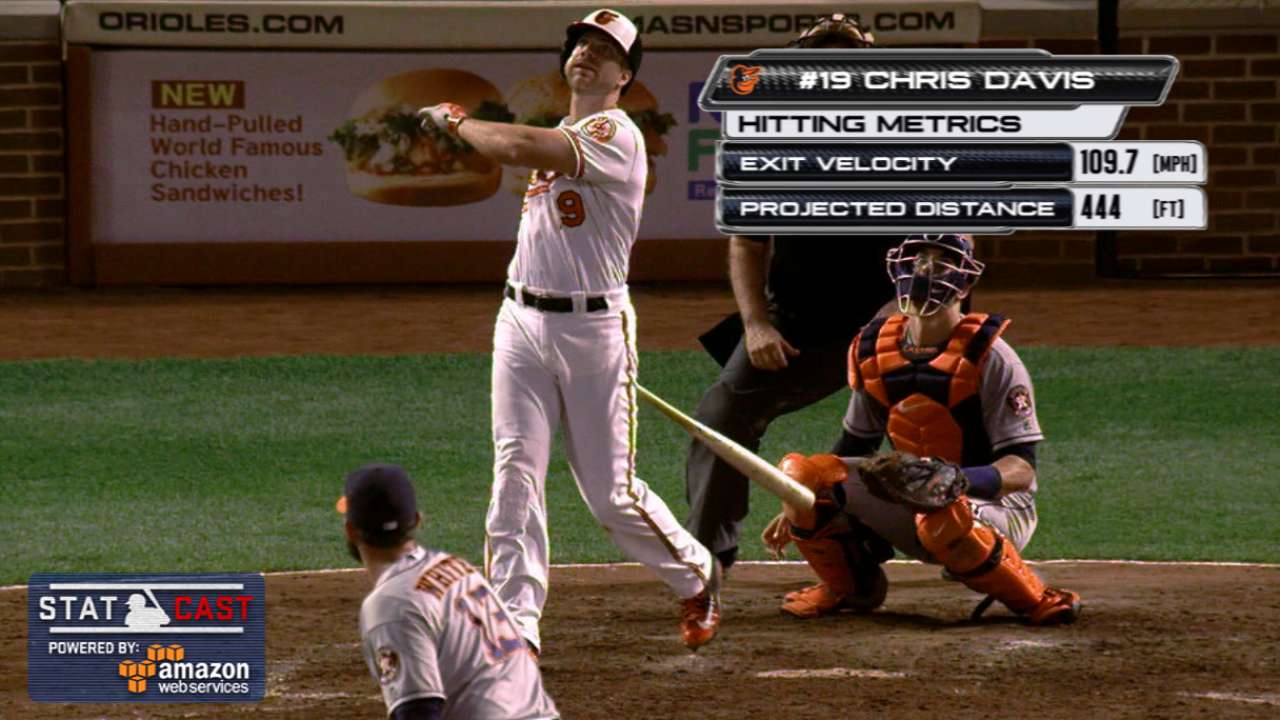 BALTIMORE -- Is Chris Davis heating up? The Orioles certainly hope so.
Davis blasted a pair of homers, running his total over two days to three, in Thursday's 13-5 win over the Astros. The slugger, who has struggled to find consistency this season, finally got a multihomer game under his belt, a reminder that he is capable of carrying the O's offensively when he gets hot.
"I feel like I've been one swing away all year. It's just a matter of going out there and doing it over and over again," Davis said after Wednesday's blast. "It would be nice to say, 'Yeah, absolutely.' But there is nothing that's guaranteed in this game, so I'm going to continue to grind it out and do whatever I can."
Davis got things going on Thursday in the sixth inning with a two-run homer -- immediately following Manny Machado's blast -- that landed on Eutaw Street. It was his 10th Eutaw Street homer, the most by any player, and marked the second consecutive night he had a ball land here.
He followed that with a solo shot with one out in the eighth inning.
Should Davis be on the way to one of his well-known hot streaks, it couldn't come at a better time for Baltimore, which is in a closely contested American League East race with Toronto and Boston.
"Obviously, we know what that could mean," manager Buck Showalter said of Davis, who had 22 homers in August and September of last season. "But the weight of the Orioles is not around Chris' shoulders. A lot of things will have to go well. Certainly, it will help our chances, but we can still be the last team standing if it doesn't happen."
Davis now has 27 homers on the season and has raised his average to .222.
Brittany Ghiroli has covered the Orioles for MLB.com since 2010. Read her blog, Britt's Bird Watch, follow her on Facebook and Twitter @britt_ghiroli, and listen to her podcast. This story was not subject to the approval of Major League Baseball or its clubs.