Roberts shows faith in Dayton in tough-luck loss
Lefty allows another go-ahead HR to Phils, but manager trusts rookie in high-pressure situations
PHILADELPHIA -- It will go down as Grant Dayton's first Major League loss, but doesn't feel like it to him.
Manager Dave Roberts left Dayton in the game to start the seventh Thursday after he struck out Odubel Herrera to end the sixth. It set up a rematch of last Wednesday's fateful showdown between Dayton and Freddy Galvis. In their first matchup, Galvis hit a seventh-inning, three-run homer to give the Phillies the lead. It only acted as foreshadowing for Thursday.
Galvis singled to lead off the seventh, and Roberts stuck with Dayton against Maikel Franco, who sent a fastball over the center-field wall to give the Phillies their first and only lead of the game for a 5-4 win.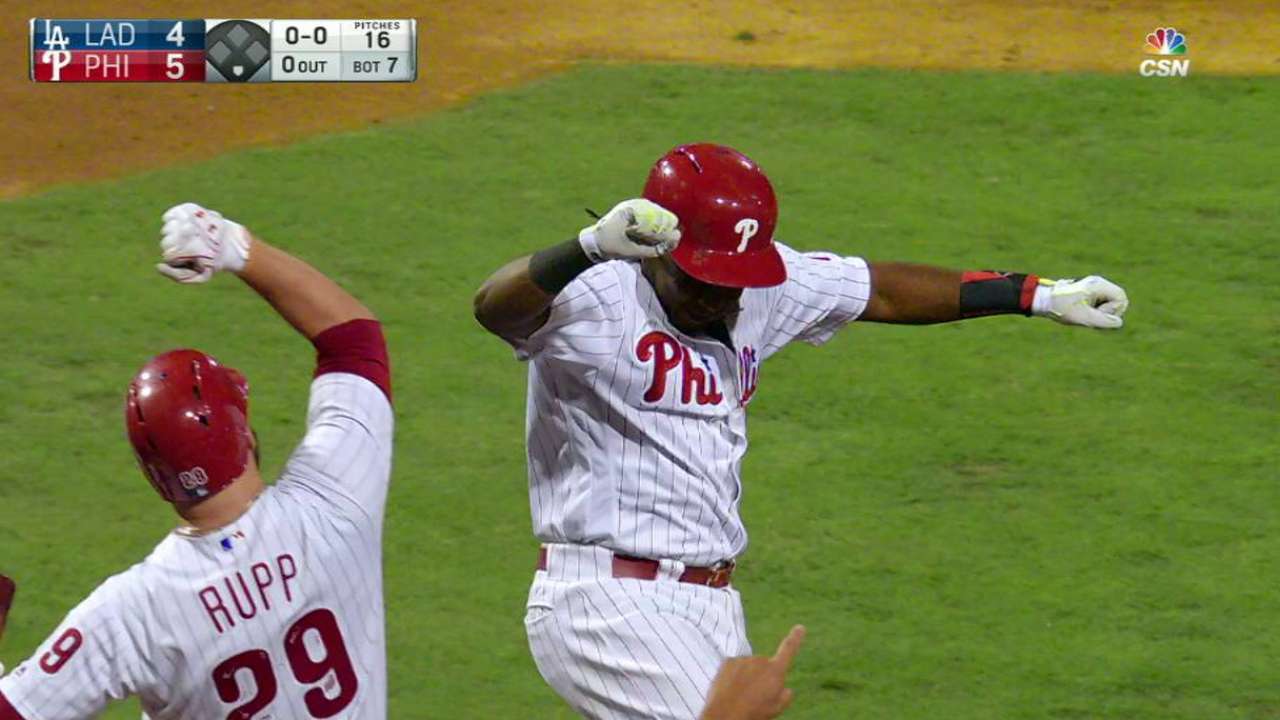 Scott Kazmir shouldered the loss in last week's game, having put the go-ahead runners on base before Dayton allowed the homer that brought them home. But Dayton got the credit he thought he deserved on Thursday.
"It sure felt like I lost the last one," Dayton said. "You don't really see a guy with 10 Major League innings getting those opportunities."
Despite Dayton being only 10 innings into his big league career, Roberts has been inserting him into high-leverage situations. It's what he's done all throughout his Minor League career, Dayton said, so he's comfortable under pressure.
And he's thrived with the Dodgers during his short tenure in their 'pen. The home runs to Galvis last week and Franco on Thursday amount to the only runs he's given up.
"He's had a handful of appearances for us this year, and I've put him in some tough spots," Roberts said prior to Thursday's game. "But he's really responded well. Even for him to give up the homer to Galvis [a few] outings ago and come back against Galvis and the Phillies and still throw up a zero was huge."
Like it was last week, the decision to let Dayton face Galvis, a switch-hitter, and the right-handed-hitting Franco was controversial. Both times it has come back to bite Roberts.
He had two options Thursday night, he said: Leave Dayton in against Franco to get the lefty-lefty matchup against Ryan Howard, whose right-left splits are enormous, or turn to Pedro Baez for Franco and let the righty face Howard from the friendly side of his platoon splits.
"You've got two of the three where you like the matchup," Roberts said. "The other one, you've got one out of three. So it's kind of like, I'll take my chances on the odds."
Roberts said the loss left a "sour taste" in his mouth, though not because of his ill-fated faith in Dayton.
"It's a win that we had late," Roberts said. "We played well enough to win. Any time you lose a game late, it's tough."
Evan Webeck is a reporter for MLB.com based in Philadelphia. This story was not subject to the approval of Major League Baseball or its clubs.