Rea hopes treatment allows him to pitch in '17
Padres right-hander opts for PRP injection instead of surgery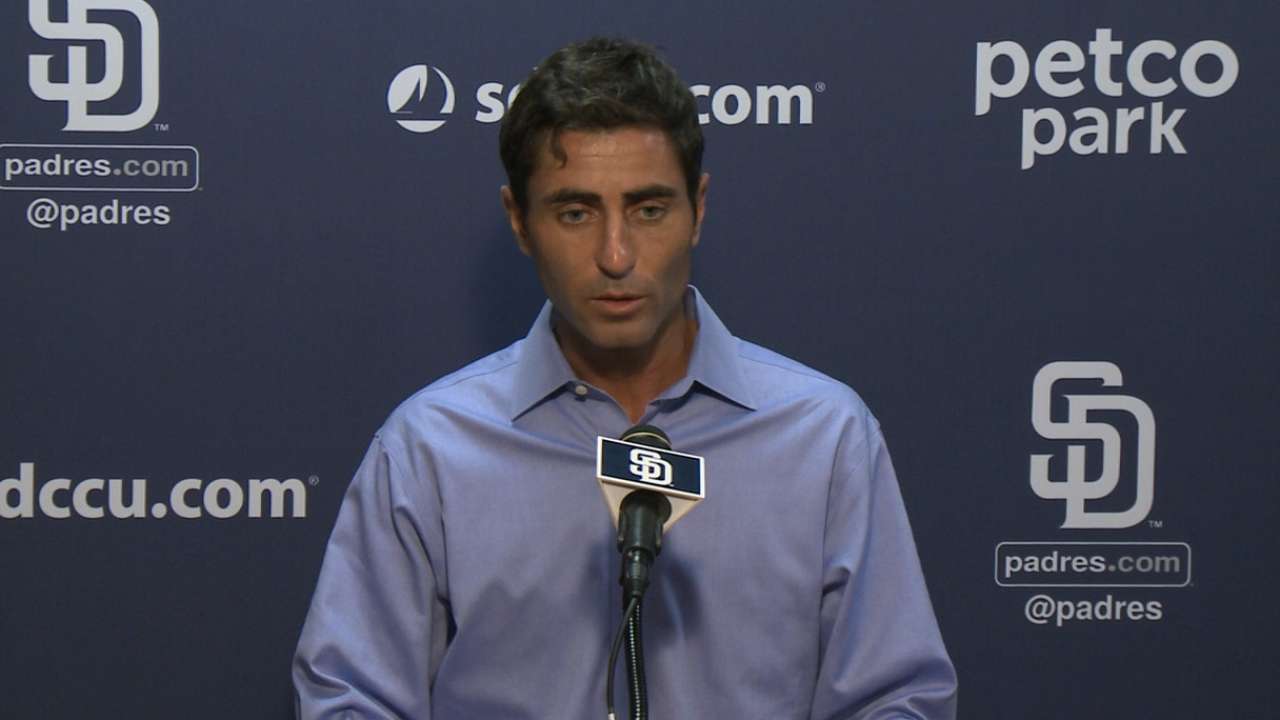 SAN DIEGO -- It's been a trying summer for Colin Rea, but the rookie right-hander may have a chance to crack the Padres' 2017 rotation after all.
That's not a chance he's about to pass up.
Rea -- who appeared ticketed for Tommy John surgery earlier this month -- had a platelet-rich plasma injection on Thursday. He's hopeful to avoid surgery and is looking to build his arm to full strength for a few innings of instructional ball before the end of 2016.
Rea's decision to forgo surgery came after he consulted with Dr. James Andrews, one of the most respected surgeons in the industry, earlier this week.
"It was a hard decision to make, and he was really leaning toward trying the PRP, giving it a shot," Rea said of his discussions with Andrews. "With him being one of the best surgeons in the world, he said, 'Tommy John really isn't a cure-all, you might as well give this a try.'"
The timing of Rea's injury plays a major factor in his decision to skip surgery. If the recovery hits a snag, Rea could still have an operation and be ready in time for the 2018 season. It's likely he'd miss the entire '17 campaign, anyway, if he had surgery now.
According to Rea, "it's a risk for sure." But it's one he feels is worth taking, so long as it doesn't affect his status for 2018.
"Surgery should be the last resort," Rea said. "It shouldn't be something that you just automatically go to. If we figure out that this doesn't work, then we know what the decision is going to be."
On July 29, Rea was dealt to Miami as part of a seven-player swap that included Andrew Cashner. He pitched the next day, and left after 3 1/3 innings with an ailing elbow.
Shortly thereafter, the Marlins contacted the Padres, upset that Rea had gone down with injury so quickly after being traded. The two clubs worked out a deal that sent the injured Rea back to the Padres for right-hander Luis Castillo, one of the prospects acquired in the original trade.
At the time, it appeared doubtful Rea would pitch in 2017 with Tommy John surgery on the horizon. Now, he'll take about four weeks to recover before beginning a throwing program.
"Worst comes to worst, and I do have to get the surgery, we don't want it to jeopardize 2018 at all," Rea said. "So we're going to set a timeline to where we need to make a decision."
Rea and the Padres doctors will set a deadline for his return to full strength. He estimates that deadline would come around late November or early December.
If Rea reaches full strength and feels fine, he'll shut it down and pitch next season. If not, surgery remains an option without Rea having to miss extra time.
"We'd like to get him up to where he's getting after it aggressively, so you have a real indication of how he feels, if he's dealing with any pain or any soreness," manager Andy Green said. "And if he's not, then we feel really good about the PRP injection results.
"You look at [Masahiro] Tanaka in New York, he was on that borderline -- should he have surgery, should he not? Next thing you know, he's throwing 200 innings after a PRP injection. So it's entirely possible that Colin takes that route -- that's what we're hoping."
The notion that he could pitch for the Padres next spring is one that makes Rea understandably giddy.
"It's only been 2 1/2 weeks since I haven't been throwing, and already it sucks," Rea said. "If I have a chance to be able to pitch next year, I'm going to do whatever I can."
AJ Cassavell covers the Padres for MLB.com. Follow him on Twitter @ajcassavell. This story was not subject to the approval of Major League Baseball or its clubs.