Duffey's fast start turns with loss of command
Twins right-hander retires first 10 batters before laboring in 5-run 4th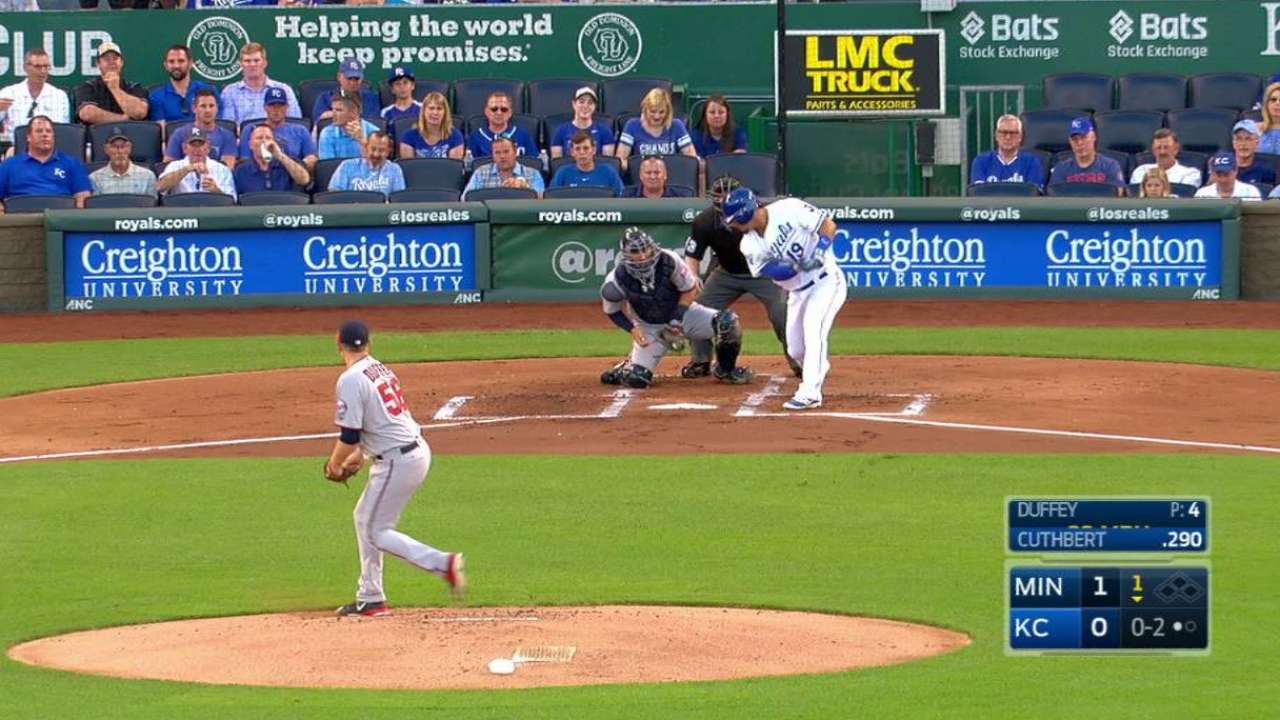 KANSAS CITY -- After two straight strong starts and a perfect game through 3 1/3 innings against the Royals on Thursday night, it looked like right-hander Tyler Duffey was back on track after scuffling in July.
But it fell apart quickly after Cheslor Cuthbert singled with one out in the fourth, as Duffey lost his command and ended up finding himself in a bases-loaded jam that was punctuated by a grand slam from Alex Gordon in an 8-1 loss at Kauffman Stadium. Duffey, who lasted 3 2/3 innings, gave up five runs in the inning on just two hits.
"Unraveling, that's one word you can use," manager Paul Molitor said. "He rolled through the first 10 hitters. It's one of those things where young guys get into certain situations and as much as you preach to them to slow down, they have trouble doing it. He just got quick out of the stretch and lost his command."
After Cuthbert's single, Duffey promptly walked Lorenzo Cain on five pitches to put two on with one out. Duffey nearly escaped the jam by getting a comebacker from Eric Hosmer, but Hosmer beat the potential double play to extend the inning. Molitor said he never seriously considered challenging the play even though it appeared close.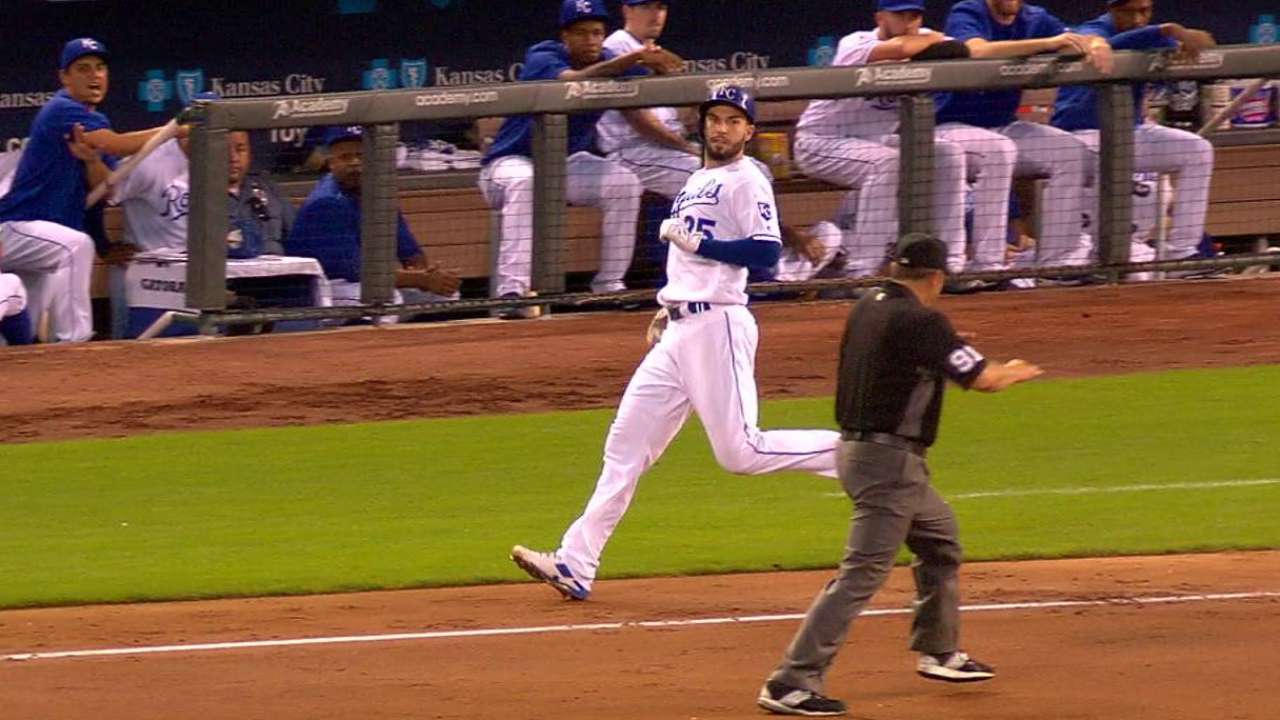 "Our communication system is fairly simple where if I get one that's 50-50, I might consider it from where we are in the game, but I didn't get that on that particular call," Molitor said. "So I didn't challenge."
Kendrys Morales followed with a five-pitch walk to load the bases for Salvador Perez, who was plunked by a fastball to tie the game at 1. Duffey continued to struggle with his control against Gordon, falling behind, 3-1, and threw a 90-mph fastball that Gordon lifted to deep right-center for a game-altering grand slam.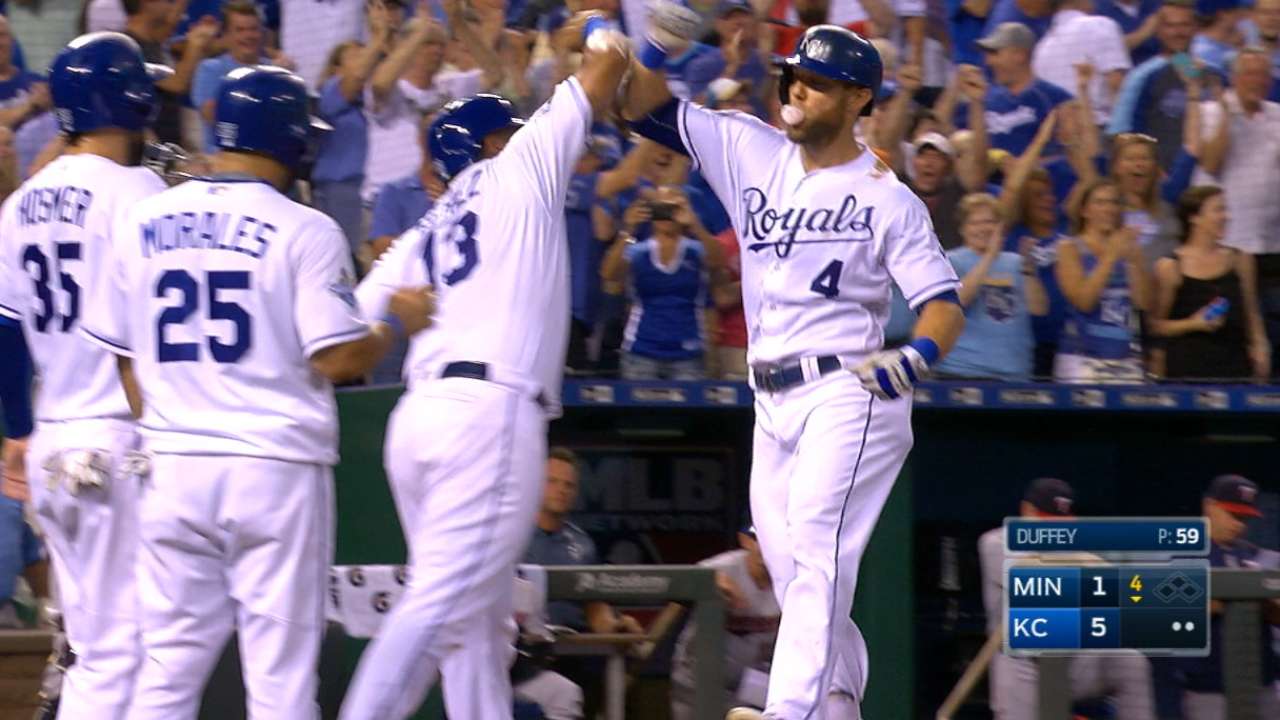 "The one that Gordon hit out wasn't even a good pitch to hit really," Duffey said. "It just went right into his swing path. But that's what you get when you walk a guy and hit a guy."
Duffey remained in the game, but after walking Alcides Escobar on four straight pitches, he was removed for right-hander Michael Tonkin. Duffey came back into the clubhouse after his short stint and veterans Ervin Santana and Hector Santiago told him they believed he was rushing his delivery once he got into trouble.
"I got too quick," Duffey said. "I was missing arm-side with my fastball and then yanking my curveball. I was fighting myself a little bit and next thing you know, you're out of the game."
Duffey said it wasn't all bad, considering his strong start to the game, but it was a reminder for the 25-year-old to keep his composure when things start to go south.
"There are good things to take from it and as for the bad, I know what I did," Duffey said. "It's just one of those things where you have to be able to slow it down. I've been better about it, but wasn't able to do it today."
Rhett Bollinger has covered the Twins for MLB.com since 2011. Read his blog, Bollinger Beat, follow him on Twitter @RhettBollinger and listen to his podcast. This story was not subject to the approval of Major League Baseball or its clubs.