Gordon back to form with big blast for Royals
Third career slam punctuates decisive 5-run 4th in series opener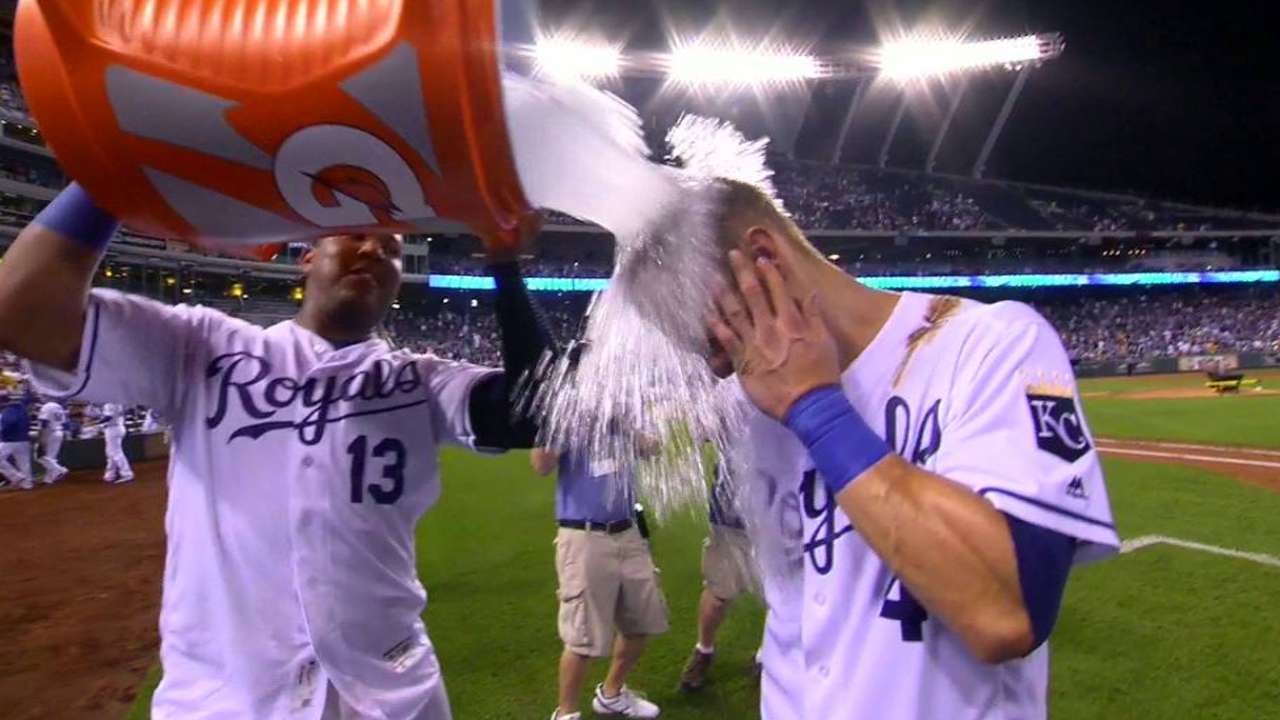 KANSAS CITY -- After finishing July with a .206 average, things only appeared to be getting worse for Royals left fielder Alex Gordon. He fared no better in his first seven games of August, managing just three hits in 24 at-bats, as his average dipped below .200 and stayed there for two straight games for the first time since April.
But in the midst of a seemingly lost season, Gordon has started to turn things around. Already on an eight-game hitting streak, he stepped to the plate in the fourth inning of the Royals' 8-1 win over the Twins on Thursday night with the bases loaded and two out. After taking two balls from Twins right-hander Tyler Duffey, Gordon fouled off a fastball right over the middle of the plate. Two pitches later, he got another cookie. Gordon didn't miss -- belting his third career grand slam to cap a decisive five-run fourth inning.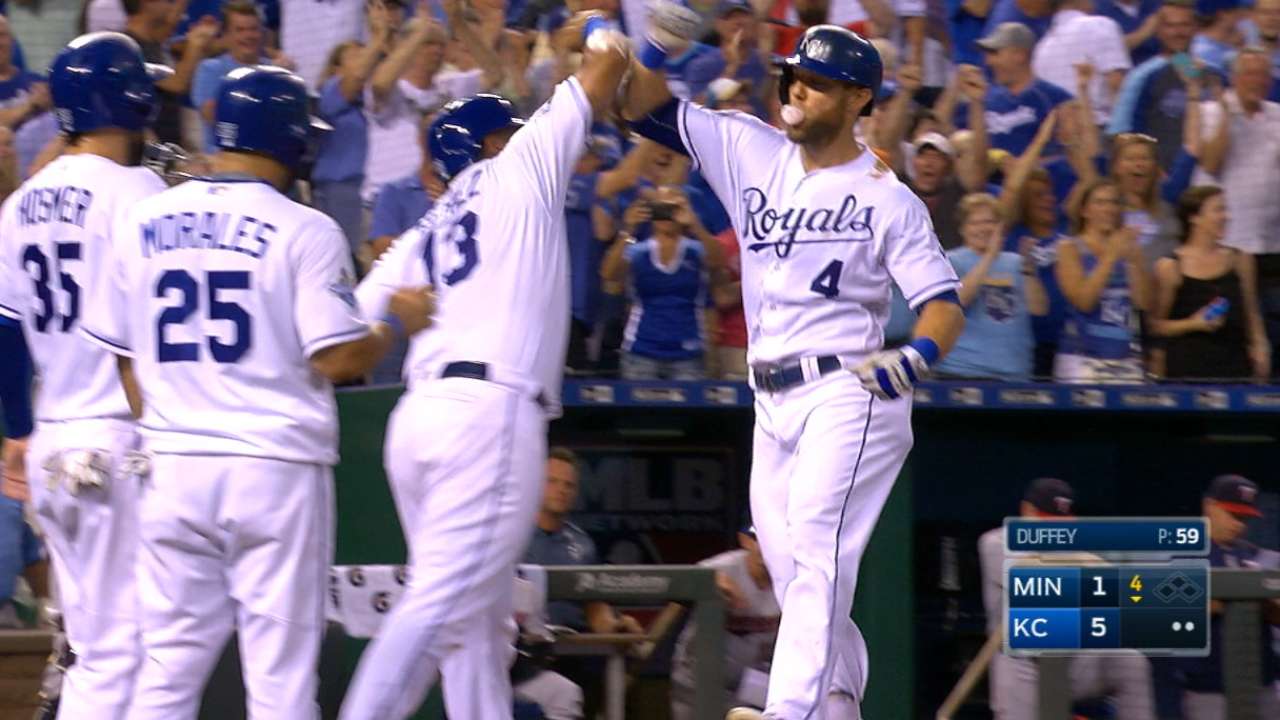 "When a guy is cruising like that, [you're] just trying to put a good at-bat together," Gordon said. "[You wait] for someone to step up. Fortunately, tonight it was me."
The slam, which traveled 421 feet from the plate and left the bat at 102 mph, according to Statcast™, came in a wild fourth in which the Royals plated five runs on just two hits. After a single, two walks, a fielder's choice and a hit-by-pitch, Gordon stepped to the plate as the seventh batter in the inning.
"What set up that whole inning was Hos [Eric Hosmer] busting himself down the line and beating out that double play," Royals manager Ned Yost said. "And then we have a walk, a hit batter and here comes Gordy."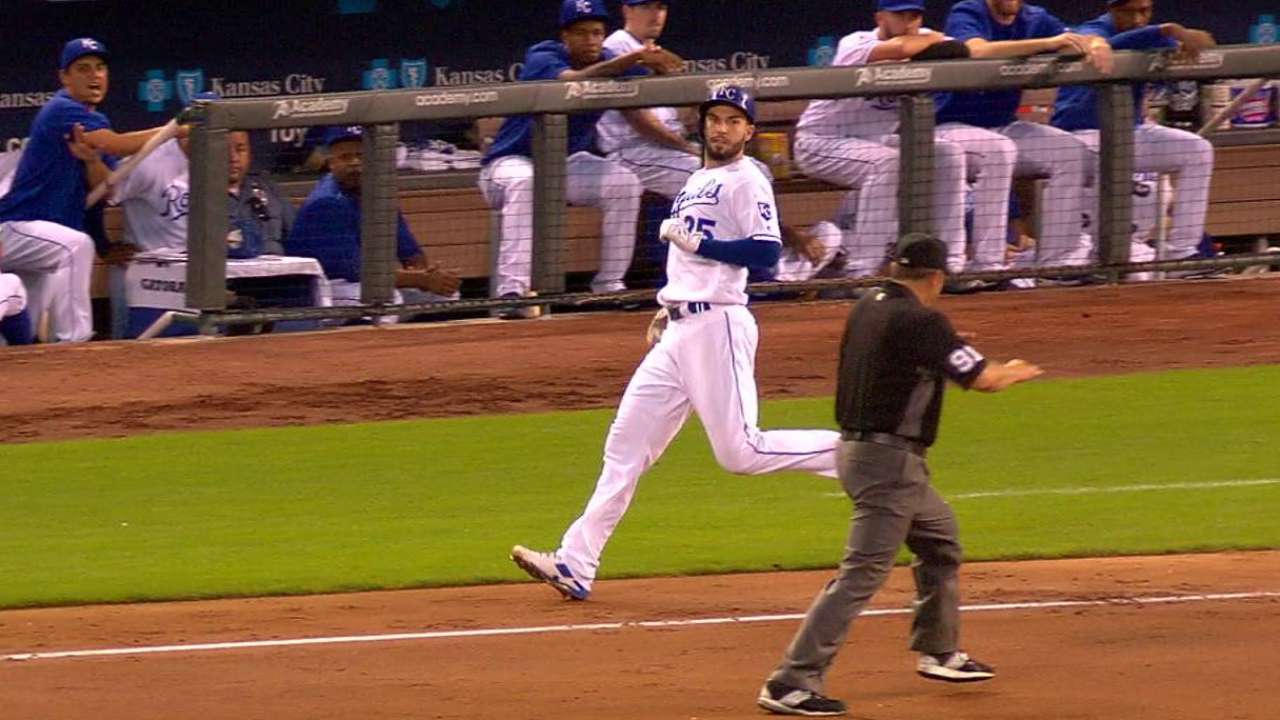 Two weeks ago, giving Gordon a second-chance fastball over the plate might have resulted in a popup. Not only did the blast mark Gordon's third straight game with a home run, it marked his ninth straight with a hit, a stretch that has seen his batting average shoot up to .382, while raising his OPS to 1.168.
"[I was] probably trying to do too much, trying to get out of a slump or something, which it's hard not to do," Gordon said. "I've been working hard with Dale [Sveum], our hitting coach, and trying to get out of it."
But while Gordon was crushing his third career grand slam into right-center field, Sveum wasn't able to see the fruits of his efforts continue to pay off. Sveum was ejected after the Royals' first at-bat of the game, in which Paulo Orlando was called out for batter's interference.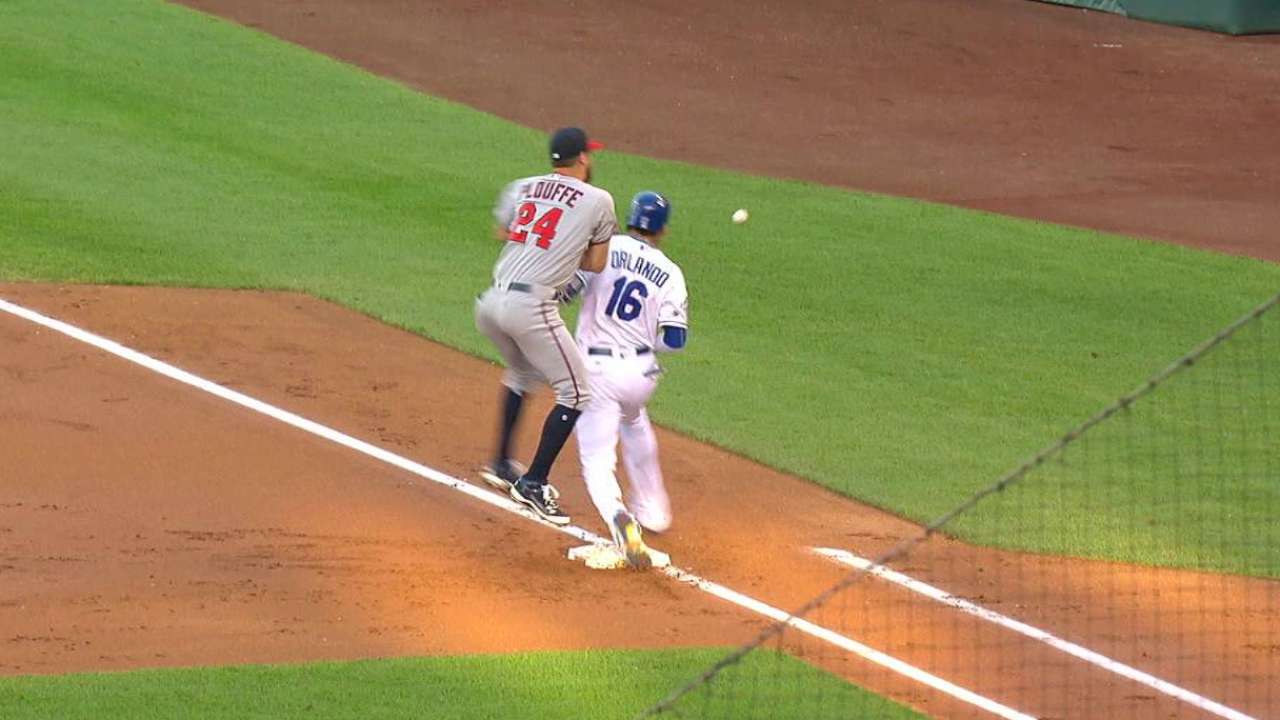 "That was pretty funny," Gordon said of Sveum's ejection. "He's great in that aspect, and he always has our back. I think that's what he was doing right there."
But even with the tense moment, it was all smiles for the Royals on Thursday, and for good reason.
Since falling to 51-58, the Royals have gone 10-2, scratching their way over .500. They are still nine games back of the first-place Indians in the American League Central and 6 1/2 games back of a Wild Card spot. But given their recent history, plus the good luck charm that is the Rally Mantis, there's no telling what could happen down the stretch.
• Royals' Rally Mantis II is enjoying new home
"The guys did awesome scoring runs. Gordo [hit] the grand slam. I was able to hold them after that," right-hander Dillon Gee said. "We're having a lot of fun playing the game right now. The guys on the bench are having a blast, keeping it loose, and guys are just having a good time out there."
Scott Chasen is a reporter for MLB.com based in Kansas City. This story was not subject to the approval of Major League Baseball or its clubs.