Freese 'at peace' with life, baseball
Veteran has found a perfect fit in role with Pirates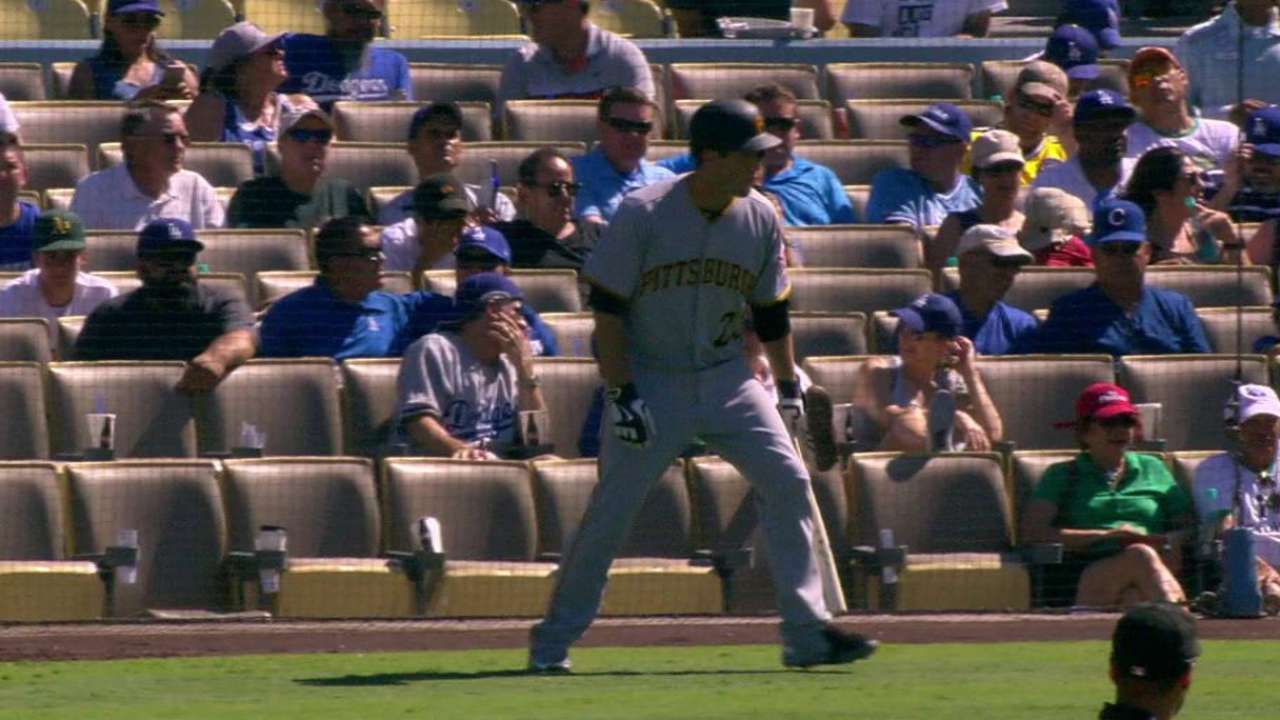 David Freese's extended offseason ended on March 11, in the middle of Spring Training, when he signed a one-year contract with the Pirates. The next morning, he walked into the media room connected to the McKechnie Field clubhouse, wearing a gray T-shirt with green sleeves and a smile he couldn't erase, and expressed something he repeated earlier this week.
"This winter was good for me," Freese said. "It was just a great part of my life where I was trying to be more."
The enduring image of Freese was captured in October 2011, the handsome hero leading his hometown Cardinals to a World Series championship. But look at him now, and you can see the whole picture -- personally at peace, passionate and a perfect fit with the Pirates.
"I'm just at peace more than I've been, probably ever," Freese said. "I love this game more than I ever have in my life.
"I wake up every day just enjoying playing this game, and a lot has to do with where I'm at in my life and the people I'm around."
Winter of content
After his World Series heroics, Freese found himself stretched thin in St. Louis. He dealt with the amplified demands of his newfound fame, alcohol-related issues and the loneliness in the middle of it all.
"I got caught up in St. Louis not saying no enough, trying to fulfill everyone else's expectations on the field or off the field. It just became a downward spiral," Freese said. "I loved my time there. It was really a dream come true. But there were some tough times."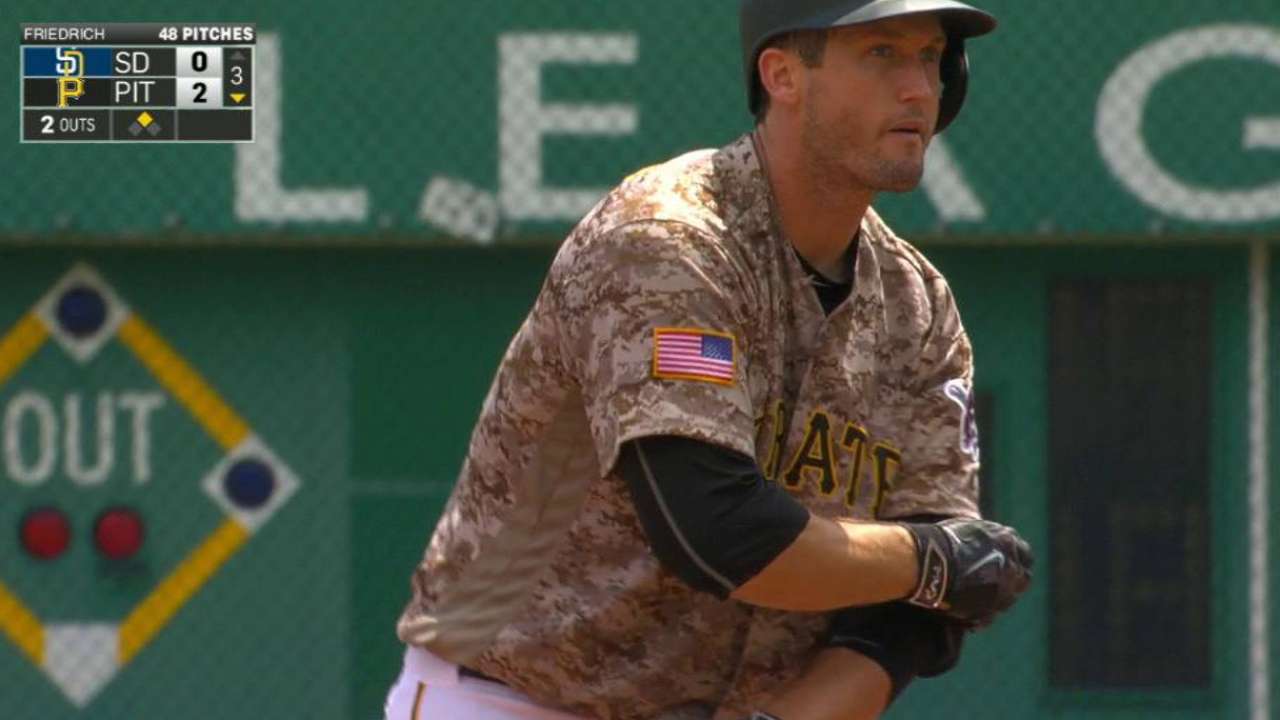 Within a week in November 2013, Freese moved to a new apartment in downtown St. Louis, brought home a boxer dog named Bob, met the woman who will soon be his wife and got traded from the Cardinals to the Angels.
Leaving St. Louis changed Freese, demanding him to mature and allowing him to do so away from the spotlight of St. Louis. His faith in and relationship with God continue to grow stronger, he said.
He has surrounded himself with positive influences, perhaps none more so than the girl he met at his friend's production studio, an intern named Mairin O'Leary. They've been together nearly three years, and they're moving -- with Bob -- to Austin, Texas. In December, Freese proposed.
"I don't know where I'd be without her, honestly," Freese said. "I think I'd be all right, but her strength and the way she challenges me to be a better person, it's awesome. ... I think Mairin helped bring the light out of me -- numerous people, I can't even explain where I'd be without all these people around me over the years."
'Skins on his wall'
This year, Clint Hurdle became one of those people. The Pirates manager has seen just about everything imaginable during his baseball career, and Freese said Hurdle has been a "huge" part of his comfort in Pittsburgh.
Freese heard plenty of Hurdle's booming voice while standing at third base during Cardinals-Pirates games. He heard some of Hurdle's inspiring story from Matt Holliday, a close friend and former teammate who played for Hurdle in Colorado.
Freese quickly came to know and respect Hurdle. The Pirates quickly came to trust Freese as a leader and voice of reason, with Hurdle pointing to his accomplishments as a World Series MVP who's seen "the other side of what comes with that."
"Way back in prehistoric days, they used to count skins that were hung on the wall. David's hung a lot of skins on his wall," Hurdle said. "There's been a lot of life experience that he can share and others can benefit from listening to."
That's the easiest part of his job description. Freese is at ease being himself.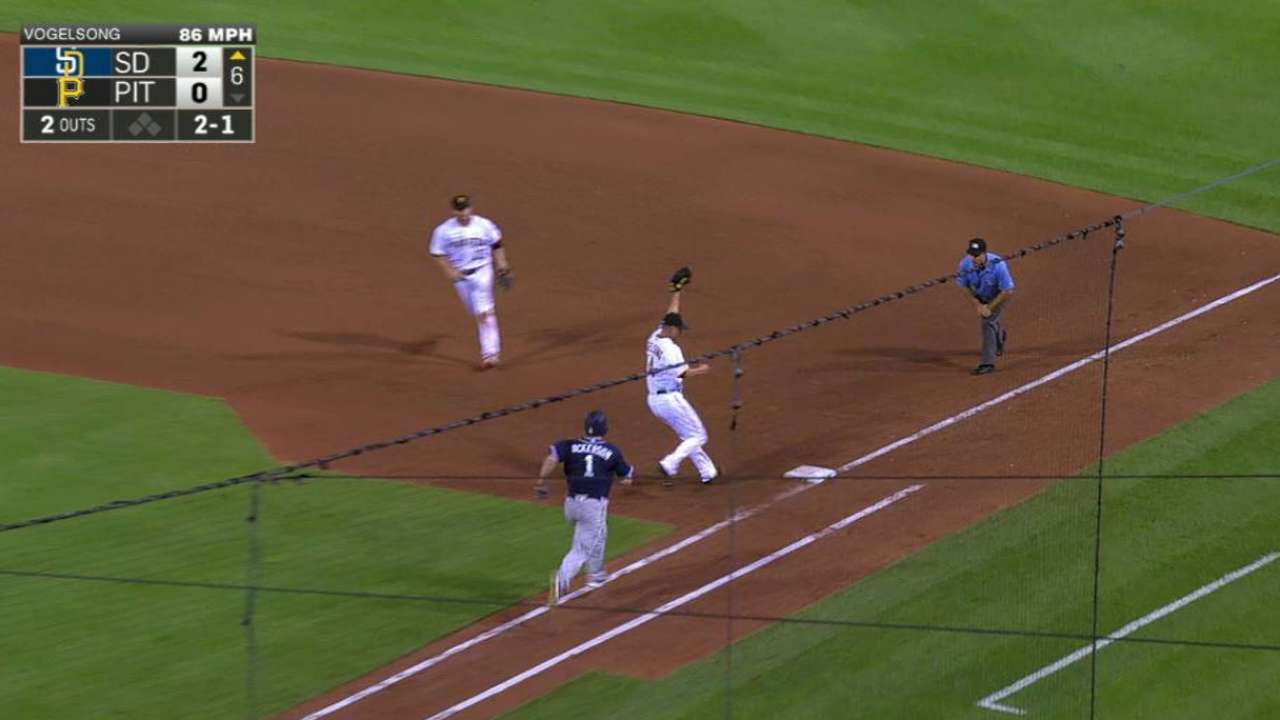 But his value extends beyond the clubhouse. Pittsburgh is 49-32 when he starts this season. He's hit .283/.364/.440, played a solid third base and seamlessly adjusted to first base.
"We love him here," Andrew McCutchen said. "He gets along with all of us. We get along with him. It does help that he's a pretty good baseball player, too."
This year has changed the way Freese views the rest of his career. It may not come with the Pirates, barring something unforeseen, but Freese "absolutely" views Pittsburgh as a place he could stay.
He feels great physically. Mentally, he feels rejuvenated, a far cry from the kid who quit baseball after high school, passed on an athletic scholarship to the University of Missouri and asked his parents to pay his tuition there instead.
"It's been hard sometimes to dig deep and enjoy the game," Freese said. "I think that's normal, guys seeing this game as a job and sleeping with their gloves. But man, I love this game."
He's already decided he won't stress over this offseason, not like he occasionally worried about the prospect of unexpected unemployment from October until March. That was when people wondered where Freese would be if not for the Pirates.
But where would the Pirates be now if not for him?
Adam Berry has covered the Pirates for MLB.com since 2015. Follow him on Twitter at @adamdberry. This story was not subject to the approval of Major League Baseball or its clubs.