Sale, Sox happy with results of pitching plan
Focusing more on contact over strikeouts, ace stronger at this point in season than in past
CLEVELAND -- There was a time earlier this season when Chris Sale and the Cubs' Jake Arrieta were being talked about as sure-fire 20-game winners and Cy Young frontrunners -- not to mention days being counted and starts being figured to see if they would match up during the crosstown series played at the end of July.
But these aces have shown a few blips on their seemingly impervious radar as the season has progressed. Arrieta walked seven over 5 2/3 innings in a victory over the Brewers on Thursday and had a 3.54 ERA in June followed by a 4.88 ERA in July.
Sale has gone six straight starts since his last victory in Houston on July 2, posting an 0-4 record and 4.43 ERA over 40 2/3 innings during that stretch. These rough runs shouldn't take away from Arrieta's 15-5 record and 2.75 ERA overall, placed up against Sale's 14-6 ledger with a 3.30 ERA.
"We live in a very right-now society. It just comes with the territory," a smiling Sale said of the questions thrown at aces when they struggle. "People see something, and they want it to happen immediately. People want [Arrieta] to win his 20th game before he threw the first pitch of the year. But they are entitled to their opinion.
"Those expectations don't get there for nothing. I can speak for myself. I can't speak for him. I hold myself to that same standard. When I don't go out there and win a ballgame, I don't care whether it was this or that. I didn't get the job done. We hold ourselves to those standards as well."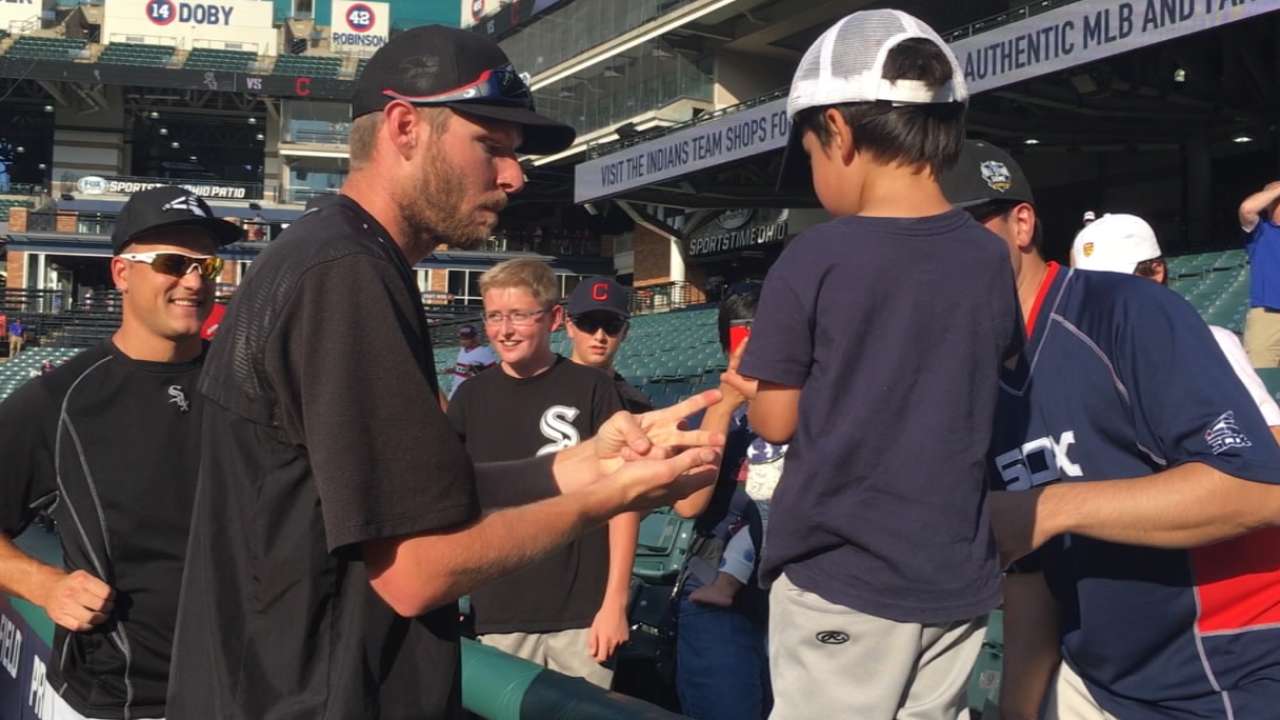 Sale's altered 2016 pitching plan has been talked about since the start of Spring Training, one where the southpaw is going less for strikeouts and more for early contact. It's also a strategy aimed at having the highly competitive Sale throw fewer pitches in anger.
Over 160 2/3 innings and 23 starts, Sale has fanned 157. He also has thrown four complete games, assessing the plan as a complete success in terms of how he feels physically and how his arm feels.
"What we've being doing throughout the year has been helping out a lot. Not only that, but the work I put in during the offseason and stuff like that, but so far so good up to now," Sale said. "The end goal for every year is to be strong at the end. I feel good now. I do. I felt the same way last year as well."
"Since he's been starting, this is the best and as strong as he's been later in the season than I've seen him any time," said White Sox manager Robin Ventura. "There hasn't been that stretch where, in the past few years, he has definitely needed time off or the velocity has really tailed off or you could tell he was putting the governor on as far as how he was pitching or doing things."
Scott Merkin has covered the White Sox for MLB.com since 2003. Read his blog, Merk's Works, follow him on Twitter @scottmerkin, on Facebook and listen to his podcast. This story was not subject to the approval of Major League Baseball or its clubs.