MLB.com Columnist
Jonathan Mayo
Top 10 fantasy baseball prospects for 2016
Padres' Renfroe could make Major League impact sooner rather than later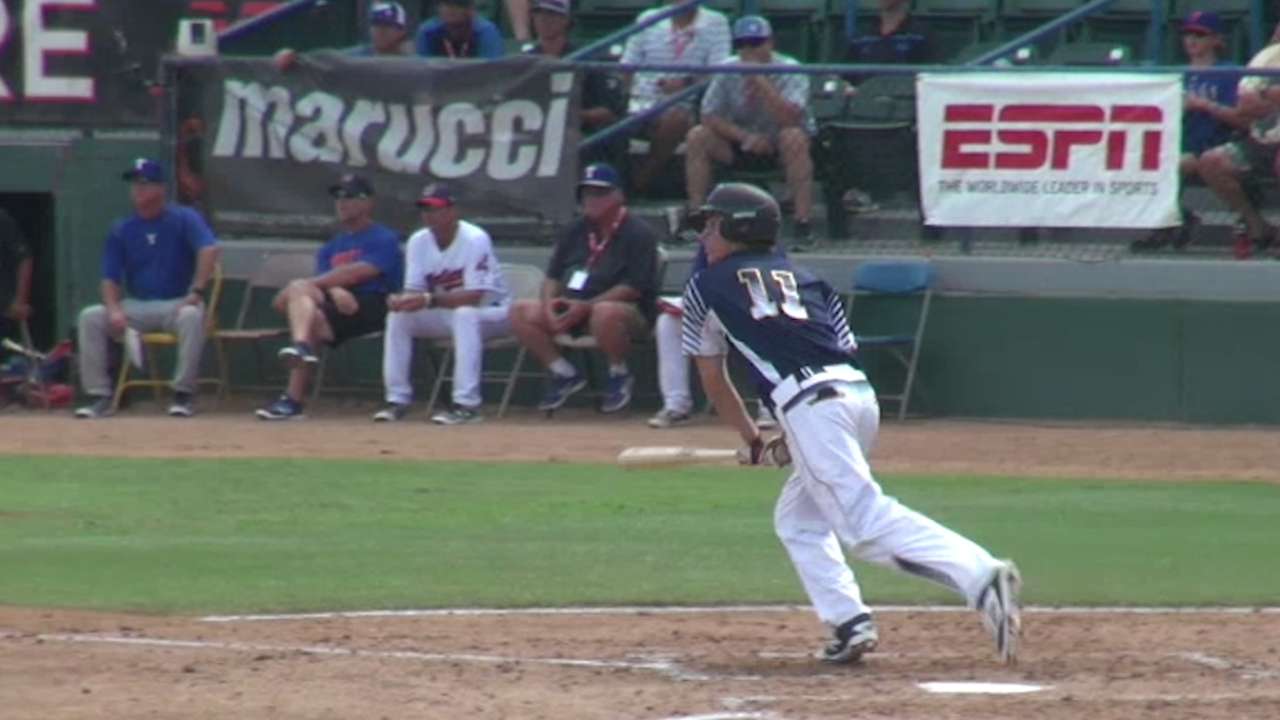 It's been another big period for prospect callups, headlined by No. 5 overall prospect Dansby Swanson joining the Atlanta Braves as their new starting shortstop on Wednesday. At the very least, National League-only fantasy players scrambled to pick up the middle infielder.
Since the last time we updated the Fantasy Top 10 prospects, the Cardinals also brought up Alex Reyes to pitch out of the bullpen and Luke Weaver to take Michael Wacha's rotation spot. Reyes has been unhittable out of the bullpen -- keep an eye out to see if he gets to close games -- and while Weaver was just OK in his debut, he'll get another chance.
Then, of course, there's the exciting youth movement in New York. Aaron Judge, on this list two weeks ago, has made a very strong first impression, as has, to a slightly lesser extent, Tyler Austin. Gary Sanchez has been up for longer and keeps showing off his power. Now the primary catcher in New York, if you haven't added him to your fantasy roster, you're probably too late.
But you might not be too late for those on MLBPipeline'com's updated rankings of the top 10 fantasy baseball prospects in the Minors, listed below. Remember, they are based on expected 2016 fantasy value while our Top 100 prospects list reflects long-term value in all phases of the game.
1. Hunter Renfroe, OF, Padres (Previous rank: 1)
This one still defies explanation. Renfroe was leading the Pacific Coast League in home runs as of Thursday and was second in slugging (not to mention in top 10 in batting average). Jabari Blash isn't exactly setting the world on fire in right field. Renfroe needs to be added to the 40-man roster this offseason anyway, so give the guy a chance!
2. Yulieski Gurriel, 3B, Astros (Previous rank: 2)
As Jim Callis noted in our last edition, Gurriel is too old and experienced to officially be considered a prospect, but he should be on your fantasy radar. The 32-year-old Cuban has been pushed to Triple-A, where he's homered and doubled in his first eight at-bats. Where Gurriel will play remains to be seen, but the Astros didn't give him $47.5 million to not be a mainstay in the lineup quicky.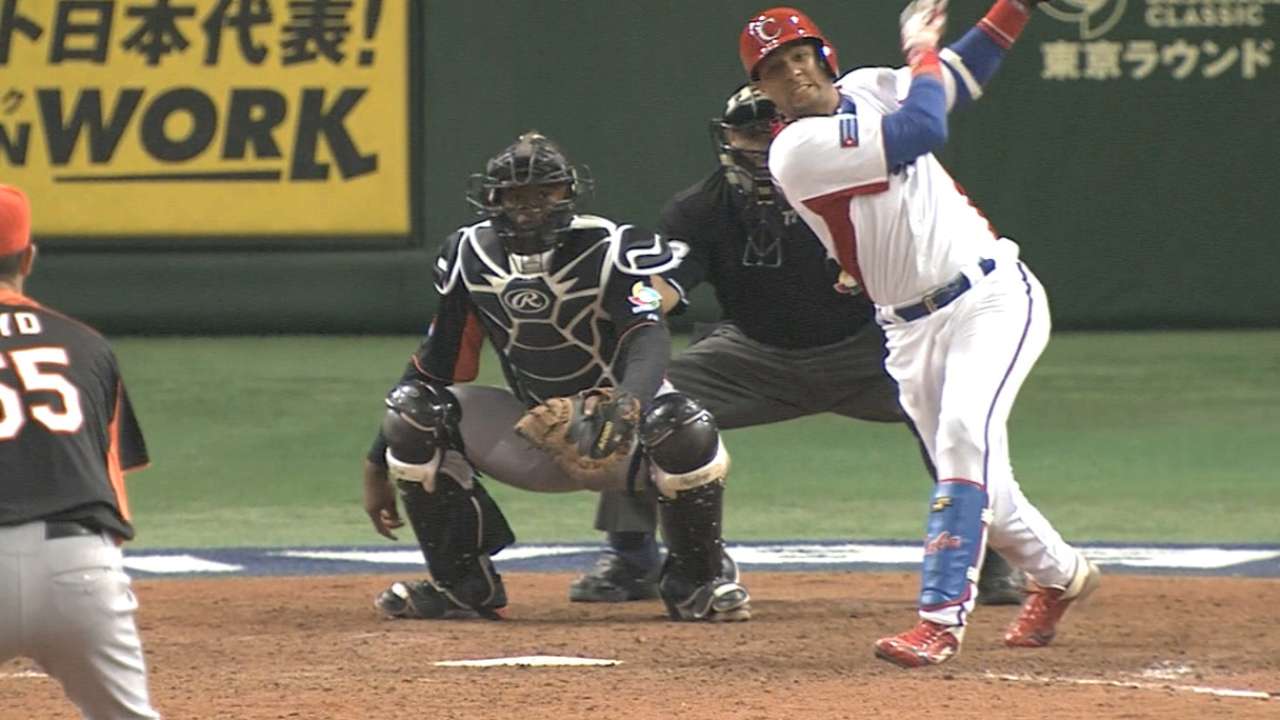 3. Manuel Margot, OF, Padres (Previous rank: 9)
While I inadvertently ticked off some Padres fans by saying Margot should get called up to play center field every day (those fans were sticking up for Travis Jankowski), I still stand by it. If Jankowski is the superior defender, fine, move Margot to left. But keep in mind it's Jankowski who has seen more time in outfield corners. Margot's offensive upside, from his speed to his ability to hit for average, belongs in that lineup.
4. Jose De Leon, RHP, Dodgers (Previous rank: 5)
De Leon could help out of the bullpen at the very least. But taking a look at the Dodgers' rotation, which has been beset by injuries, couldn't the right-hander help out there? De Leon struck out 10 over seven innings in his most recent start and has whiffed 11.1 per nine so far this year.
5. Josh Bell, 1B, Pirates (Previous rank: 3)
There's no question Bell would be an upgrade offensively at first over John Jaso, with the ability to hit for average and power from both sides. David Freese getting hot has already taken away some of Jaso's playing time, and you have to think that if the Pirates felt Bell was ready, they would've brought him back up again. Look for him on Sept. 1.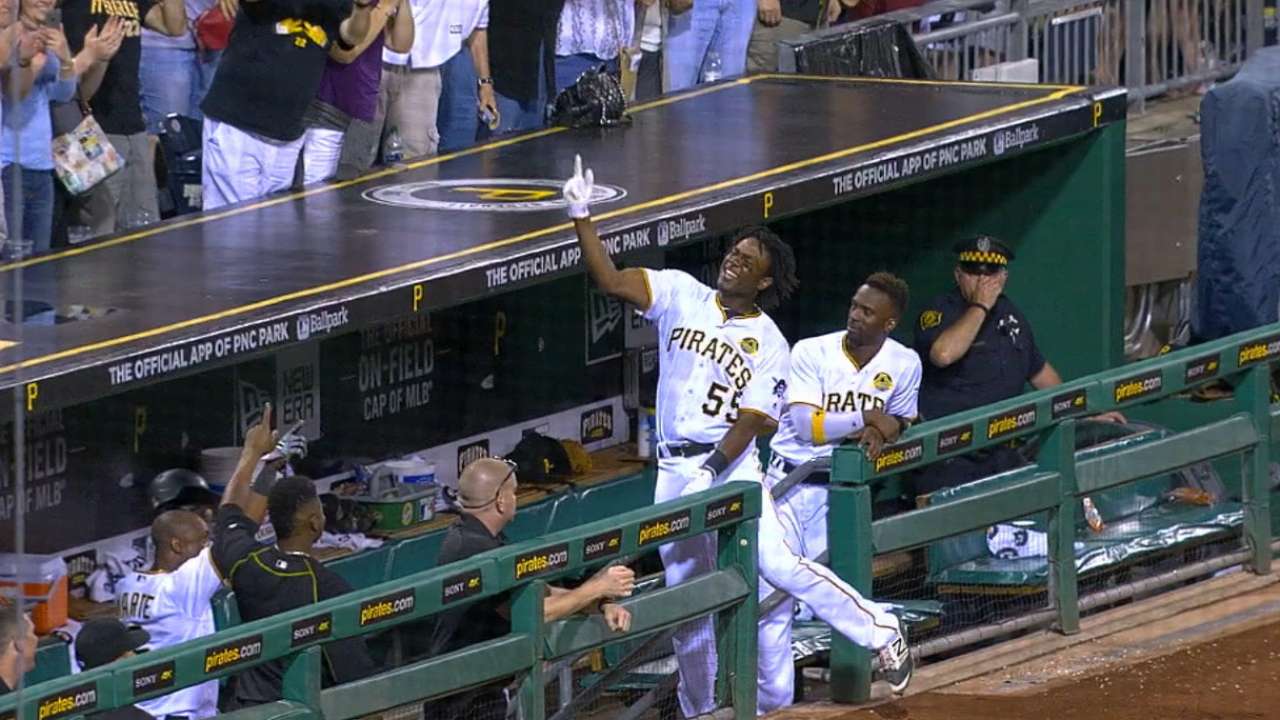 6. Lucas Giolito, RHP, Nationals (Previous rank: 6)
The top pitching prospect in the game struck out 10 and allowed just one run over seven innings in his most recent Triple-A start. He doesn't really have anything left to prove there, but there also isn't an obvious opening in the rotation, at least for now.
7. Jharel Cotton, RHP, A's (Previous rank: unranked)
Cotton tossed a complete-game one-hitter two starts ago, walking none and striking out 12. In three starts since joining the A's organization via the Rich Hill / Josh Reddick trade, the right-hander has a 1.74 ERA, a .157 BAA and 21 K's (vs. just 3 BBs) in 20 2/3 innings. Oakland is 14th in starters' ERA this season. Can you think of a better way to show the value you got back in trade than calling one of the acquired prospects up?
8. Joey Gallo, 3B/1B/OF, Rangers (Previous rank: 8)
Gallo continues to show how his power plays in games in Triple-A, but he hasn't gotten a real chance to play every day at the big league level. He needs that to get in a rhythm and he still could be more productive than any other left field options if the Rangers would give him that chance.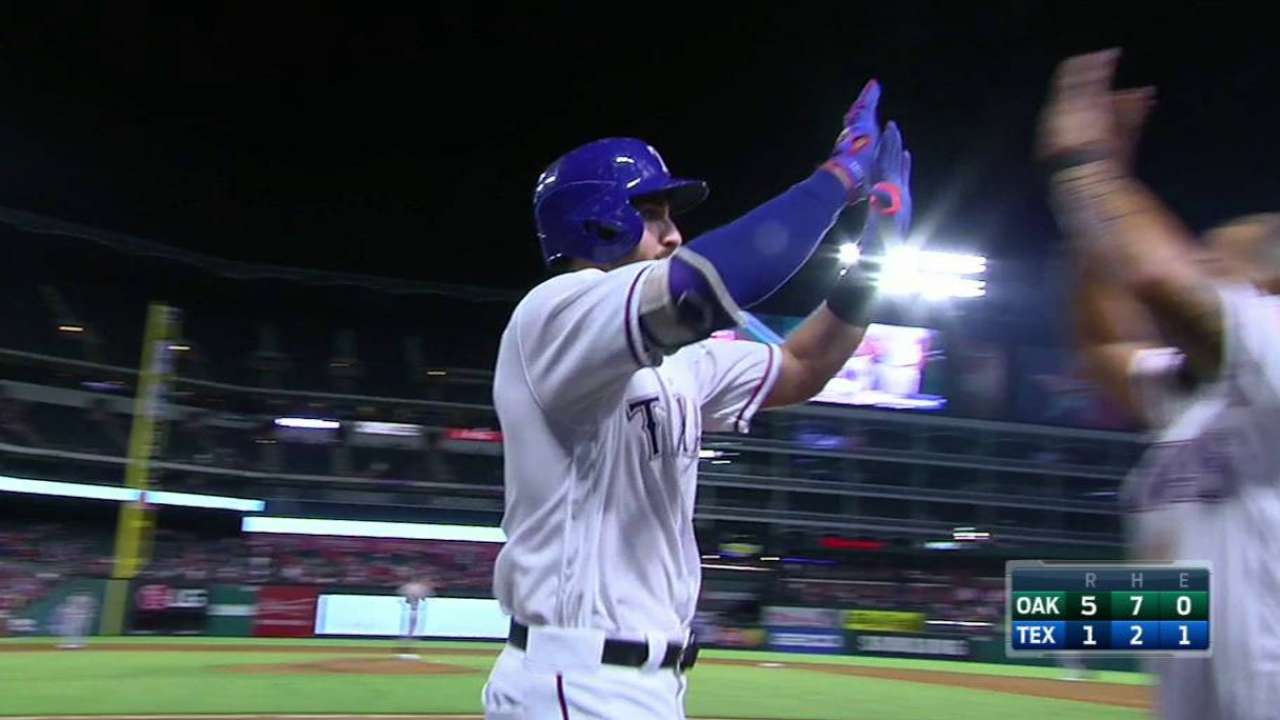 9. Ozzie Albies, 2B, Braves (Previous rank: unranked)
Swanson is up, so why not Albies? It sounds like this is going to happen, although perhaps not until Sept. 1. Still just 19, Albies is extremely precocious and has shown an ability to hit for average and steal bases, the latter of which could come in handy down the stretch for your fantasy team coming from a second baseman.
10. Amir Garrett, LHP, Reds (Previous rank: unranked)
Garrett has gone seven innings in each of his past two starts, allowing a combined two runs on nine hits and two walks while striking out 12. He's held hitters at two levels to a measly .183 batting average against. The Reds are in full youth movement mode, and with Garrett already on the 40-man, you should be ready to swoop in.
Dropped out: Aaron Judge, OF, Yankees (Previous rank: 4/promoted to big leagues); Alex Reyes, RHP, Cardinals (Previous rank: 7/promoted to big leagues); Adalberto Mejia, LHP, Twins (Previous rank: 10/pushed out)
Jonathan Mayo is a reporter for MLBPipeline.com. Follow him on Twitter @JonathanMayo and Facebook, and listen to him on the weekly Pipeline Podcast. This story was not subject to the approval of Major League Baseball or its clubs.