Former starter Smith gaining trust in Reds' bullpen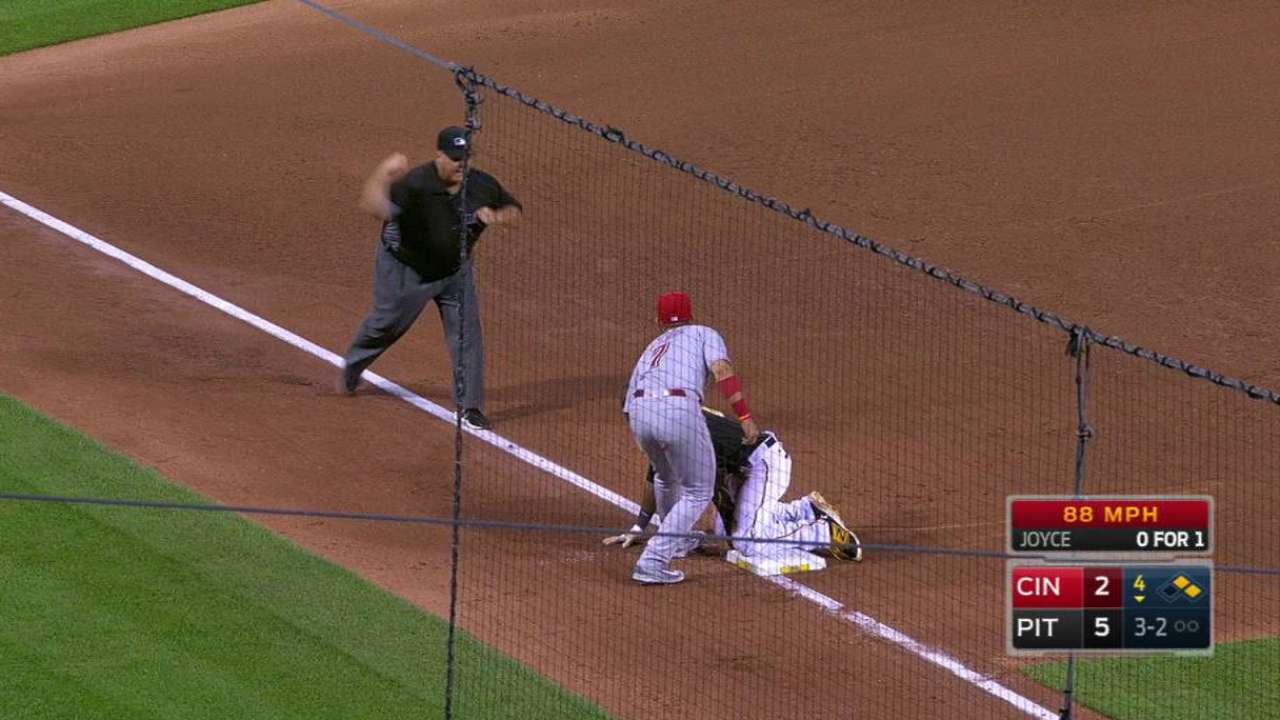 CINCINNATI -- Reliever Josh Smith is often in the front end of the Reds' bullpen, asked to work long relief or low-leverage situations when the team is trailing. But there are occasions when he's been needed to step into a higher-profile situation, and Smith hasn't disappointed.
One of those moments came during Wednesday's 3-2 Reds win over the Marlins. Smith, who entered in the sixth after Homer Bailey was lifted with his team trailing by one run, pitched two scoreless innings with no hits, two walks and two strikeouts for the victory. Smith was needed, in part, because the Reds were shorthanded with Raisel Iglesias and Michael Lorenzen both unavailable.
Smith, 29, entered Thursday with a 2-1 record and a 4.21 ERA in 22 appearances. He has allowed 33 hits and 18 walks with 32 strikeouts and a .239 opponents' batting average over 36 1/3 innings. But in high-leverage situations, batters are hitting .217 against him. In one-run games, Smith has a 1.80 ERA in seven appearances.
"It's always helpful to come into close games and pitch well," Smith said. "I've come into a couple of one-run games -- with us either up or down -- and pitched well. I know my big innings have come in blowouts, but that's no real excuse to give up runs. I try to take every batter like it's a tie game or one-run game. Even if it's an eight-run game, you try not to look at the scoreboard. You try to get that guy out and get it to the next guy, basically."
Smith gave up a two-run homer on Saturday during a blowout win at Milwaukee, but he didn't allow a run in each of his four other August appearances. He's earned more trust from manager Bryan Price after a rough rookie season in 2015 as a starter.
In nine games, including seven starts, Smith went 0-4 with a 6.89 ERA and was prone to walks and deep counts, a departure from his reputation for throwing strikes and getting ground balls. He was not only taken off the 40-man roster after last season, he wasn't invited to big league camp for 2016 Spring Training. But he's worked his way back, got called up in May and found a niche as a reliever.
"It was a little of an adjustment at first," Smith said. "A lot of guys here in the 'pen have done it a lot, and I'm trying to learn from them. They've helped me along the way. I feel like I'm just one of the guys now, but if they need me to spot start or be in the back of the rotation, I could do that, too. It's been helpful to be in the 'pen now. I have a role where I can pretty much do anything."
Worth noting
• For the second time since Monday, Reds shortstop Zack Cozart was given a rest from the starting lineup on Thursday. Price said that Cozart was dealing with some patellar soreness in his surgically repaired right knee.
"He's not 100 percent alleviated from the issues from the knee and knee surgery of last season," Price said. "He still has periodic soreness and issues with that."
• Left fielder Adam Duvall, who fouled a ball off his left foot on Monday, has shown improvement. Duvall was out of a walking boot and able to do some hitting Thursday. Price said the All-Star could be a day or two away from being back in the lineup.
Mark Sheldon has covered the Reds for MLB.com since 2006, and previously covered the Twins from 2001-05. Follow him on Twitter @m_sheldon and Facebook and listen to his podcast. This story was not subject to the approval of Major League Baseball or its clubs.