Tigers use late rally to halt Red Sox's surge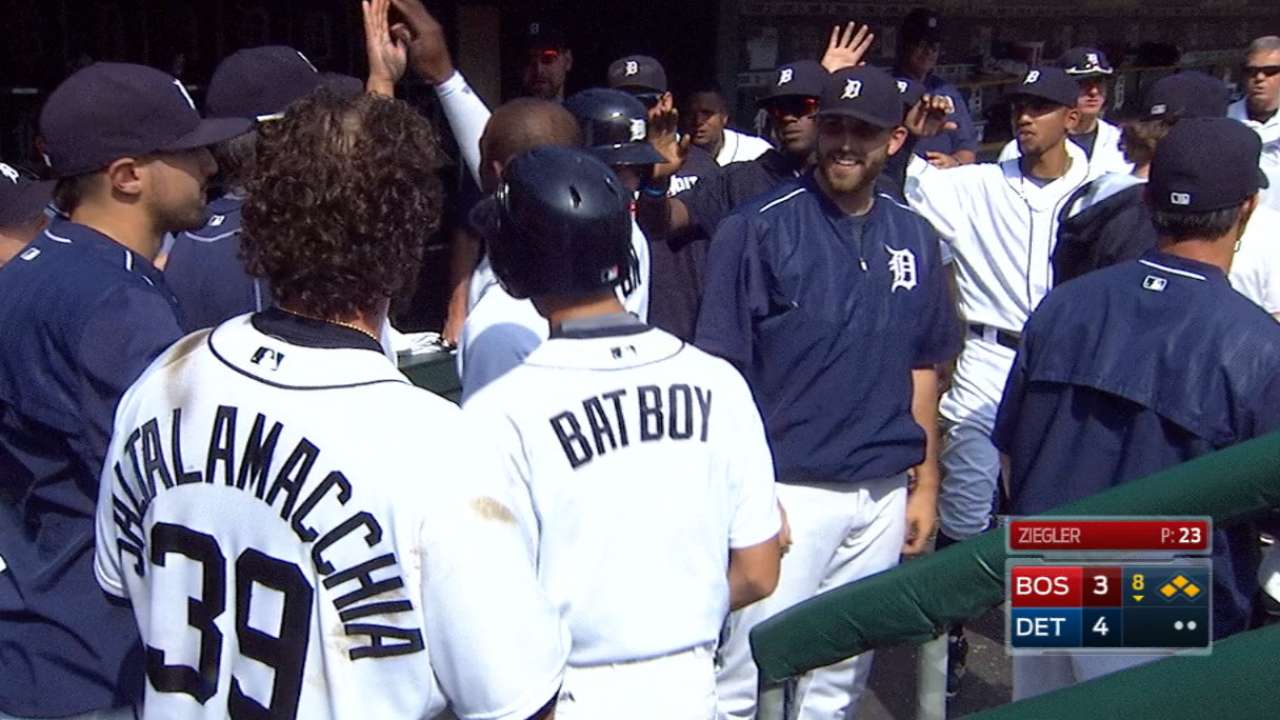 DETROIT -- The fourth city in five days for the Red Sox was the one that ultimately ended their winning streak. Andrew Romine's bases-loaded walk off Brad Ziegler completed a three-run Tigers rally in the eighth inning, ending Detroit's three-game losing streak and Boston's six-game winning streak with a 4-3 Tigers victory Thursday afternoon at Comerica Park.
The Red Sox rebounded quickly from a rain-lengthened Wednesday night in Baltimore and a late flight to Detroit to carry a 3-1 lead, buoyed by Hanley Ramirez's go-ahead single in the top of the eighth. But Ian Kinsler, Erick Aybar and Miguel Cabrera each lined base hits off Junichi Tazawa to start the home half, with Cabrera singling home Kinsler for his 1,000th RBI as a Tiger.
"Oh, it was big, man," Cabrera said of the rally and win. "Last two games were tough. Against Kansas City, we didn't hit well with men in scoring position. And when you don't drive in runs, it's tough to win."
• Buchholz impresses with resurgent outing
Victor Martinez greeted Ziegler with a ground ball through the right side for a game-tying single, but after a J.D. Martinez walk loaded the bases, Ziegler induced a fielder's choice off home and struck out Jarrod Saltalamacchia, putting the righty an out away from escaping.
Romine, however, declined to chase, drawing his third bases-loaded walk of the season to bring home pinch-runner Justin Upton. Francisco Rodriguez put two runners on in the ninth but stranded them at second and third when Kinsler snared Mookie Betts' line drive up the middle.
"I thought we brought great energy considering the circumstances coming into this ballgame," Red Sox manager John Farrell said. "We fought hard. We matched up well in certain situations, with a big hit in a pinch-hit role. But in the end, we were on the wrong side of it."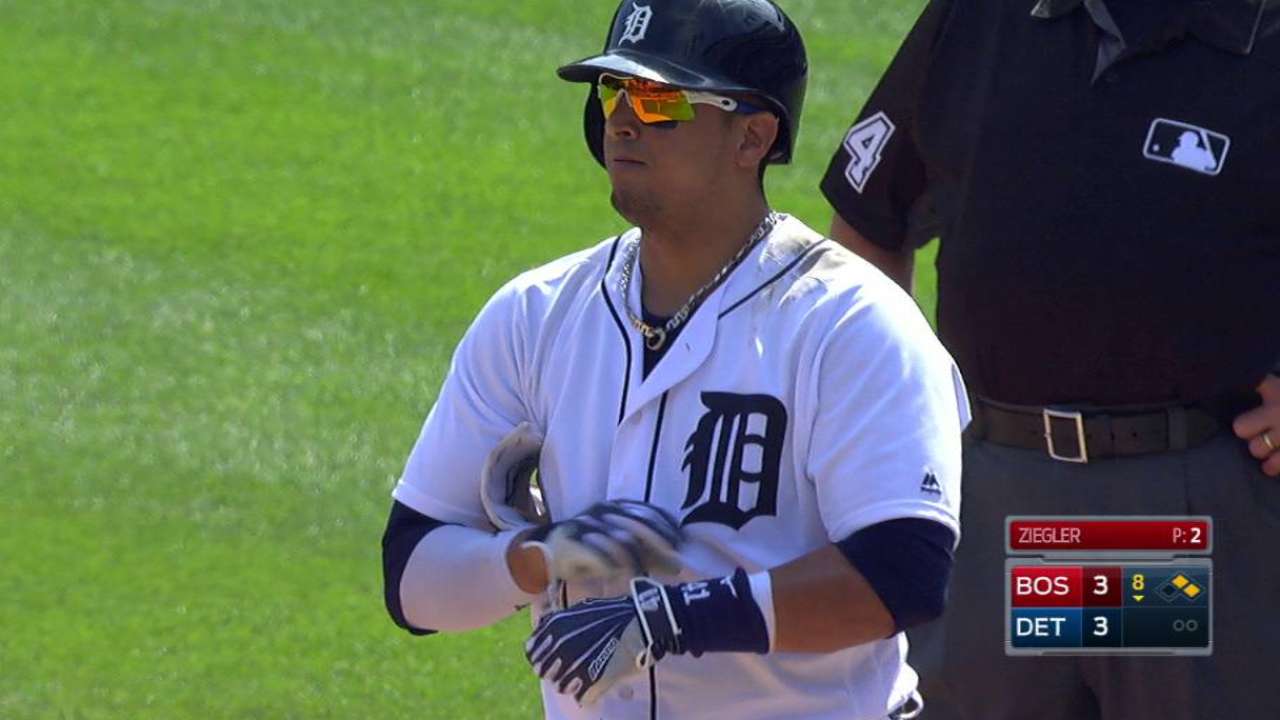 MOMENTS THAT MATTERED
Singles in the eighth: The Red Sox used three singles to start the eighth inning and take a 2-1 lead. A single by Ramirez brought Xander Bogaerts in to score and give the Red Sox the lead. Betts advanced to third on that play before scoring on a wild pitch by reliever Justin Wilson to make it 3-1.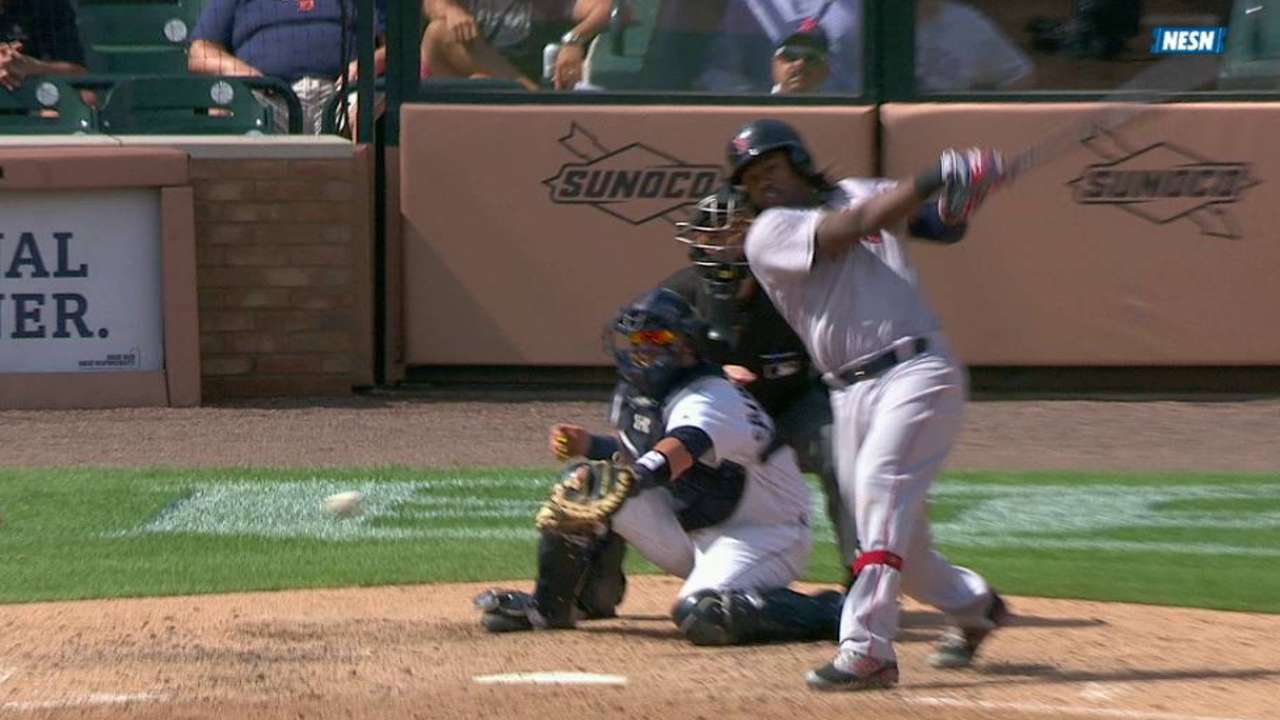 Cabrera capitalizes: Cabrera became the 11th Tiger to record 1,000 RBIs with the franchise, but his line drive through the middle had more immediate importance. Not only did he score Kinsler from third to cut Detroit's deficit to 3-2, he moved Aybar to third and put pressure on Ziegler upon his entrance to face Victor Martinez.
No late luck: After a leadoff walk in the ninth inning, Andrew Benintendi beat out the back end of a double-play attempt that was reviewed and upheld. The Red Sox appeared to be in luck after David Ortiz delivered a pinch-hit single at the top of the order. After Bogaerts' groundout to first, Boston had runners at second and third base with two outs. Betts came up and smoked a ball up the middle, but second baseman Ian Kinsler was there to snag the liner and end the game.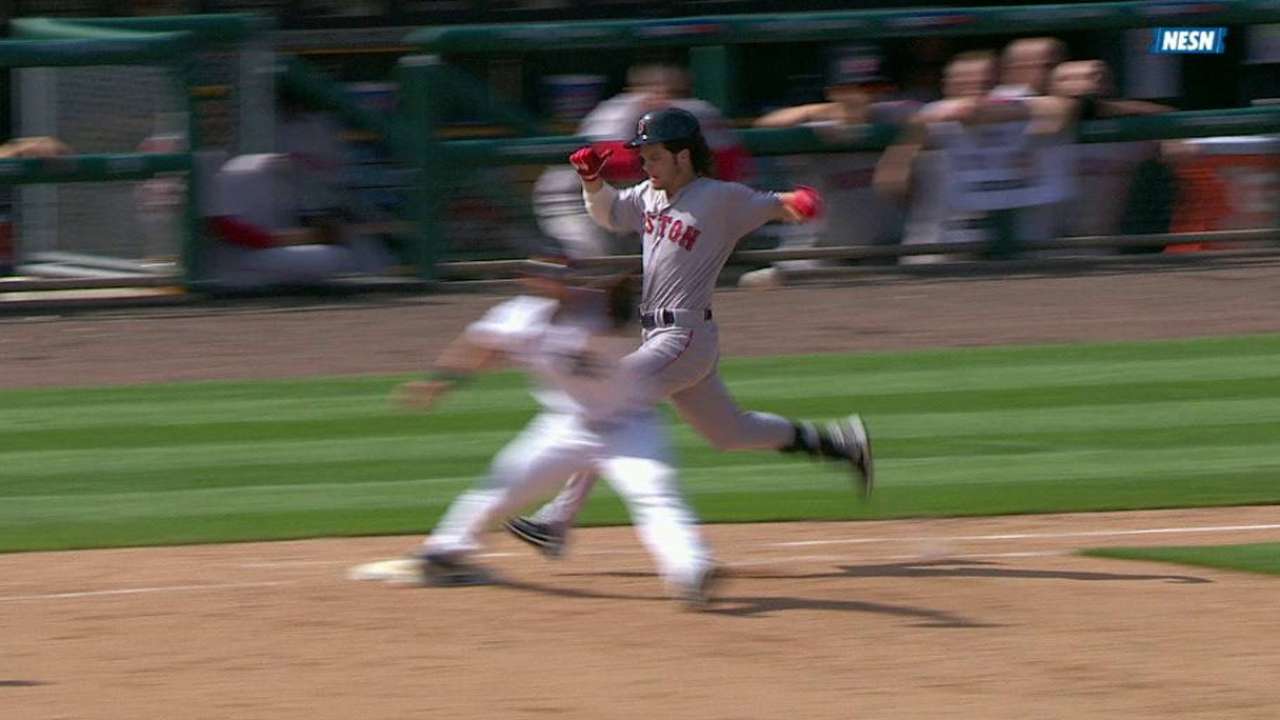 Ausmus Betts on closer: Rodriguez recovered from Ortiz's pinch-hit single in the ninth to retire Bogaerts for the second out, but by advancing runners to second and third, he left manager Brad Ausmus with a decision to make. Ausmus could either have Rodriguez pitch to AL MVP candidate Betts, or walk him to load the bases for Ramirez.
"I do trust K-Rod, and trust me, I also thought about walking [Betts]," Ausmus said. "But I know K-Rod is an intelligent pitcher. He needs sometimes some wiggle room, and if you load the bases, you don't have that wiggle room, even though you're facing Ramirez who's maybe having less of a year. If the count goes to 2-0 or 3-1, I probably do walk Betts, but I wanted to allow K-Rod to maneuver a little bit. Betts hit it hard, but we were able to get the win and he was able to get the save."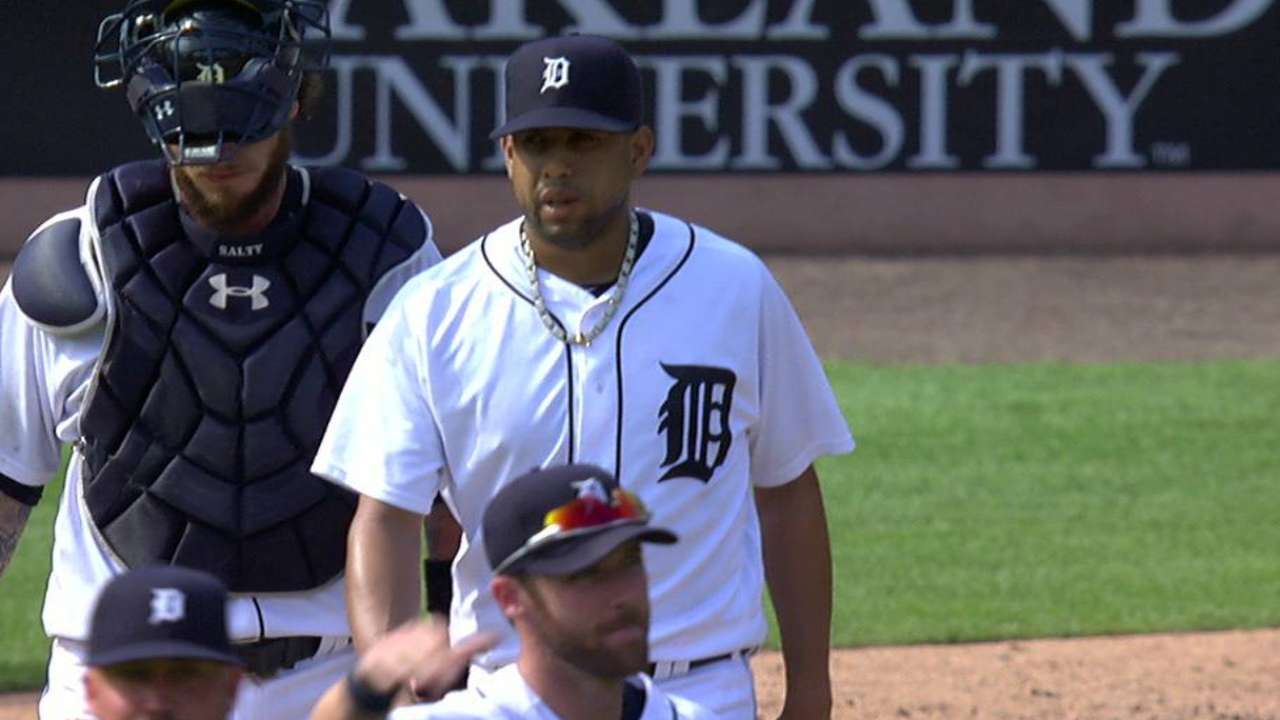 QUOTABLE
"On four hours sleep, six innings up and down, he hasn't gone six innings in a couple months. He was very good today."
-- Farrell, on Clay Buchholz's effort of one run over six innings after the club's late arrival in Detroit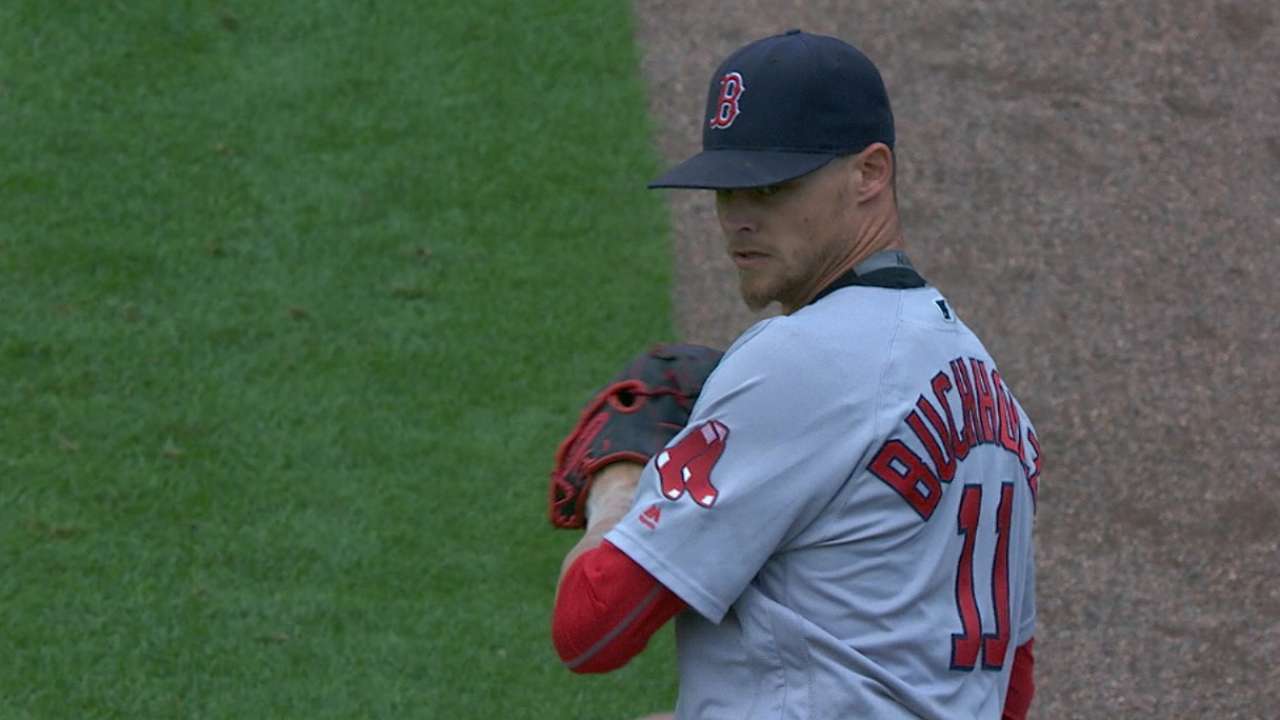 Playing eight, nine years here, it made me proud, because you don't see that too often right now because all the trades, the situation around baseball, it's hard to play with one team for a long time."
-- Cabrera, on 1,000 RBIs as a Tiger
SOUND SMART WITH YOUR FRIENDS
Though Romine is 0-for-4 with the bases loaded this season, he has five RBIs in those situations. Three have come on walks, with the other two coming on a hit-by-pitch and a fielder's choice groundout. He has seven RBIs overall in 2016.
AFTER FURTHER REVIEW
Jackie Bradley Jr. nearly came up with his second highlight catch at Comerica Park in as many seasons on Casey McGehee's second-inning line drive to right-center. He didn't hold on, but first-base umpire Jerry Layne initially ruled that he did, sending J.D. Martinez scrambling to get back to first base. Tigers manager Brad Ausmus challenged the catch, but also argued that Martinez should be on third base since he was running on the play. After a one-minute, 40-second review, the call was reversed, putting runners at the corners and setting up Saltalamacchia's ensuing sacrifice fly. Red Sox third-base coach Brian Butterfield was ejected a couple of pitches later for arguing from the dugout. More >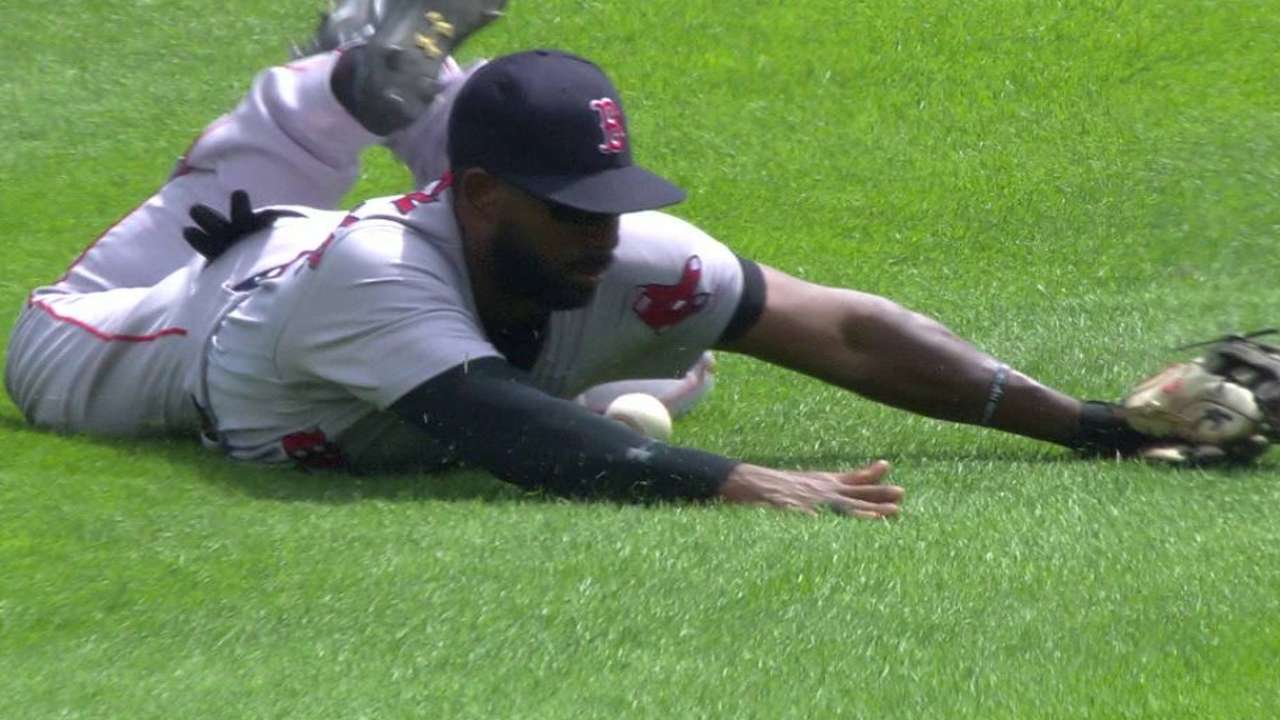 WHAT'S NEXT
Red Sox: Rick Porcello (16-3, 3.30 ERA) will make his first start at Comerica Park since being traded from the Tigers after the 2014 season on Friday at 7:10 p.m. ET. Porcello enters the game having won eight of his last nine starts and has a 2.39 ERA in that span.
Tigers: Michael Fulmer (10-3, 2.25 ERA), acquired by the Tigers last July for Yoenis Cespedes -- whom the Tigers had acquired for Porcello -- will oppose Porcello on Friday. The rookie tossed 7 2/3 innings of three-run ball at Boston on July 27 but ended up with no decision.
Watch every out-of-market regular-season game live on MLB.TV.
Jason Beck has covered the Tigers for MLB.com since 2002. Read Beck's Blog, follow him on Twitter @beckjason and listen to his podcast.

Kyle Beery is a reporter for MLB.com based in Detroit and covered the Red Sox on Thursday.

This story was not subject to the approval of Major League Baseball or its clubs.