MLB.com Columnist
Jim Callis
Inbox: How have White Sox helped Hansen improve?
Jim Callis answers fans' questions about baseball's future stars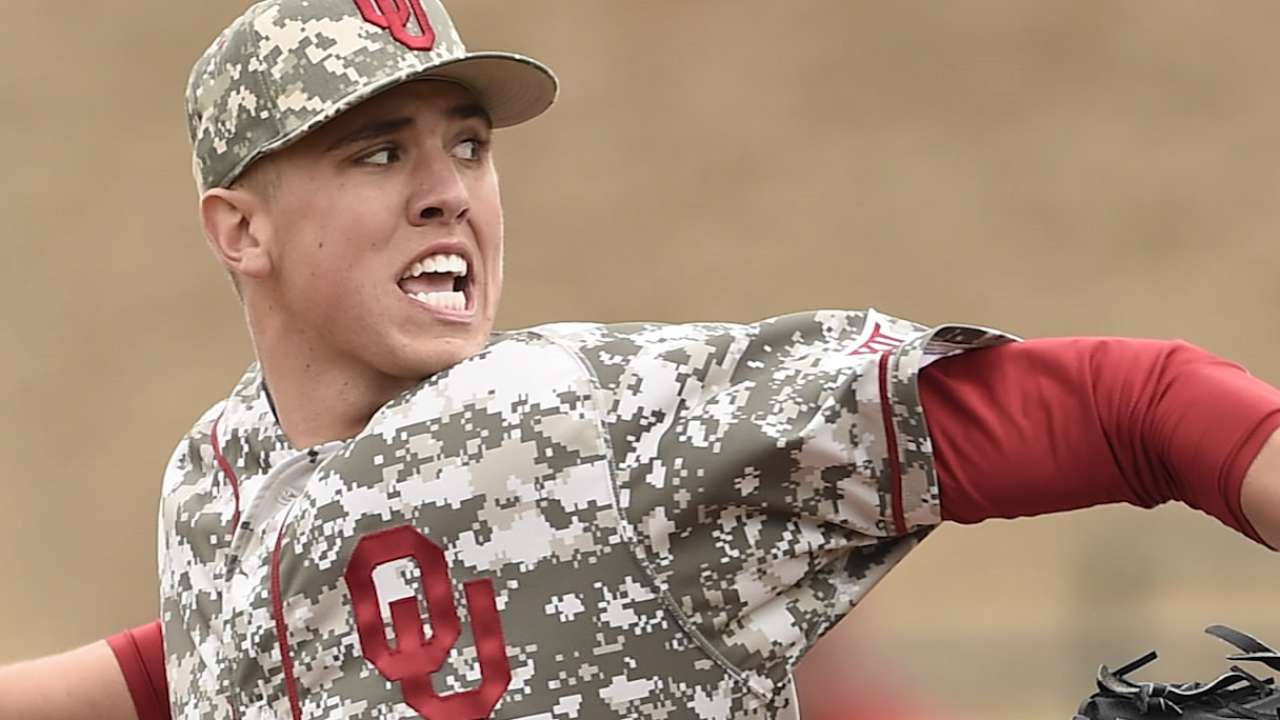 There were a couple of notable firsts from No. 1 overall Draft picks Wednesday, neither of which came with the team that originally selected them. Dansby Swanson (2015, Diamondbacks) and went 2-for-4 for the Braves in a 10-3 loss to the Twins. Suffice it to say that the Shelby Miller trade isn't looking any better for Arizona.
At a much lower rung on the baseball ladder, Brady Aiken (2014, Astros) earned his first professional win by allowing one run in five innings while striking out six for Class A Short-Season Mahoning Valley. Aiken, whose deal with Houston fell apart over concerns regarding his elbow, wound up having Tommy John surgery before the Indians made him the 17th overall choice in 2015. He's now 1-4 with a 6.42 ERA in 11 pro outings this year, with a K/BB ratio (42/18 in 32 innings) that's more promising than his record.
@jimcallisMLB @MLBPipeline @MLBDraft @MLB how about the start for Alec Hansen? What have the White Sox improved with him since the Spring?

— R P 3 (@RP3sViews) August 17, 2016
A right-hander, Hansen entered the 2016 season as a candidate to go No. 1 overall in the Draft, but those chances disappeared when he couldn't find the strike zone and pitched himself out of Oklahoma's rotation. Though he went 3-5 with a 5.40 ERA with 39 walks in 51 2/3 innings, his pure stuff still was impressive enough for the White Sox to take him in the second round and sign him for $1.2 million.
Chicago decided to keep things simple for Hansen in his introduction to pro ball, having him focus on staying taller in his delivery and getting the ball out of his glove more quickly. Those changes have helped him produce video-game numbers between two Rookie leagues: 1.19 ERA, 57/13 K/BB ratio, .100 opponent average in 37 2/3 innings. He can sit in the mid 90s with his fastball and wipe out hitters with his slider, so if Hansen can keep throwing strikes like this, he could be a steal for the White Sox.
@jimcallisMLB @MLBPipeline @MLBDraft @MLB how far out would you say Soroka is from the top 100?

— FrPriest (@KiNG_Priests) August 18, 2016
Braves right-hander Mike Soroka isn't far off from MLBPipeline.com's Top 100 Prospects list at all. Astros first baseman A.J. Reed and Twins right-hander Jose Berrios are set to graduate off the list in the next week, and Soroka is in line to join the Top 100 once they do.
A Canadian high schooler taken 28th overall in the 2015 Draft, Soroka might be the most polished arm among Atlanta's deep stock of quality pitching prospects. He throws strikes and gets outs with all three of his pitches: a low-90s fastball, a solid curveball and an improving changeup. Pitching in low Class A at age 18 for most of this season, he has gone 6-9 with a 3.07 ERA with a 102/30 K/BB ratio and a .251 opponent average in 123 innings.
@jimcallisMLB @MLBPipeline @MLBDraft @MLB Ceiling and floor for Jordan Montgomery at the MLB level?

— RMac (@rmcdermott23) August 15, 2016
Montgomery, a Yankees left-hander, is one of my favorite unheralded prospects in the game's deepest farm system. I first saw him at the 2012 College World Series, where he needed just 89 pitchers to throw eight shutout innings to beat Arkansas in a do-or-die game for South Carolina as a freshman. He won all five of his NCAA tournament starts (with a 0.93 ERA) in three years for the Gamecocks before signing as a fourth-round pick in 2014.
Known as more of a finesse pitcher in college, Montgomery saw his fastball jump from 88-92 mph to 91-94 at the end of last season. His two best offerings are his lively fastball and changeup, and he also throws a curveball and cutter. Montgomery has gone 11-5 with a 2.31 ERA with a 115/42 K/BB ratio and a .240 opponent average in 120 2/3 innings between Double-A and Triple-A this year.
Montgomery's ceiling and floor are pretty close. He's unlikely to become more than a No. 4 starter, yet his track record makes it likely that he'll surface in the back of a big league rotation. Look for him to get his first shot in New York at some point next season.
@jimcallisMLB @MLBPipeline With the year Matt Hall has had and what he's shown, does he possibly crack DET top 10 to start next season?

— Steve Ruder (@SteveRuder71) August 18, 2016
Missouri State is one of my favorite college programs for the way it quietly wins and churns out talent year after year. Nine Bears have pitched in the big leagues in the past decade, including Shaun Marcum and Brad Ziegler, and Pierce Johnson (Cubs), Jon Harris (Blue Jays) and Hall could add to that number in the near future. They haven't produced as many hitters, but they do have a pair of very notable ones in Ryan Howard and Bill Mueller, and another on the way in third baseman Jake Burger, who'll be an early-round pick in the 2017 Draft.
Hall pitches with an 85-88 mph fastball, but he stands out with his plus curveball and his competitiveness. He led NCAA Division I with 171 strikeouts in 125 innings in 2015 prior to signing with the Tigers as a sixth-round pick. Hall has continued to miss bats as a pro, striking out 148 in his first 150 1/3 innings while posting a 2.63 ERA and reaching high Class A.
It's still easier to project Hall as a left-handed relief specialist than a future big league starter, so I don't see him cracking Detroit's Top 10 Prospects list when we update it again in the spring. But I wouldn't bet against him one day pitching at Comerica Park.
Jim Callis is a reporter for MLB.com. Follow @jimcallisMLB on Twitter. This story was not subject to the approval of Major League Baseball or its clubs.