Déjà youth: Starlin a veteran of youth movements
Yankees' direction echoes change second baseman witnessed with Cubs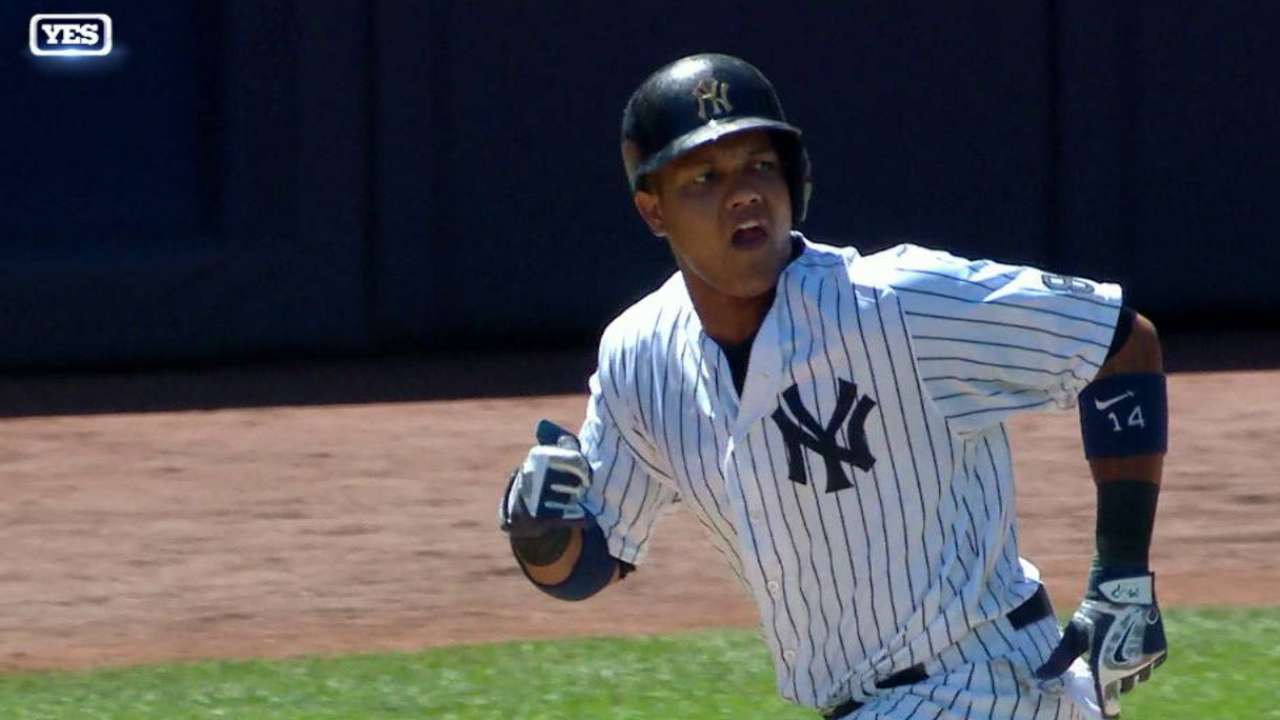 But none of this is new to Castro. Over his six seasons with the Cubs prior to coming to the Bronx, he saw plenty of this. Castro saw the Cubs part ways with veterans like Aramis Ramirez, Carlos Zambrano and Jeff Samardzija. But he also saw them call up the core of players who have led them to the best record in baseball this season -- especially in 2015, when the Cubs brought in Kris Bryant, Addison Russell and Kyle Schwarber.
• Justice: Steinbrenner embraces new direction
And because of those moves, Castro -- who is still only 26 years old but is a seasoned veteran compared to his 22-year-old replacement in Russell -- became expendable in Chicago, just as Chapman, Miller and Beltran were in New York.
But Castro isn't bitter. In fact, he actually sees these similarities himself.
"I'm pretty happy for those guys like Gary Sanchez, like Judge, like Austin," Castro said. "I think of those guys as coming here to help us, and it's happy to see those guys come in and do their jobs here. I think they're pretty good, too, like Addison Russell, Kris Bryant. I think these guys have talent like those guys. I think, growing up in Chicago, I'm seeing those guys right now and they're really similar."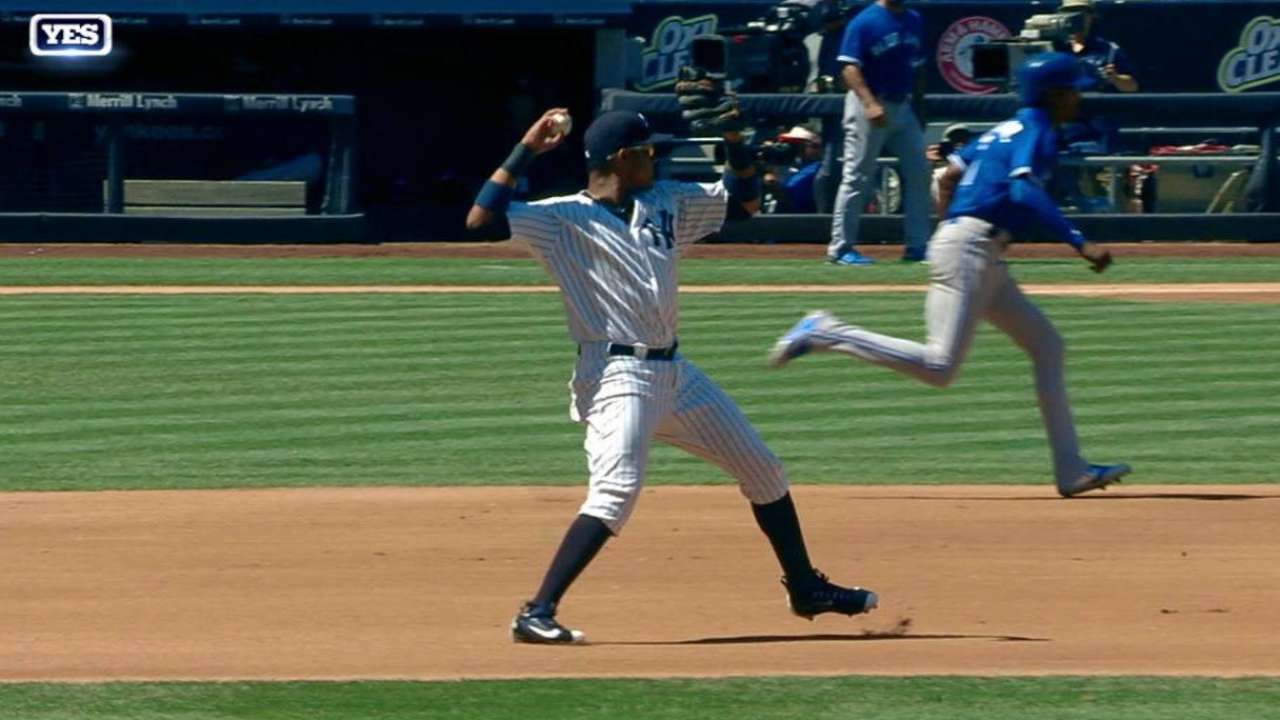 Unlike Chicago, where a youth movement forced Castro out of the organization he'd been a part of since he was signed out of the Dominican Republic as a 16-year-old, New York's push toward youth seems to include Castro, who is under contract for another four seasons. Which is a fitting contrast, because Castro isn't really the same player anymore, either.
Most notably, Castro is no longer a shortstop. His move to the American League also came with a move to second base. The transition has been tough -- among regular AL second basemen, Castro ranks last in Ultimate Zone Rating (UZR) and second-to-last in Defensive Runs Saved (DRS). But Yankees manager Joe Girardi said that he's seen Castro grow more and more comfortable as the year has gone on, especially when it comes to turning double plays.
Interestingly though, the position change might not be the most dramatic change Castro has experienced through his first four months in the Bronx. His batting average and on-base percentage this season are nearly identical to his marks from 2015, but his slugging percentage is up to .412 from .375. This is thanks in large part to Castro's newfound home run stroke. Despite being nearly 250 plate appearances short of his career best, he has already set a new career high in home runs, with 15 this season.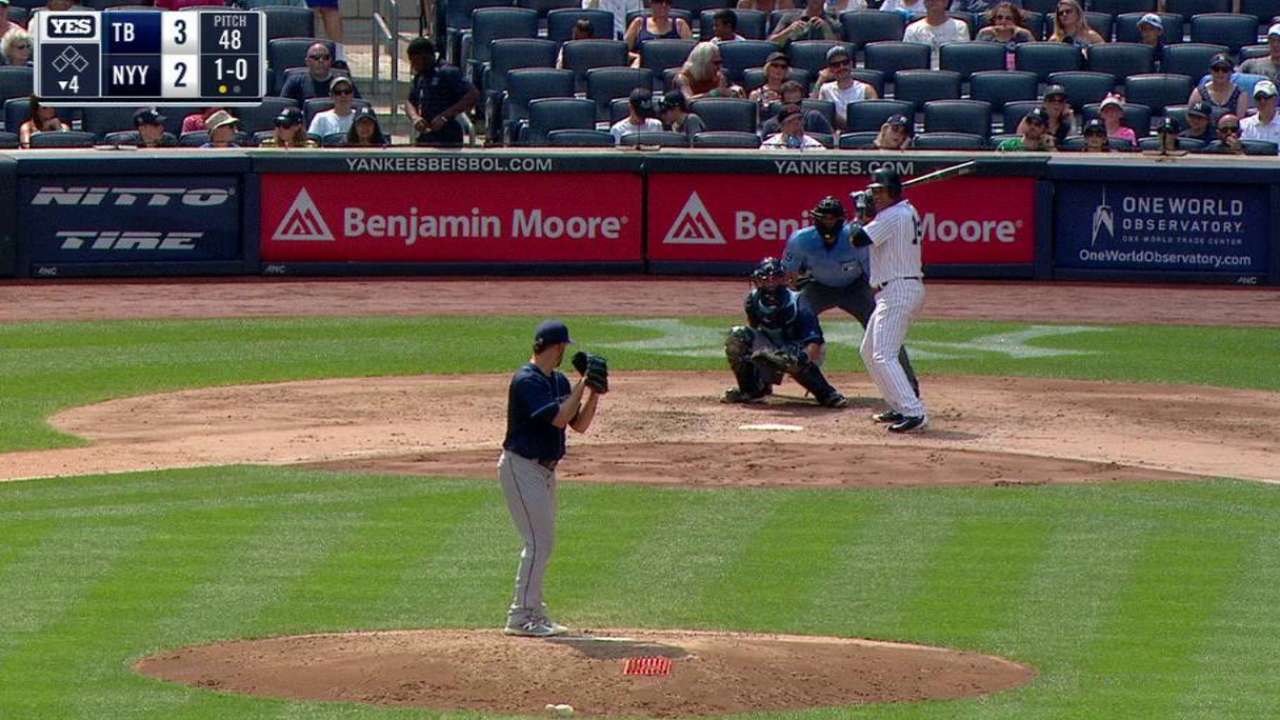 Being that Castro hits right-handed and has pulled about 75 percent of his extra-base hits this season, according to Pitch-f/x data, he can't really credit the short porch in right field for his power surge. What he can credit, though, is how he's not a free-swinging 20-year-old anymore.
"I just started to feel good at the plate, tried to be aggressive," Castro said. "At the start, when they threw a fastball right down the middle, I missed a lot. Now just continuing to be aggressive and hit my fastball on time."
But what does Castro think he needs to improve on to become a more complete player? By his summation, pretty much everything. And that's Girardi's outlook, too.
"He just needs to continue to get better in each phase of the game," Girardi said. "Defensively and offensively, baserunning, understand the league more, who you're facing, that sort of thing. But he's played pretty well."
Nick Suss is a reporter for MLB.com based in New York. This story was not subject to the approval of Major League Baseball or its clubs.