Martin does a little of everything in victory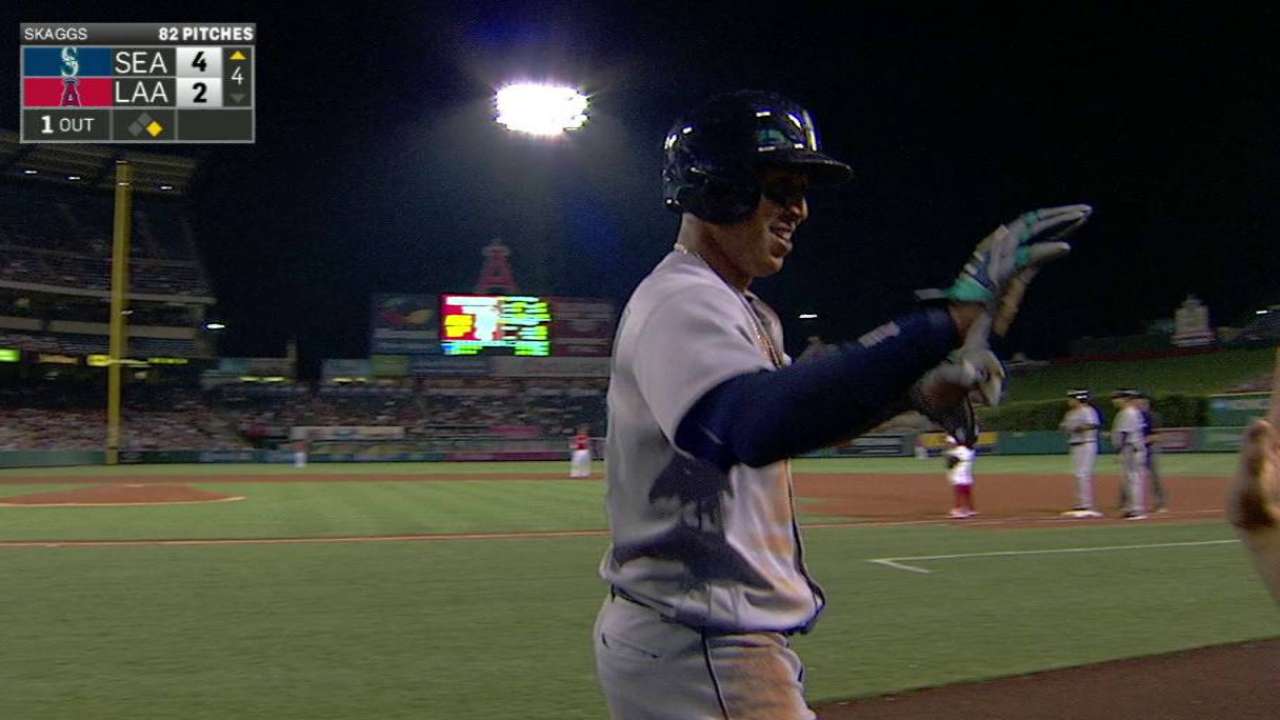 ANAHEIM -- In a 4-3 victory in which Leonys Martin used his arm, glove and speed on the basepaths to beat the Angels, the Mariners center fielder dished out a huge assist afterward as well.
Because as much as Martin did to help the Mariners win for the 10th time in their past 12 games, he knew that teammate Kyle Seager deserved the kudos in this one after preserving the victory with a Gold Glove-caliber play on a bases-loaded diving stop and throw to get Andrelton Simmons for the final out
"Oh my gosh. Seager is incredible," Martin said. "It's a pleasure to be on the same team with that guy. He's a great teammate. He's an All-Star player. I call him Mr. RBI. He knows how to drive in runs and make big plays in that kind of moment. It's awesome to have that kind of player on your team."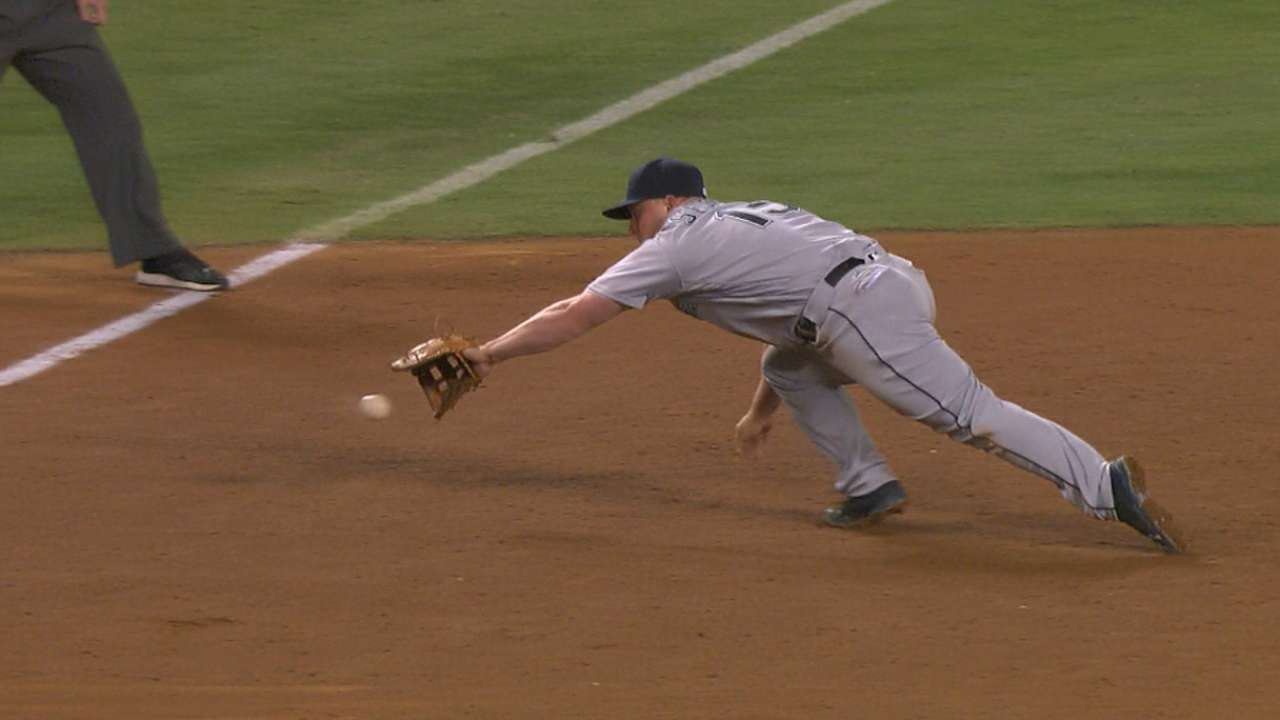 The Mariners made their defense count on multiple fronts in Wednesday's win and Martin was at the center of much of it. The center fielder's arm helped keep first-time starter Cody Martin in the game in the first two frames as he racked up a pair of assists.
He drove in Seattle's tying run in the second with a sacrifice fly to center fielder Mike Trout, then used his speed to score the Mariners' fourth run when he singled in the fourth, stole second and scored from there on a bunt by Shawn O'Malley.
That one caught the Angels off guard as Martin moved to third while O'Malley was avoiding a tag at first on a toss from pitcher Tyler Skaggs to first baseman Jefry Marte, then sprinted home as Marte threw behind him to third after Martin kept moving down the line.
"It was a little bit of anticipation," Martin said. "Something told me to be ready for a bunt and he did. I never stopped running, because I knew if he bunted to third they wouldn't pay attention to me. As soon as I saw the motion, I kept going."
And, yes, the defensive stalwart put his glove on display as well. He hauled in a deep drive by Albert Pujols to get reliever Drew Storen out of a bases-loaded jam that preserved a 4-2 lead in the fifth, then made a nice sliding catch coming in on a short pop fly by Cliff Pennington in the seventh.
"It was a great swing by Pujols," Martin said of the first catch. "The ball carried a little bit on that one, but I got a good jump on it."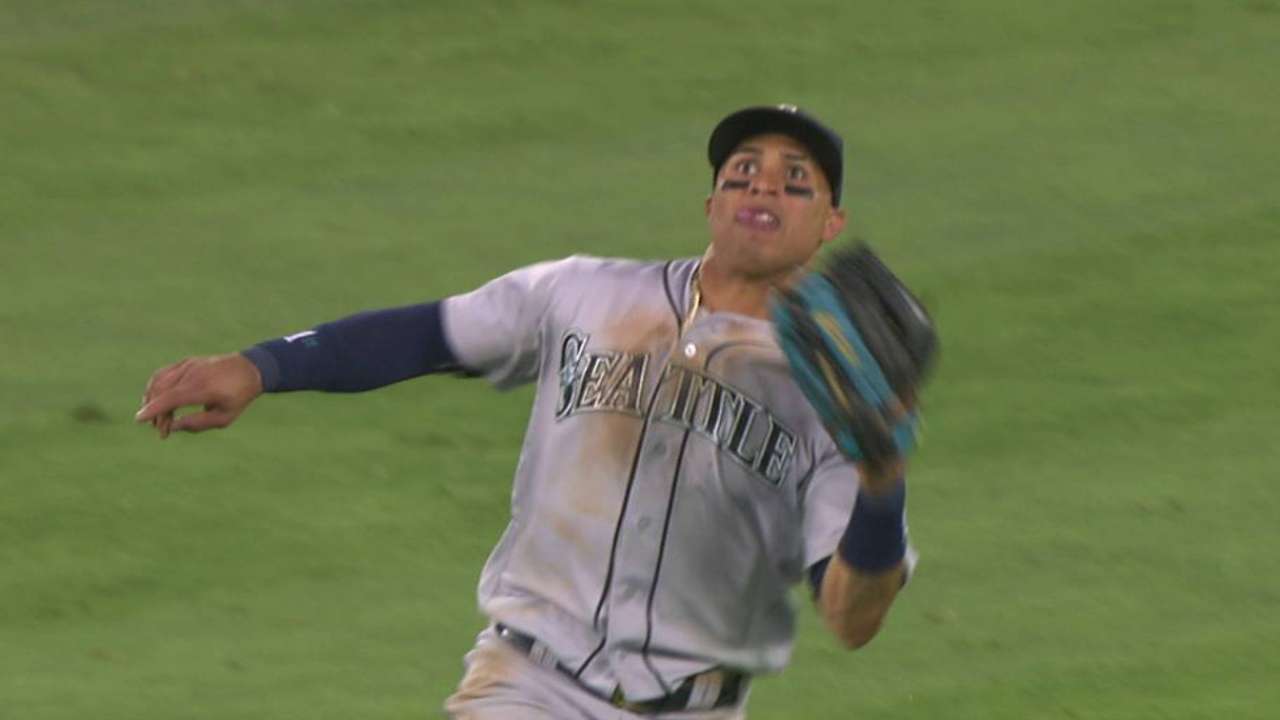 "Leonys is feeling healthy again," said manager Scott Servais. "I think he's up and running 100 percent. It's taken a while, but certainly you see it on the bases and how aggressive he is in the outfield. It's nice to see. We certainly need him, no doubt."
Martin said the hamstring that sidelined him earlier in the year has felt full go the last week or so and he's finally able to cut loose again.
"It's a big difference," he said. "It's hard to play in the outfield, especially center, when you have pain in your legs. You want to feel 100 percent so you can cover a lot of ground."
Greg Johns has covered the Mariners since 1997, and for MLB.com since 2011. Follow him on Twitter @GregJohnsMLB and listen to his podcast. This story was not subject to the approval of Major League Baseball or its clubs.