Bullpen shines, but Halos' offense struggles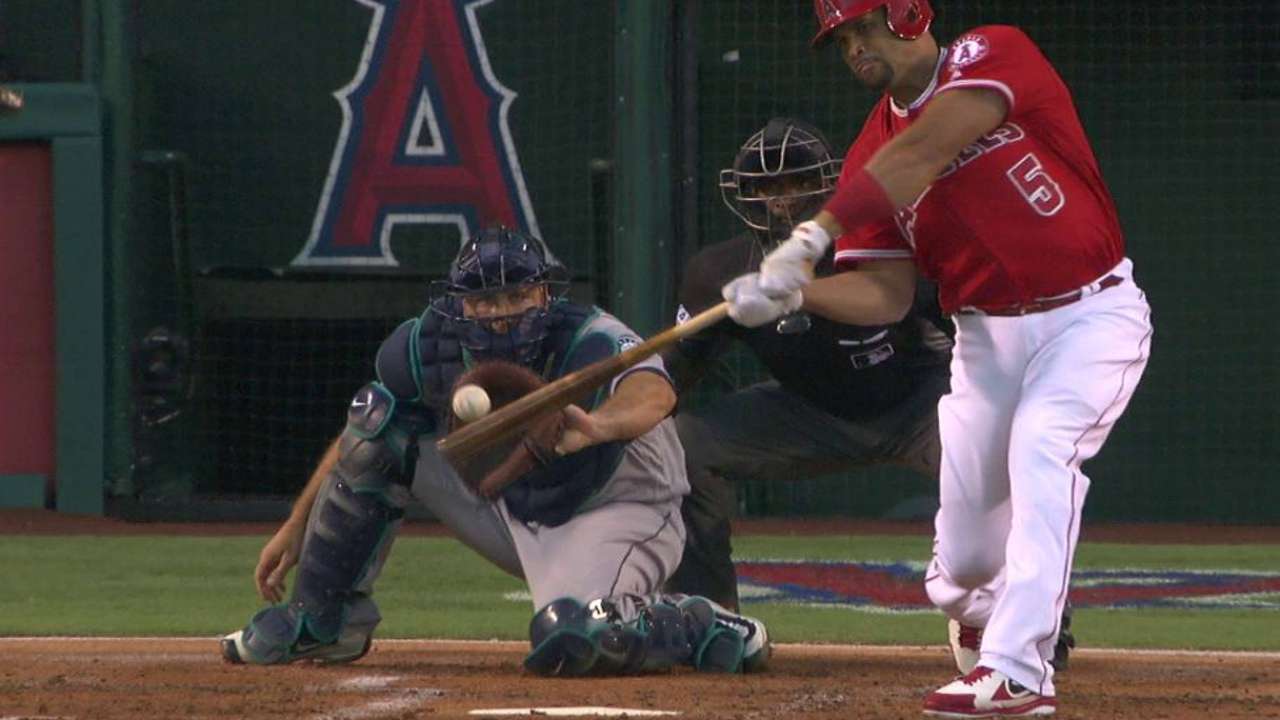 ANAHEIM -- On a Wednesday night, when their bullpen couldn't have been better, the Angels squandered one offensive opportunity after another, rallied one more time in the ninth but came up just short in a 4-3 loss to the Mariners at Angel Stadium.
Mariners third baseman Kyle Seager denied the Angels at the very end, with a fine back-handed play to throw out Andrelton Simmons with the bases loaded for the final out.
"It's frustrating. We had our opportunities," said center fielder Mike Trout, whose single in the ninth kept the rally going and sent potential tying run Yunel Escobar to third base with one out. That came after Escobar's fifth hit of the night drove in Cliff Pennington to cut the deficit to one. "Simmons had a good at-bat, and Seager made a good play," Trout added.
In his three previous at-bats, Trout stranded six runners -- half the Angels' total of 12 left on base in a 14-hit night.
"I had a couple opportunities," he said. "I missed a bunch of pitches for that [his hit in the ninth]. If you get pitches to hit and you miss, it hurts, but that's baseball. We gave ourselves a chance at the end."
They got all those chances because four Angels relievers -- Mike Morin, Deolis Guerra, Jose Alvarez and JC Ramirez -- combined to pitch 5 2/3 scoreless innings, picking up for struggling starter Tyler Skaggs. Morin ended a fourth-inning Mariners rally and went 1 2/3 innnings, Guerra and Alvarez worked a scoreless inning apiece. and Ramirez shut the door in the eighth and ninth.
The wasted earlier opportunities were still haunting the Angels when they mounted the ninth-inning rally against rookie Mariners closer Edwin Diaz, he of the 101 mph fastball and 88 mph slider. They scratched the one run off of him, but after Diaz intentionally walked Albert Pujols to load the bases, he struck out Jefry Marte, setting the stage for Simmons vs. Seager. The result was Diaz's eighth save in as many chances.
"We had a lead [2-0 in the first], but Tyler couldn't make pitches to keep it," Angels manager Mike Scioscia said of his starter's 82-pitch outing. "We had opportunities all night to get back in the game."
Earl Bloom is a contributor for MLB.com based in Los Angeles. This story was not subject to the approval of Major League Baseball or its clubs.