Hosmer's resurgence coinciding with Royals' push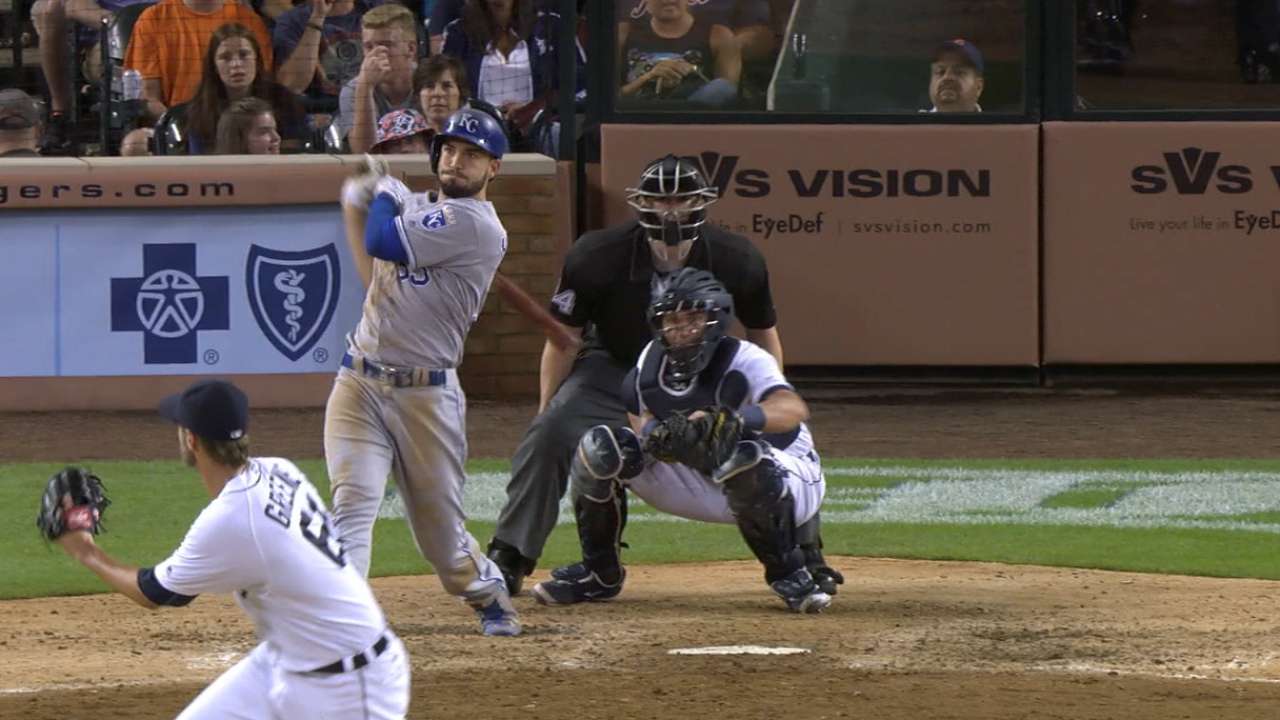 DETROIT -- Eric Hosmer basically did it all for the Royals offensively in a pulsating 4-1 win over the Tigers on Wednesday night that secured a three-game sweep.
First, Hosmer broke up Anibal Sanchez's perfect game by drawing a leadoff walk in the fifth. Then he broke up Sanchez's no-hitter with a two-out double off the left-field wall in the seventh.
"The one thing he wasn't doing was leaving anything over the middle -- nothing over the middle," Hosmer said of Sanchez. "He was missing just off, a lot of close pitches, close calls for the umpire. He was pretty effective.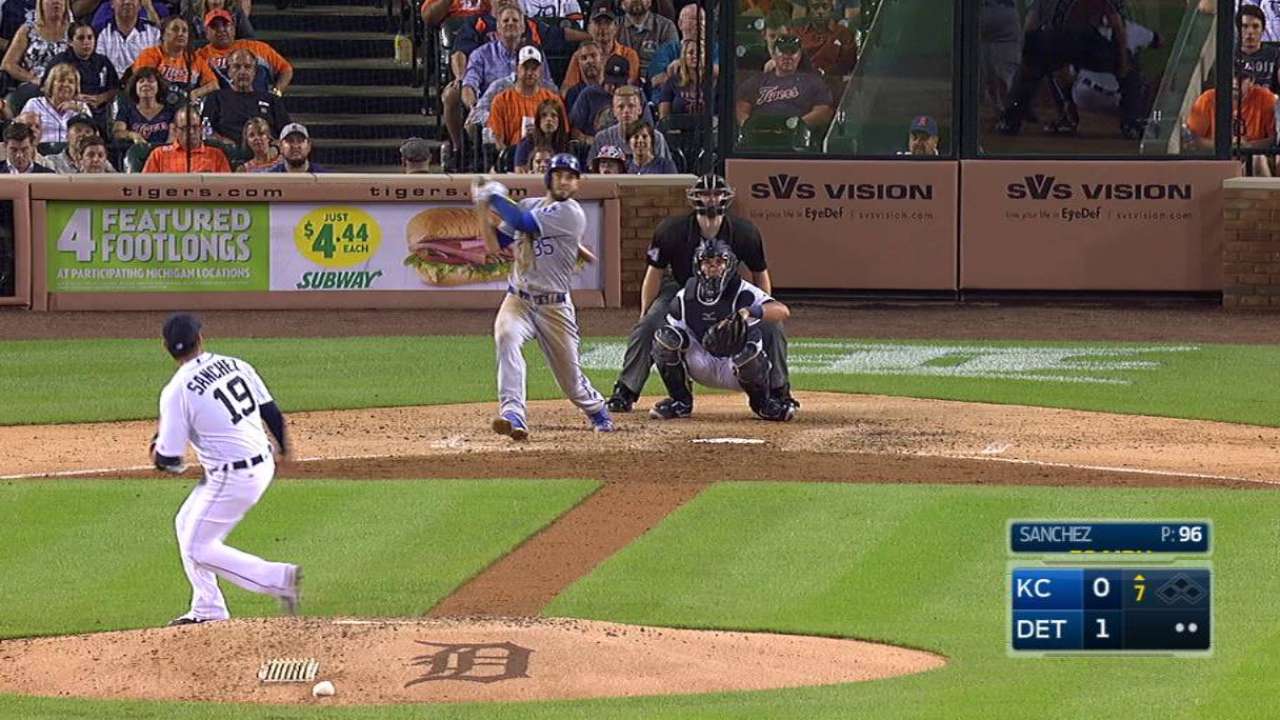 "It was getting late. I know everyone started to notice [the no-hit bid] around the sixth or seventh inning. It just felt like it took a load off us, and then [Alex Gordon] got the big swing to tie things up and it kind of sparked a whole new energy."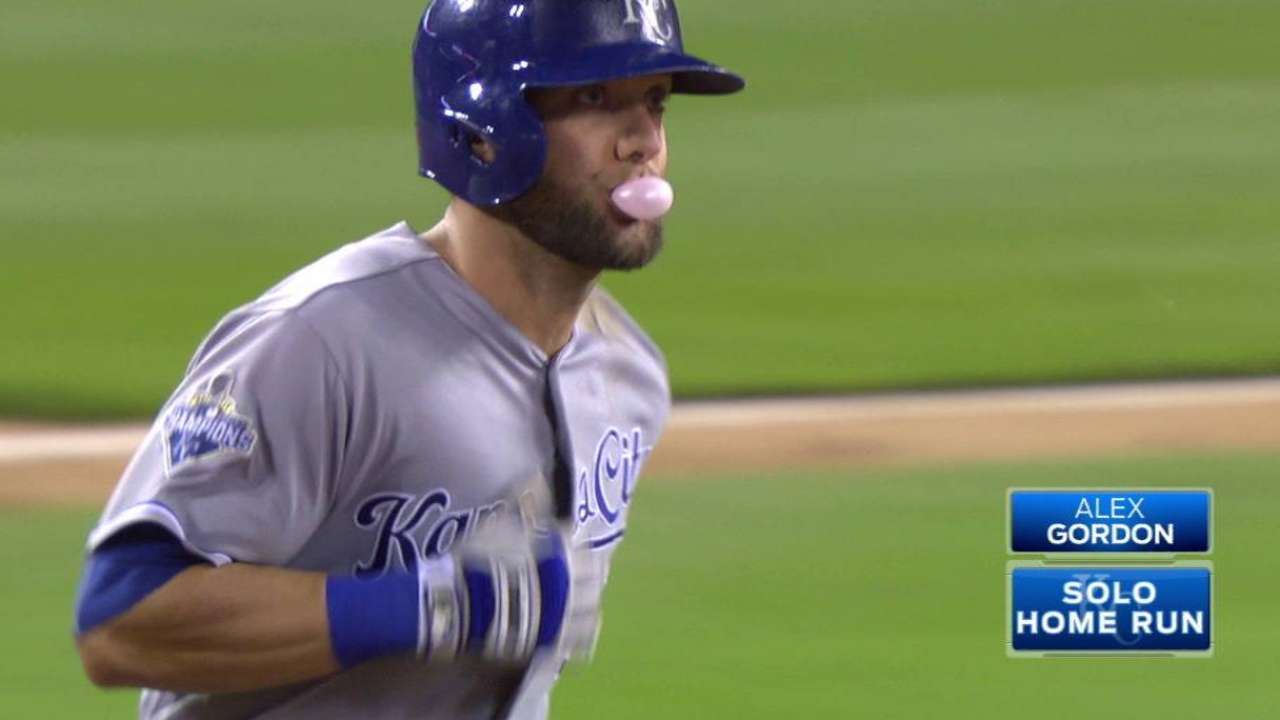 Gordon's homer, his 10th, tied the game at 1 in the eighth.
"At that point, with this team," Hosmer said, "we just feel there's no way we're giving up."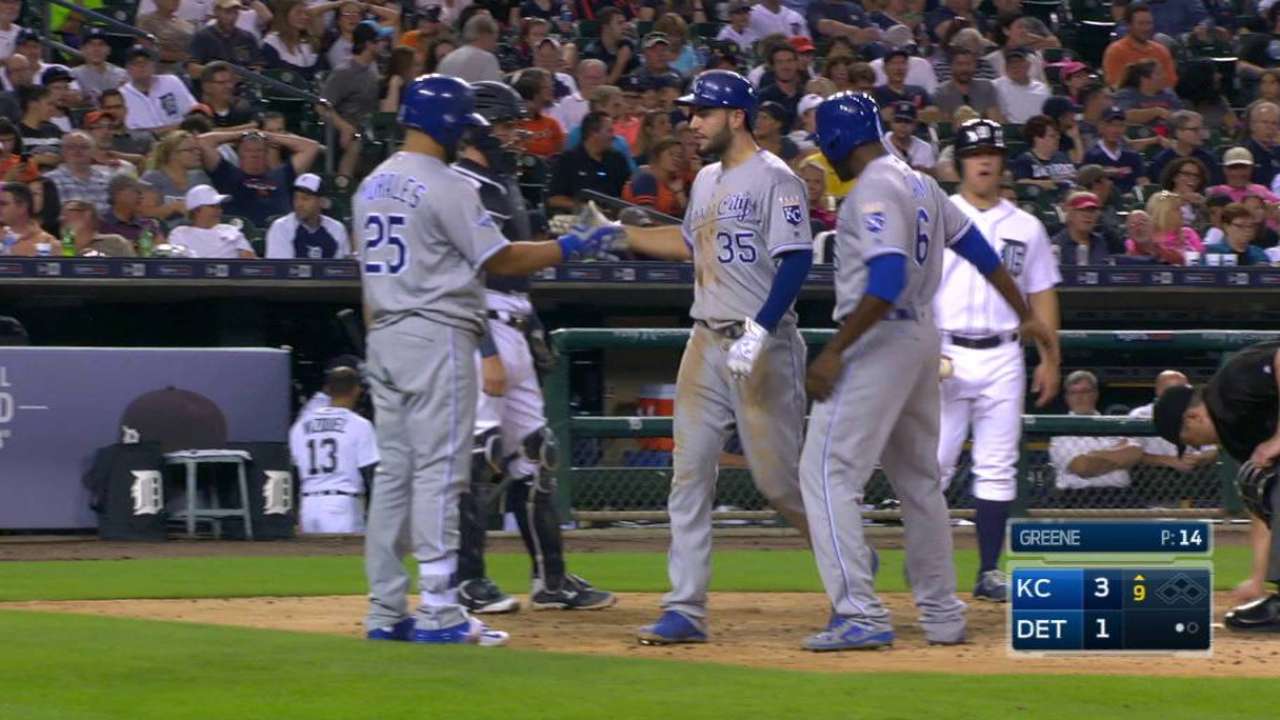 Hosmer made sure of that in the ninth. After Lorenzo Cain singled to right off Tigers reliever Shane Greene, Hosmer stepped into a pitch and drove it into the seats in right for a two-run homer, his 17th.
"A cutter inside," Hosmer said of the pitch. "That's the advantage of having Cain hitting in front of me: You know they don't want to miss low with the threat of him running. I was ready to swing early. I missed the first one and caught the second one."
It was Hosmer's second homer in two days and may signal that he is finally coming out of a dreadful slump that has hampered him since the All-Star Game. Hosmer had been hitting just .190 since the Midsummer Classic prior to Tuesday's game, the third of the Royals' four straight wins.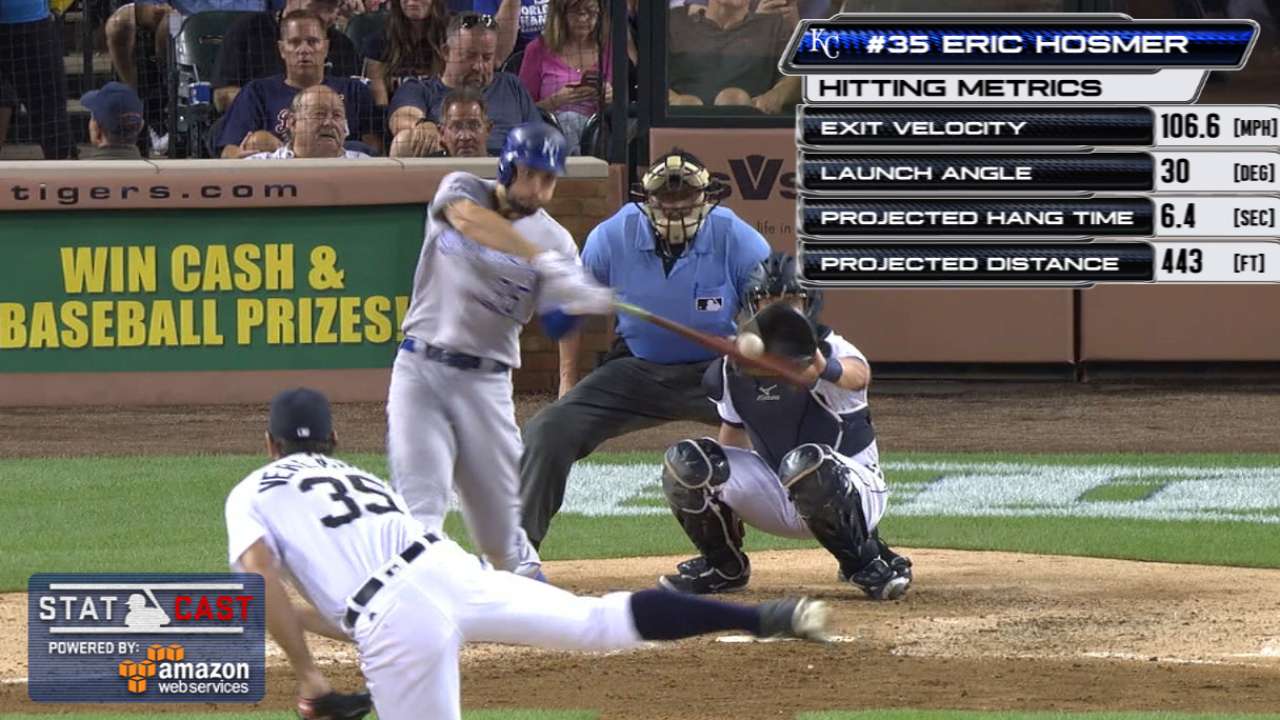 "Hopefully, it's a sign of things to come," Hosmer said.
The Royals have suddenly vaulted back to the .500 mark at 60-60. With Wednesday's win, they earned their first series sweep on the road this season, and their first in Detroit since 2008.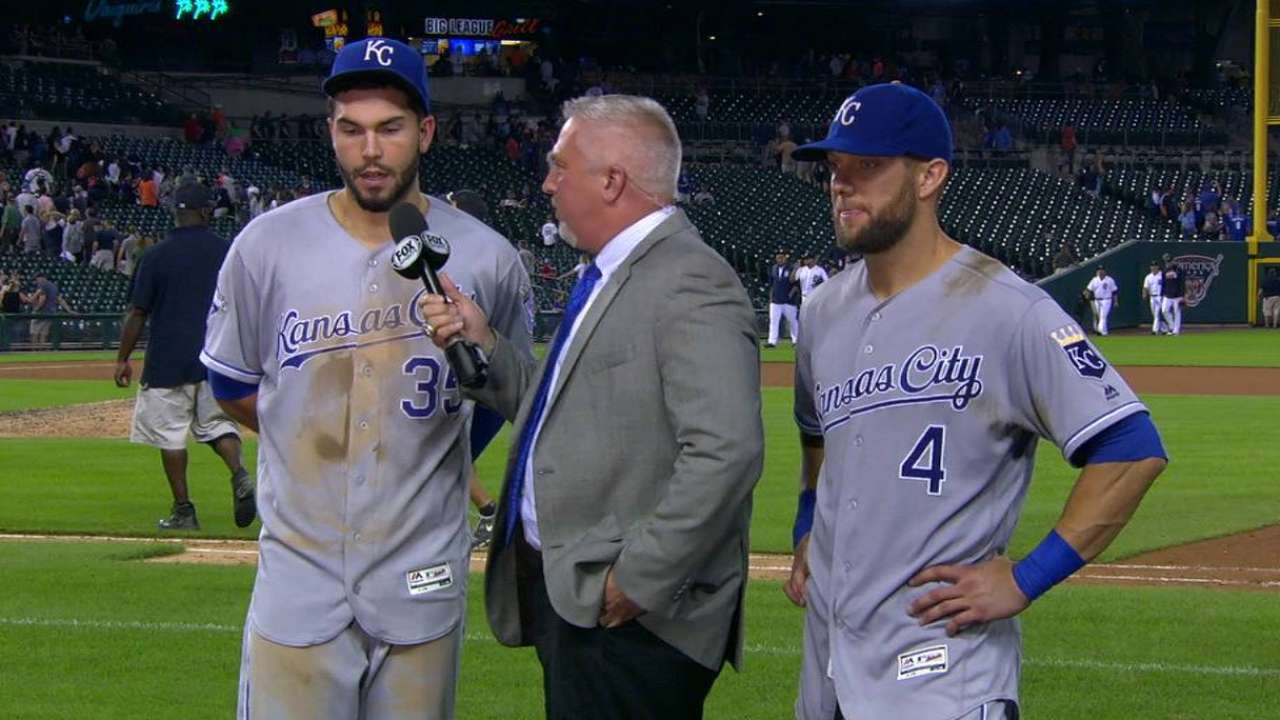 "I don't even remember my whole career coming into this place and sweeping a series," said Hosmer, whose career began in 2011. "It's a tough place to play and a tough lineup and a tough team. The way we are playing now is good team ball. We've got good pitching and timely hits. That's what makes us a good team.
"Everyone realizes that if we're going to make this comeback, you can't think too far ahead. Stay in the moment and take it day to day. I think we're approaching it really good. We come in each day and worry about the day, and take care of business."
Jeffrey Flanagan has covered the Royals since 1991, and for MLB.com since 2015. Follow him on Twitter @FlannyMLB.Jeffrey Flanagan has covered the Royals since 1991, and for MLB.com since 2015. Follow him on Twitter @FlannyMLB. This story was not subject to the approval of Major League Baseball or its clubs.