Cy Young hopefuls duel in SF on MLB.TV
O's, Astros open pivotal series; Arrieta takes the hill for Chicago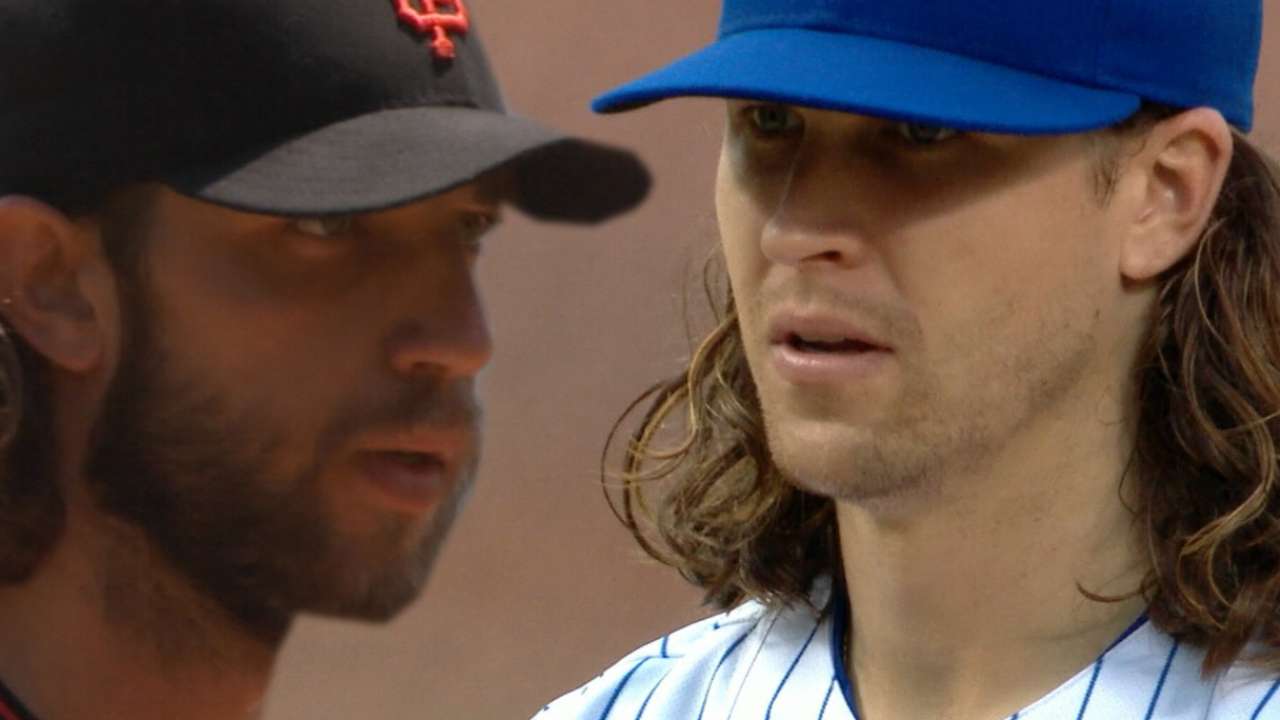 Madison Bumgarner has surfaced as one of the favorites amid a crowded National League Cy Young Award race. But there remains many other candidates who could make a push for baseball's top pitching award, including one pitcher Bumgarner will share the mound with today when his Giants take on Jacob deGrom and the Mets in the opener of a four-game series at AT&T Park.
This battle of Cy Young hopefuls isn't the only intriguing matchup on tap for the day's 11-game slate. Two other candidates -- Chicago's Jake Arrieta and Miami's Jose Fernandez -- will toe the rubber for their clubs, while the Astros and Orioles open a pivotal four-game set in Baltimore.
And the best place to catch all the action is MLB.TV.
MLB.TV Premium has the same features as last year, and is only $49.99 for the rest of the season. This package has the best value and provides access to more than 400 devices and a free subscription to the MLB.com At Bat Premium app (a $19.99 value). It offers the best picture quality ever -- a new 60 frames per second -- for supported devices. Monthly signups for MLB.TV Premium are $24.99.
The new MLB.TV Single Team package is also available as a $39.99 yearly subscription. You can watch a single team's live out-of-market games in full HD.
Here's what to watch for throughout the day (all times in ET):
Cy Young hopefuls duel in Bay Area: NYM@SF, 10:15 p.m.
Despite posting a 2.63 ERA through six second-half starts, Bumgarner has just one win in that span as runs have been hard to come by for the San Francisco offense. Bumgarner received two or fewer runs of support in four of those games. It wasn't until his last start, Saturday against the Orioles, that the San Francisco bats backed their ace, defeating Baltimore 6-2 in Bumgarner's first since July 10.
The Giants face a formidable challenge today in deGrom. The New York righty has held his opponent to one or no runs in five of his last six starts for a 1.56 ERA since the All-Star break. deGrom has been a bright spot for the Mets, who have struggled in the second half.
"I try not to look at what is going on before my starts," deGrom said. "I just try to go out there and put us in a position to win. I'm going to try and put up zeros every time I'm out there."
Stat that matters: Left-handed batters are missing on 36.8 percent (75-for-204) of their swings against Bumgarner this season, which ranks as the best rate among all qualified starting pitchers.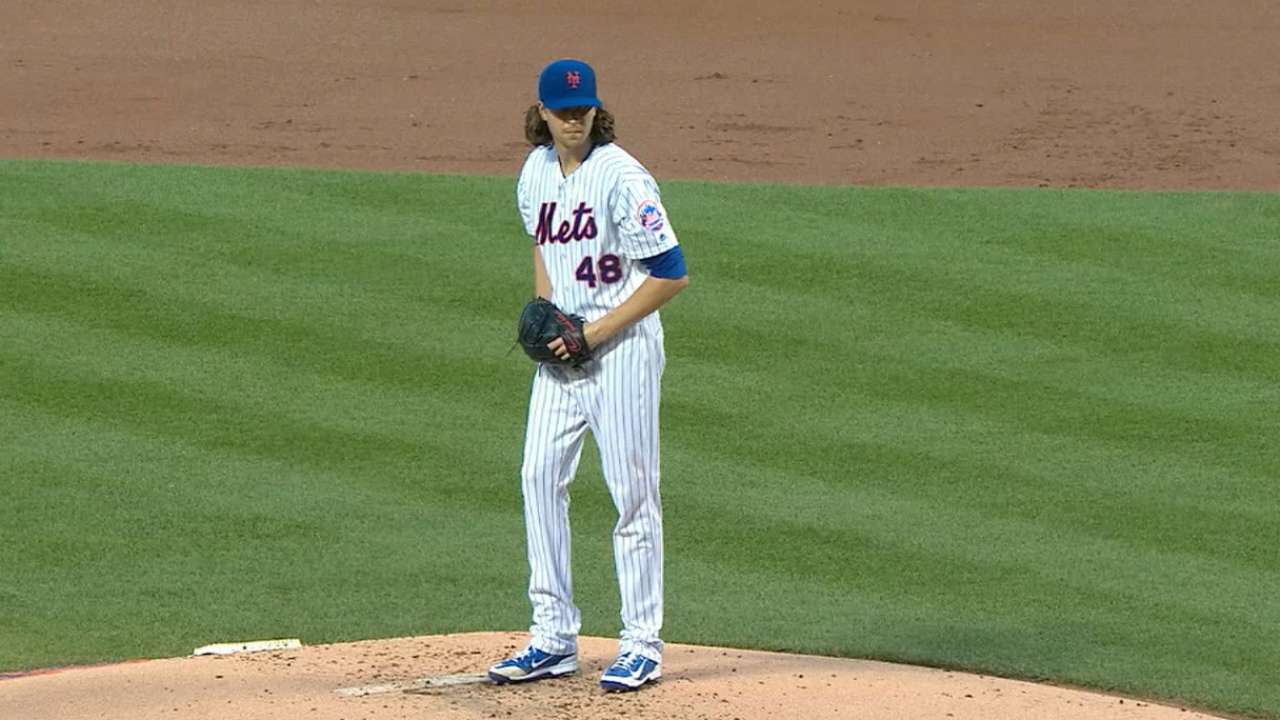 Astros head to Baltimore for key series: HOU@BAL, 7:05 p.m.
Two contenders for American League Wild Card spots -- Houston and Baltimore -- will meet for a four-game set starting today at Camden Yards. The O's are currently in possession of playoff spot, while the Astros enter the series in need of some momentum in the win column, having dropped four straight.
Right-hander Kevin Gausman will start for Baltimore. He's allowed just two runs in each of his last three starts, despite owning the lowest winning percentage (3-10, .231) of any O's pitcher this year. For Houston, rookie Joe Musgrove gets the ball in his third career start. The 23-year-old righty has allowed just three runs through 18 1/3 innings in the big leagues.
"Musgrove has been phenomenal," Astros general manager Jeff Luhnow said. "Just what the doctor ordered."
Stat that matters: In 21 career games against the Orioles, Astros second baseman Jose Altuve is batting .329 (28-for-85). He's just 1-for-13 against them this season, however.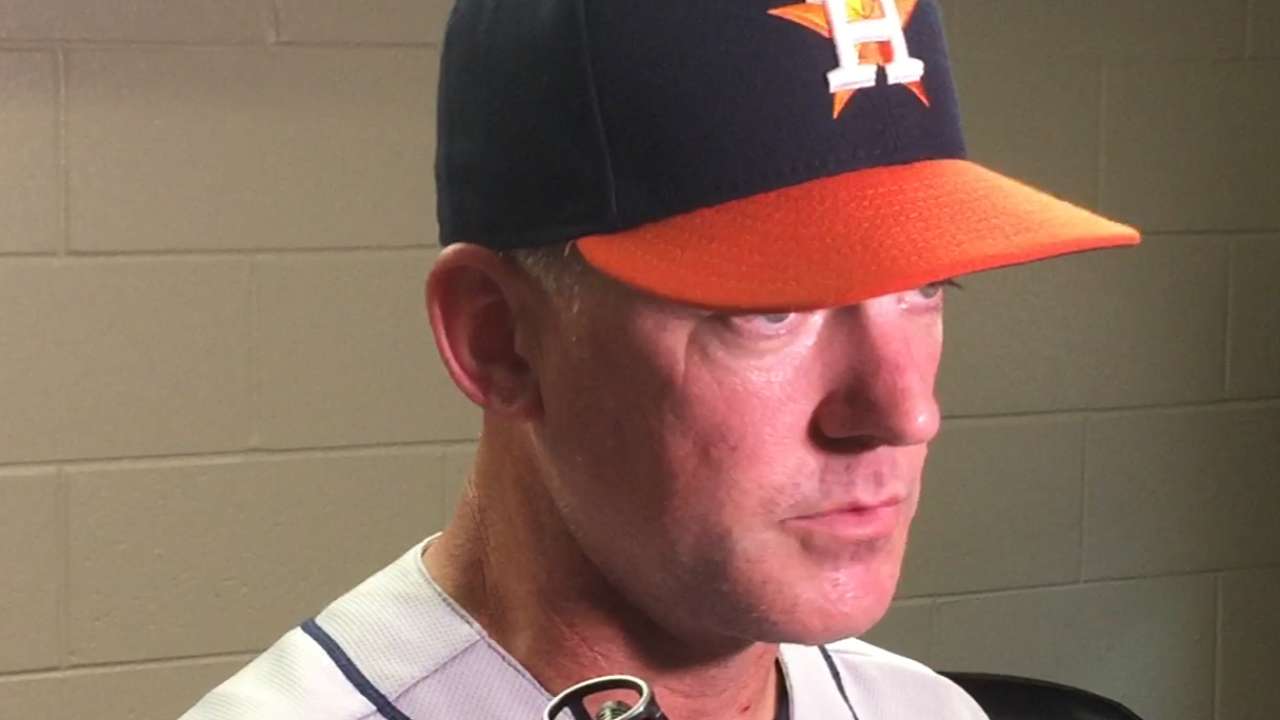 MLB.TV Premium subscribers get the Mosaic View -- split screen or quad, available on PC or Mac only. That always comes in handy, especially when scoreboard-watching looms. MLB.TV Premium and MLB.TV Single Team subscribers both enjoy HD and both will get real-time highlights and player stats automatically loaded moments after they occur (only for the game you are watching with MLB.TV Single Team, and for all games with MLB.TV Premium).
Chad Thornburg is a reporter for MLB.com. This story was not subject to the approval of Major League Baseball or its clubs.