Rookie Diaz gets all he can handle from Halos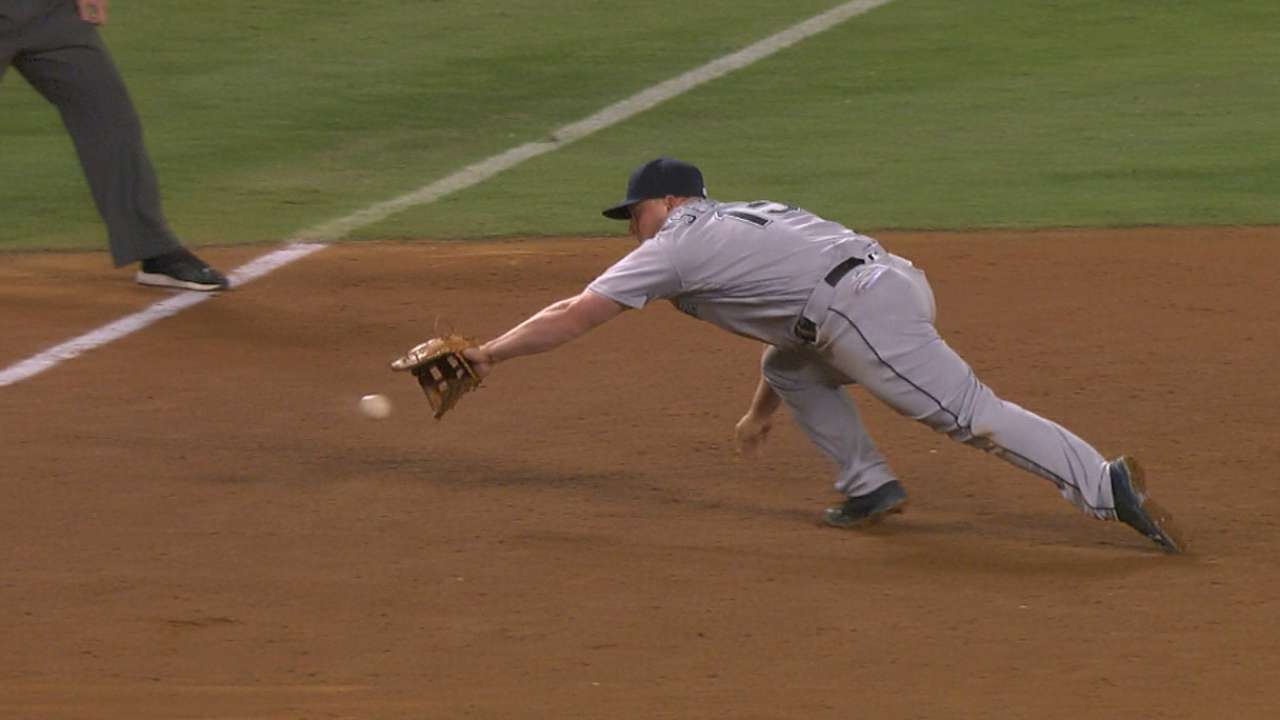 ANAHEIM -- Edwin Diaz has made things look awfully easy for most of his first 10 weeks in the Majors, but the Mariners rookie closer survived a tough challenge in Wednesday's 4-3 win over the Angels after allowing three hits and a run in the ninth before Kyle Seager's diving stop and throw for the final out.
"Today I felt the pressure because I got the 3-4-5 hitters with the bases loaded," Diaz said after surviving for his eighth straight save. "I just tried to make my pitches and get outs. I threw a lot of sliders. I didn't feel a lot of confidence with my fastball today, so I went to my slider."
The fact the youngster with the 100-mph heat was going to his slider in such a key situation was an eye-opener to Seager as well.
"I think even more impressive than [the defensive stop] was the fact Diaz threw a 3-1 slider there with the bases juiced and the tying run on third," Seager said. "That takes some guts. He threw that pitch and it buckled me at third. I was shocked."
Manager Scott Servais said it was another huge learning step for the 22-year-old.
"I can't say enogh about the kid," said Servais. "You do have to go through some of those and it's nice to go through some when you don't spit it up and still get the save and can walk out with a smile on your face. He'll continue to learn from it, but I think everybody again tonight he has the ability to dial it up and that's why our team is so fired up to have him out there in the ninth."
The live-armed right-hander has given up just five hits and two runs with two walks and 13 strikeouts in nine innings since taking over the closing job on Aug. 2, going eight for-eight in save opportunities and continuing to overpower hitters with his 100-mph heat and the quality slider.
Servais knows he has a powerful weapon at his disposal with the young Puerto Rican and that fans will raise the question of why not bring him in earlier if a game is on the line in the middle innings.
"I'm not going to say it hasn't popped into my head," Servais acknowledged. "But you have to look where we are in the season. We sit here on Aug. 16-17, it's a little different than if it was Sept. 20. But for our team right now, for what he's brought to our club, everybody likes to see him run out there in the ninth inning.
"It's a very secure feeling for myself, for the guys on the field that have been busting it all game and feel good about it and even the guys that are pitching in the bullpen. That's why they're accepting of their roles, because he's been so dominant that it's just a good fit. He certainly deserves to pitch the ninth inning, so I'd like to keep him in that role."
Diaz has an amazing 62 strikeouts in his first 34 innings in the Majors, which is why it is tempting to call on him in key situations with runners on. An interesting new development in his progress is an increase in first-pitch swinging by opposing hitters, which has led to Diaz needing just eight, nine, nine and five pitches to retire the side in his last four outings before Wednesday's 27-pitch outing.
What's going on there?
"Scouting reports," Servais said. "When you walk up to the plate knowing this guy throws 100 mph, you're not going to wait around. Why? Because the end result hasn't been very good. Players know that, teams know that. They're going to be aggressive and go after him.
"And he's got enough life on the fastball, even though they know a lot of times it's coming, that they have a tough time squaring it up. There's no doubt teams are smart, they look at the numbers and what he's done and they want to get after it early in the count."
As a result, Diaz has "only" four strikeouts over his last six innings, though he's allowed just one hit with no walks or runs in that span.
"We're looking for three outs," said Servais, "and we'll take 'em any way we can get 'em."
Greg Johns has covered the Mariners since 1997, and for MLB.com since 2011. Follow him on Twitter @GregJohnsMLB and listen to his podcast. This story was not subject to the approval of Major League Baseball or its clubs.