Fellow hometown hero Frenchy advises Dansby
Veteran there for prospect to lean on, recalls hype of debut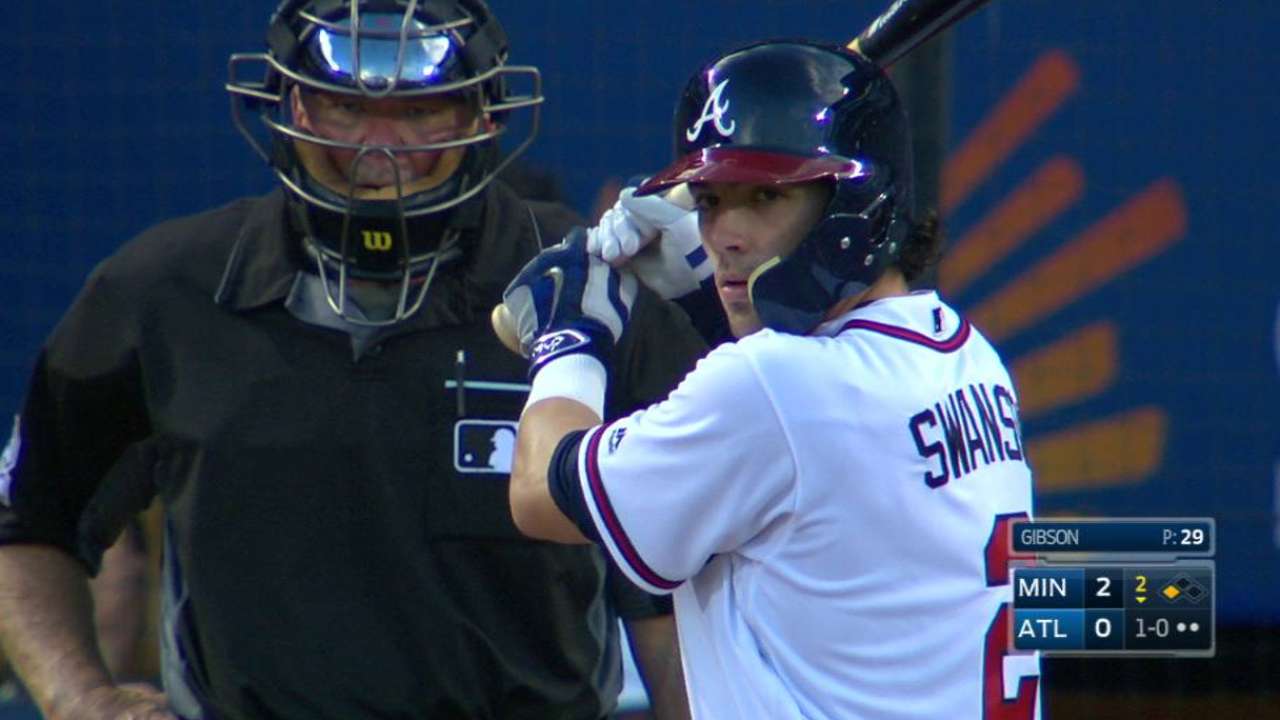 ATLANTA -- Here he comes, the heralded hometown hero, carrying the weight of astronomical expectations upon his shoulders as he takes the field for his Major League debut.
The fans cheer. Photographers follow his every move. As the Braves' No. 1 prospect, Dansby Swanson's big league career, however brief, already has him destined to become the likely future face of the franchise.
In 2005, this part belonged to Jeff Francoeur, a sweet-swinging outfielder from Parkview High School in Liburn, Ga. But on Wednesday at Turner Field, Francoeur looked on as Marietta, Ga., native Swanson, baseball's No. 5 overall prospect according to MLBPipeline.com, assumed the same role.
• Swanson right at home with 2-hit debut
"Today, you can only tell him to have fun, because everybody experiences it a little bit, and everybody is nervous at different times," Francoeur said. "I remember I wasn't really nervous until I walked up to the plate. I wasn't nervous running out to right field, during [batting practice] or any of that.
"Some people get nervous when they come, but I think he's mature enough that you'll see him calm down and do a good job."
.@JeffFrancoeur recalls his own MLB debut and offers some advice for @LieutenantDans7. #DansbyDebuthttps://t.co/TuSL6Xf0xs

— Atlanta Braves (@Braves) August 17, 2016
Swanson displayed poise in his debut, going 2-for-4 with a pair of singles in the Braves' 10-3 loss to the Twins. Francoeur also didn't allow his nerves to get the best of him the night of July 7, 2005, when after striking out twice in his first three big league at-bats, he blasted a three-run homer vs. the Cubs in the eighth inning.
From there, the hype only grew. The rookie outfielder batted .360 with 10 home runs and 30 RBIs in his first 37 games.
But such a high level of success couldn't be sustained. Francoeur's average dropped to .239 in his fourth season, and the pressures of being the hometown hero caught up to him.
Now, as Swanson embarks on his big league career, Francoeur has advised the shortstop on how to handle all of his responsibilities.
"You've got to take care of yourself," Francoeur said. "He's going to be great for the community and do a lot of stuff here in Atlanta, and I think it's going to be great. But at the same time, I think you've got to tell yourself to pick one or two guys you know to listen to and trust them."
Francoeur figures to be one of the veterans Swanson can lean on. And with more talented prospects bound to make their debuts this year, he hopes to take advantage of the opportunity.
"If I could just tell everybody to just temper your expectations and let the kid play," Francoeur said. "Who knows? He might struggle for six weeks. But he's going to be good, and he's going to do well. It's just everybody comes up at their own time."
Pat James is a reporter for MLB.com based in Atlanta. This story was not subject to the approval of Major League Baseball or its clubs.