MLB.com Columnist
Jim Callis
US collegiate national team once again showcases Draft talent
A closer look at the Top 10 pro prospects from Team USA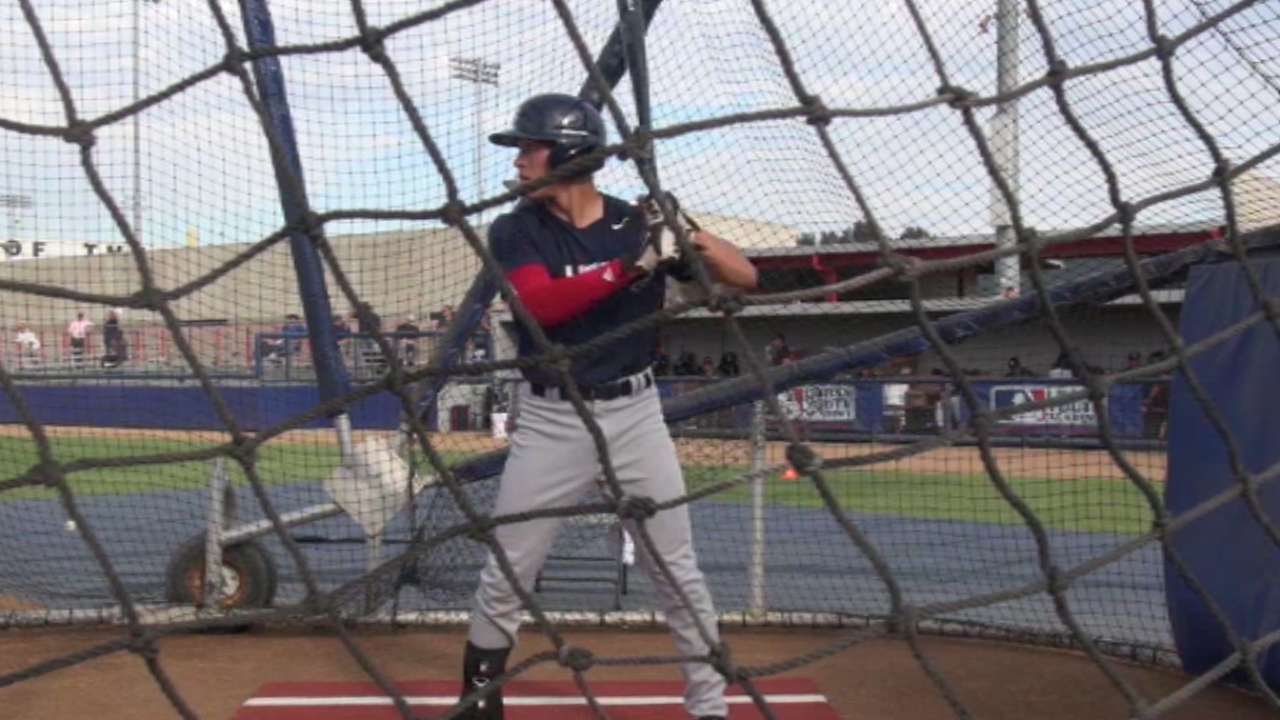 The U.S. collegiate national team annually showcases high-level Draft prospects. The 2013 edition included 11 future first-round picks, while the 2014 squad had 12, including the top two choices in the 2015 Draft in double-play partners Dansby Swanson and Alex Bregman. Last year's Team USA college club produced five 2016 first-rounders and included four players who could go that high next June.
This summer's college national team went 11-7-1 and didn't quite measure up to its immediate predecessors in terms of talent, especially with position players (with one notable exception). But it did have a formidable pitching staff that compiled a 1.81 ERA and keyed Team USA's first series win in Cuba by allowing a total of two runs in three victories. By comparison, the loaded 2014 squad got swept in five games in Cuba.
Below is our ranking of the collegiate national team's 10 best pro prospects:
1. Jeren Kendall, OF, Vanderbilt, Junior in 2017
He could follow Swanson's path from Vanderbilt to Team USA to the No. 1 overall selection. Kendall led Team USA in hits (20), extra-base hits (10), RBIs (14) and steals (five). He's a fast-twitch five-tool athlete with deceptive strength, good balance and patience at the plate, though he'll need to cut down on his strikeouts. Kendall has plus-plus speed, center-field skills and a strong arm for his position.
"After watching him, I'd be shocked if he got out of the first five picks," one regional crosschecker said. "He did everything you'd want to see: steal bases, play elite defense, put the ball in the right-field seats at Dodger Stadium. He has game-changing ability."
2. Alex Faedo, RHP, Florida, Junior
The Gators had five pitchers taken in the first four rounds of the 2016 Draft, including first-rounders A.J. Puk and Dane Dunning, and Faedo is better than any of them. After topping Florida in wins and strikeouts during the spring, he did the same with Team USA (three victories, 21 whiffs) while allowing one run in 16 innings. Faedo not only has pure stuff in a 92-95 mph heater and a mid-80s slider that's an out pitch, but he also has fastball command and deception, and he made significant strides with his changeup under the tutelage of U.S. assistant coaches Dave Snow and Ted Silva.
3. Kyle Wright, RHP, Vanderbilt, Junior
Some scouts prefer him to Faedo because Wright is more athletic and has better fastball life and command. His stuff is impressive as well: a 91-94 mph fastball (though his velocity was down after a long college season, as was the case with most of the U.S. arms), a hard curveball he uses against lefties, a harder slider/cutter he employs against righties and a developing changeup.
"Wright has a lot of projection remaining in him," Snow said. "He's plenty good, but there's still a lot of upside in him. It's a good athletic body and a real good arm action. I think he'll fill out and be really strong."
4. J.B. Bukauskas, RHP, North Carolina, Junior
He was untouchable all summer, allowing just seven hits, three walks and a solo unearned run while fanning 21 in 21 2/3 innings. Bukauskas had the hardest fastball on Team USA, sitting at 93-95 mph after working in the mid-90s during the spring, and the hardest slider, a mid-80s offering that's a double-plus pitch at its best. He has sink on his heater, tilt on his slider and armside run on a changeup that vastly improved over the summer. Bukauskas would rank higher on this list if not for concerns that his size (6 foot, 196 pounds) and the effort in his delivery might lead him to the bullpen, though his proponents see some Sonny Gray in him.
5. Brendan McKay, LHP/1B, Louisville, Junior
The John Olerud Award winner as college baseball's top two-way player in each of his first two seasons, McKay could have a bright future as an everyday player or a mid-rotation starter. His sweet left-handed swing and mature all-fields approach allowed him to lead Team USA in batting (.326) and on-base percentage (.434), and he may have solid or better power if he focuses on hitting and gets stronger. McKay is also a polished, durable lefty with nifty command of an 88-93 mph fastball and one of the best curveballs on the team.
"I might be in the minority, but I like him more as a hitter," a national crosschecker said. "He's definitely one of the most dynamic and interesting guys in the Draft."
6. Seth Beer, OF, Clemson, Sophomore
The only player on this list who won't be eligible until the 2018 Draft, he graduated high school early and became the consensus national freshman of the year last spring after hitting .369/.535/.700 with 18 homers. Beer appeared tired and his bat looked slower during the summer, when he batted .178 with one homer, but scouts didn't hold that against him and still noted his strength and quality approach. Most of his value will come from his bat, because he's a below-average runner with a fair arm.
7. Alex Lange, RHP, Louisiana State, Junior
He got rocked by Chinese Taipei when he didn't have his best stuff and tried to compensate by overthrowing in his first start of the summer, but he made adjustments and didn't allow a run in his next three outings, concluding with four no-hit innings on 37 pitches against Cuba. When he's 100 percent, Lange has a 92-96 mph fastball and a power curveball that ranked as the best on the squad. He's yet another U.S. pitcher who used the summer to refine his changeup, and he threw more consistent strikes (albeit in a small sample size) than he has at LSU.
8. Tanner Houck, RHP, Missouri, Junior
Though he uncharacteristically didn't miss a lot of bats this summer, with just eight strikeouts in 23 2/3 innings, Houck still thrived by using the quality sink and bore on his fastball to induce weak contact. Working from a low three-quarters arm angle, he reached the upper 90s during the spring and opened the summer at 92-96 mph before settling in at 89-93. Houck can get swings and misses with his slider, but he needs to get more consistent with it and his changeup.
9. Dalton Guthrie, SS, Florida, Junior
The son of former big leaguer Mark Guthrie, Dalton doesn't have any dazzling tools but nevertheless put on a defensive clinic at shortstop. Both Team USA general manager Eric Campbell and head coach George Horton credited Guthrie's glovework as perhaps the most crucial factor in the series win over Cuba. He has a solid arm and quick hands, but his instincts stand out more than anything. While Guthrie can handle the bat, he doesn't offer much power and is an average runner.
"The exhibition he put on versus the Cubans, I've never seen anything like that," Horton said. "He has a unique style. We were calling him a witch in our dugout. The ball would be halfway home and he'd be on the move, but he was always in the right place. The Cubans thought we had three or four guys named Guthrie, because he was all over the place. He's a big league shortstop in my mind, an old-school shortstop."
10. Tyler Johnson, RHP, South Carolina, Junior
Team USA's closer works at 92-96 mph and flashes a plus slider out of the bullpen. Some scouts wonder if Johnson might be able to cut it in the rotation -- he struck out 11 in a complete-game five-hitter in his lone college start in the NCAA regional playoffs in June -- but to do so, he'll need to improve the consistency of his slider and the quality of his changeup. After issuing just eight walks in 52 innings with the Gamecocks, he seemed to overthrow and his delivery got out of whack while he issued five free passes in 7 2/3 summer frames.
Jim Callis is a reporter for MLB.com. Follow @jimcallisMLB on Twitter and listen to him on the weekly Pipeline Podcast. This story was not subject to the approval of Major League Baseball or its clubs.