Tigers see timing as root of Upton's struggles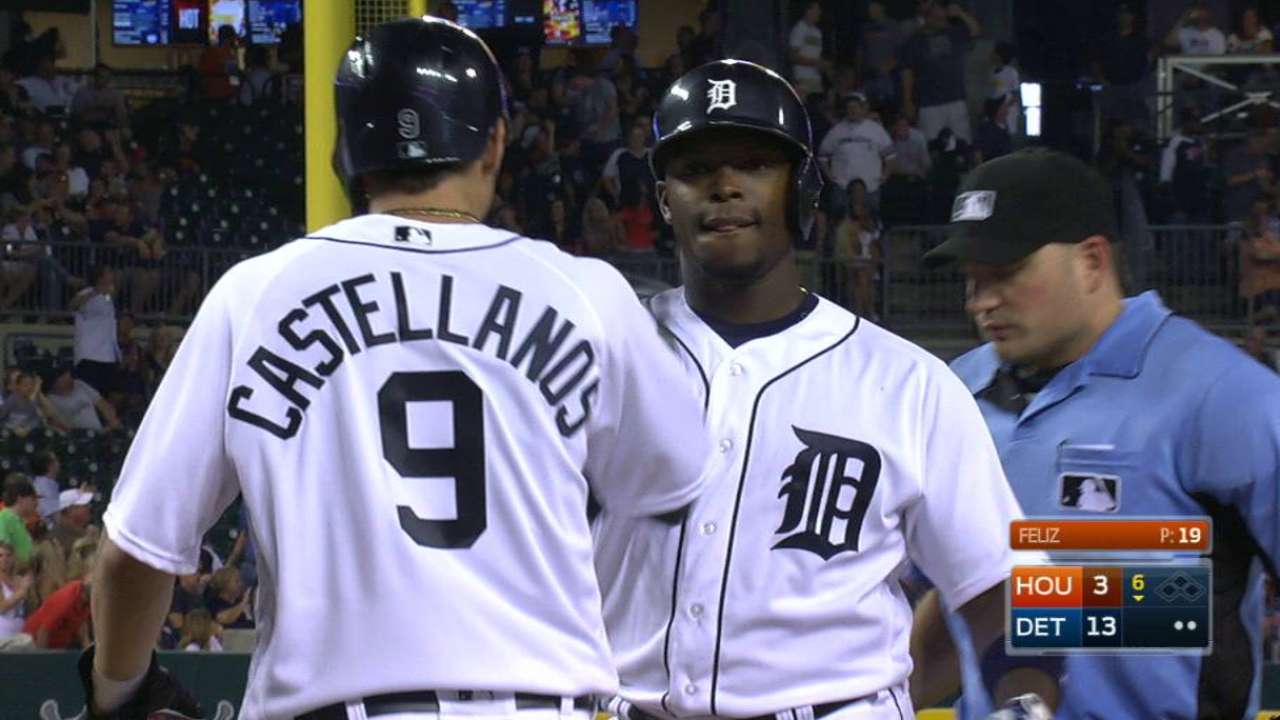 DETROIT -- The Tigers rode out Justin Upton's August slump for the better part of a week while they deal with the depth issues that injuries presented. On Wednesday, with the arrival of Erick Aybar and the return of Miguel Cabrera for the series finale against the Royals, Upton got a half-day off, entering as a replacement for Tyler Collins (bruised right knee) and striking out swinging in one at-bat during a 4-1 loss to the Royals.
It was Upton's first day out of the starting lineup since July 16, when he went on the bereavement list. It comes amid a 1-for-30 slump that dropped his batting average from .241 on Aug. 8 to .226.
• Tigers get Miggy back in lineup against Royals
While Upton's first season in a Tigers uniform has included protracted slumps and short bursts of promise, his most recent struggles have been more pronounced. His 1-for-30 stretch began more than a week ago in the Tigers' series opener at Seattle. His only hit since then was a ground-ball single through the left side on Saturday at Texas.
During his other slumps, Upton has made hard contact on his outs, while striking out often. While his strikeout rate hasn't accelerated, Upton has been making less solid contact lately.
• As starter or reserve, Aybar can help Tigers
Asked if Upton's bat looks slow, manager Brad Ausmus said, "His bat's not slow. I think he's out of sync mechanically. His timing's off."
The decision gave Upton a chance to do extra work, such as watch video and talk with hitting coaches Wally Joyner and David Newhan without focusing on game preparation.
The Pirates had similar concerns with All-Star center fielder Andrew McCutchen a few weeks ago and opted to sit him for a few days, giving the 2013 National League MVP a prolonged opportunity to clear his head. Asked if that was an option with Upton, Ausmus said, "I have considered that."
The Tigers signed Upton in January to a six-year, $132.75 million deal, making him the headline acquisition in a busy offseason for Detroit. His first season in the Motor City has been a challenging one of adjustments. His .653 OPS would be his lowest in a season since his rookie year of 2007, when he played 43 games, as would his -0.6 Wins Above Replacement. His August struggles have drawn more attention alongside injuries to other Tigers. Third baseman Nick Castellanos, center fielder Cameron Maybin and shortstop Jose Iglesias are all on the 15-day disabled list, while Cabrera returned after missing a game and a half with a left biceps strain.
The Tigers used the Aybar trade for a roster reshuffling, calling up slugging outfielder Steven Moya on Wednesday. With lefty reliever Blaine Hardy optioned to Triple-A Toledo, Moya remains, giving the Tigers an option for a late-inning lefty bat or a late-game appearance in the outfield corners.
Jason Beck has covered the Tigers for MLB.com since 2002. Read Beck's Blog, follow him on Twitter @beckjason and listen to his podcast. This story was not subject to the approval of Major League Baseball or its clubs.