Nelson: Recent numbers don't tell the story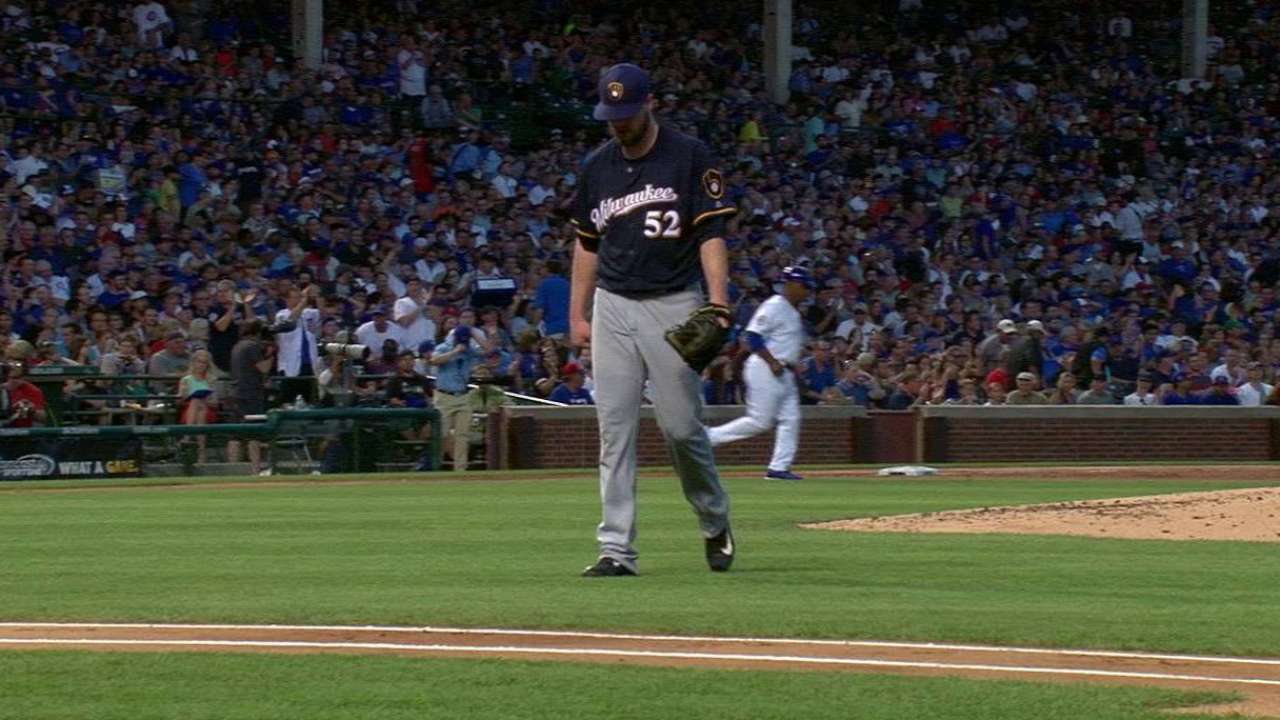 CHICAGO -- Jimmy Nelson was adamant Wednesday, even in the wake of a 6-1 loss to the Cubs in which he threw 49 pitches in a five-run first inning, and even as his streak without throwing a pitch in a sixth inning entered its second month.
None of this, Nelson argued, is as bad as it looks.
"The surface stuff over the last month may not have looked good," Nelson said, "but there's a lot of good things underneath."
The surface stuff is not good. Against the Cubs, Nelson surrendered six earned runs on six hits in his sixth straight outing of five or fewer innings. His first inning began with a walk and a hit batsman -- Nelson had both hitters in two-strike counts -- and continued with a pair of well-placed RBI singles followed by Jorge Soler's booming three-run home run.
Two innings later, Nelson surrendered a two-out, two-strike homer to veteran catcher David Ross with opposing pitcher Jon Lester on deck. Nelson walked two batters, hit two and, despite retiring the final seven men he faced, was out of the game by the start of the sixth because he'd thrown 99 pitches.
In his last six starts, all losses, Nelson has surrendered 34 runs (25 earned) on 39 hits, including seven home runs, with 17 walks and seven hit batsmen over 28 innings.
"Me and DJ," he said, referring to Brewers pitching coach Derek Johnson, "are on the right plan here, the right track. We trust our work, we trust our process that we've been leaning on. ? It's a results-based thing, but a lot of times -- it's just like, there can be a guy getting crushed, but there's balls being hit right at people. He's getting good results, but is the way he got the results the right way? Is that going to keep you consistent for your career? You want to do what's going to keep you consistent for your career, what's going to give you success over the long run, not just now.
"What we're doing is to accomplish that. It's going to fall into place. Things are going to get back on track. I feel like I've actually been making more quality pitches, maybe just as much or more than I was in the first month of the season, when I was throwing really well."
Nelson owned a 2.88 ERA as the calendar flipped to June.
"I actually feel like I'm a little more polished now than I was then, as far as some of the things I'm doing," he said. "That's part of the crazy game that it is. ? If you let the results base how you feel about yourself, how you feel you executed your process, then you're going to have a roller-coaster season.
"I'm just trying to evaluate things off of things I can control, which is quality pitches. Obviously, there is room for improvement. There is always going to be room for improvement, no matter how long a career you have. But what I'm saying is I don't think that within the last month or whatever it is, the quality of pitches hasn't been as bad as the surface looks.
"It's one thing we trust will turn around. We just have to keep trusting our work."
Adam McCalvy has covered the Brewers for MLB.com since 2001. Follow him on Twitter @AdamMcCalvy, like him on Facebook and listen to his podcast. This story was not subject to the approval of Major League Baseball or its clubs.