Peavy excited to honor Jerry Garcia at benefit
Giants pitcher to play with Grateful Dead's Lesh as part of fundraiser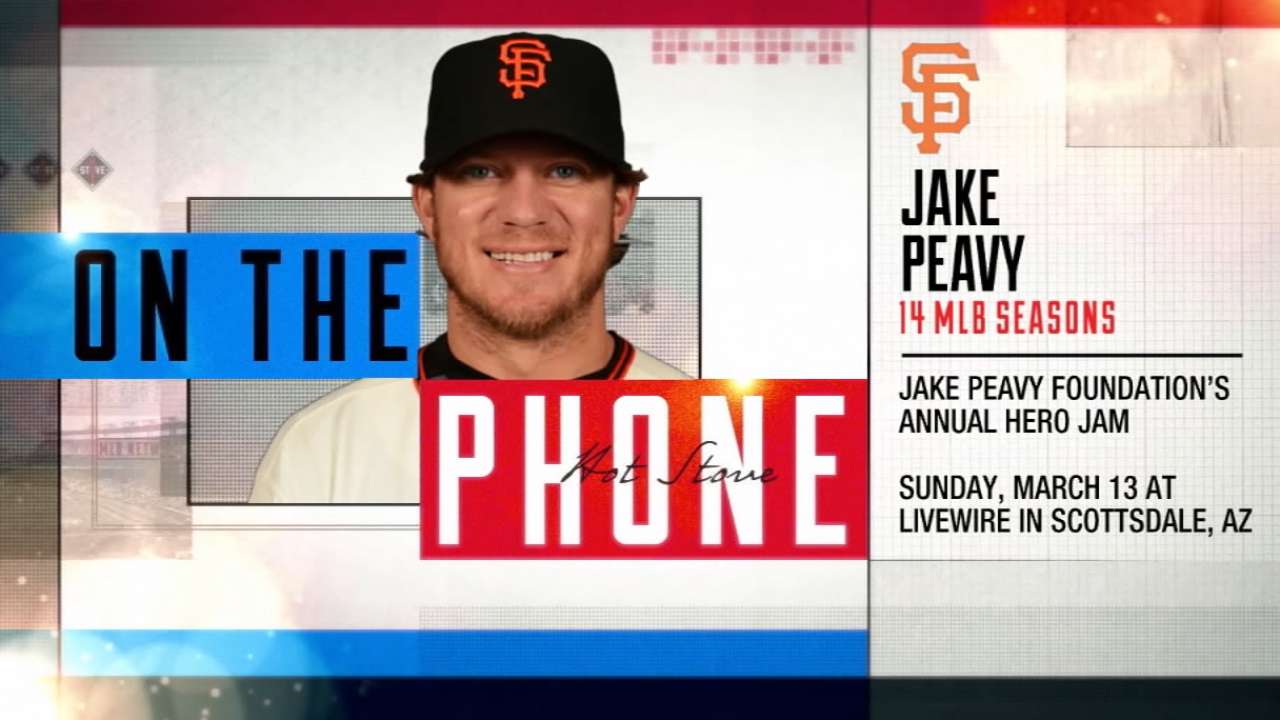 SAN FRANCISCO -- Known for his engaging and affable demeanor off the field, Jake Peavy struggled to find words when talking about the idea of sharing a stage with a member of the Grateful Dead at the Fillmore in San Francisco on Wednesday night.
The veteran Giants pitcher and his foundation partnered with the Rex Foundation to hold a benefit concert, Can't Stop The Train, to pay tribute to the life of famed Grateful Dead artist Jerry Garcia. The event will include performances from several musicians, including Jackie Greene, Col. Bruce Hampton, Cody and Luther Dickinson, as well as Peavy and his band, the Outsiders. But playing alongside Phil Lesh, an original member of the Grateful Dead, prompted Peavy to become almost speechless.
"I don't think anybody has any idea what is about to go down," Peavy said before Wednesday's series finale vs. the Pirates. "To be able to collaborate and play with people I idolized, it's hard to put into words. We're going to look over tonight on the Fillmore stage and play Grateful Dead tunes with Phil Lesh, who played these tunes on this same stage 50 years ago. That's a cool perspective to have."
Peavy is fully prepared for the experience, though. He went through a catalog of Garcia's songbooks, which Peavy notes are about "400 songs deep," and plans on playing about 20 with his band. He also knows exactly what he's going to wear: a plain black T-shirt in honor of what Garcia wore for every show the Grateful Dead performed.
"It's just going to be a night full of Jerry," said Peavy. "The band is ready."
The night figures to be a lively one, and Peavy expects a maximum-capacity crowd. He said several of his teammates have asked for tickets, but he's now at the unfortunate point where he can't distribute any more.
"Everybody in this room wanted to come," he added.
Regardless, Peavy says his foundation couldn't have drawn up a better event to both pay tribute to a music legend he grew up adoring while also raising money for both the Jake Peavy Foundation and the Rex Foundation. Part of the proceeds will benefit Larkin Street Youth Service, an organization that was founded in San Francisco to assist the community's most vulnerable youth. It has served over 75,000 individuals since its formation in 1984.
"We're helping them by giving some instruments and tie in some music and the healing power of music into their program," said Peavy, adding that money will go toward music lessons as well.
Being a part of benefit concerts is nothing new for Peavy. The Mobile, Ala., native and his band played at the annual Hero Jam in Scottsdale, Ariz., in March. Still, he expects the same type of nerves Wednesday night that form before he pitches.
"The singing aspect is the toughest to get in the moment and do," said Peavy. "I'm sure there will be a little nerves. But once the night kicks off, it's kind of like playing. It's what you do."
Peavy doesn't seemed too concerned with his actual performance Wednesday night, though. Rather, he's more excited by what this simple event has developed into. The third-year Giant has experienced a rocky season on the mound and was demoted to the bullpen in August. But Peavy's spirit has gone unchanged and he's looking forward to perhaps bringing the roof down Wednesday night while performing.
"The group of musicians that showed up to make something like this happen is what makes this fun," said Peavy. "It means the world to me."
Justin Wise is a reporter for MLB.com based in the Bay Area. This story was not subject to the approval of Major League Baseball or its clubs.