Working slowly a 'weapon' for Pirates' Bastardo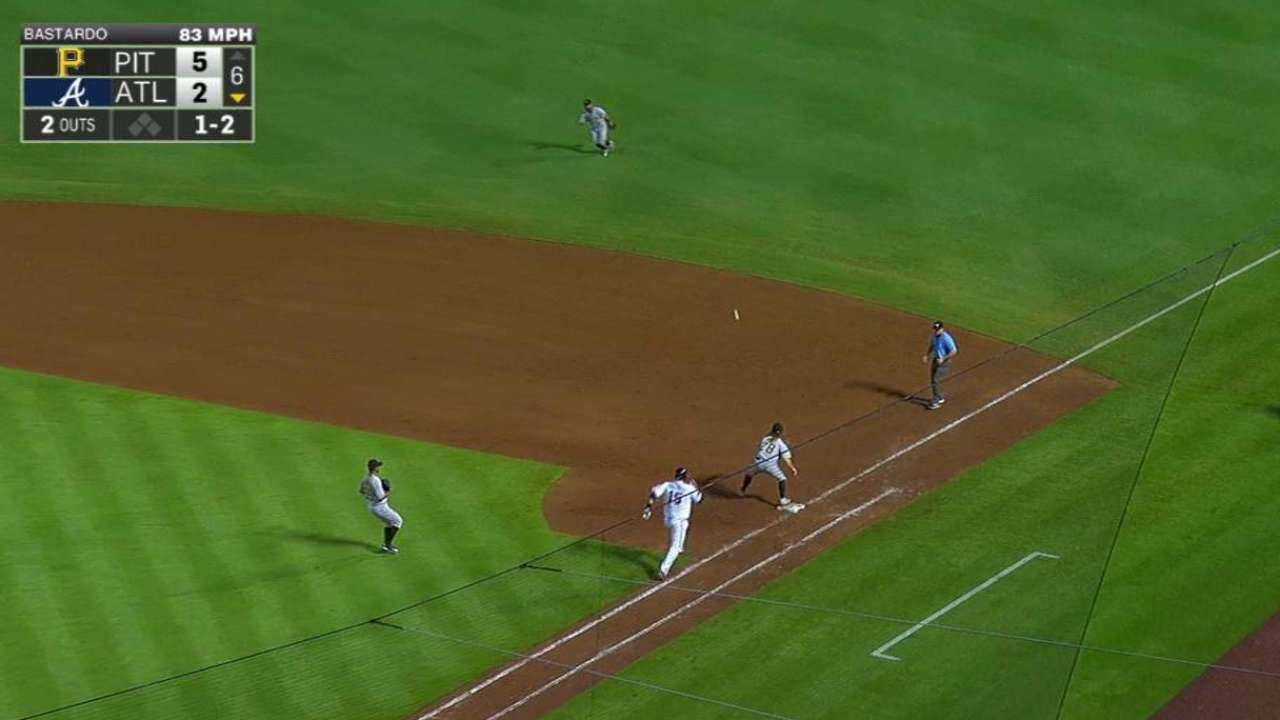 SAN FRANCISCO -- You didn't need a stopwatch Tuesday night to see that Pirates reliever Antonio Bastardo was taking his time on the mound. It was evident in the other players' body language and it was audible in the stands.
"I think it's one of the things he does purposefully," manager Clint Hurdle said Wednesday morning. "I know last night it got maddening for everybody but him."
Bastardo's deliberate pace may work to his advantage, Hurdle said. After tossing a scoreless, nine-pitch seventh inning Tuesday night, the veteran lefty owns a 3.00 ERA while holding opponents to a .182 average in nine appearances with the Pirates.
"I believe he uses it as a weapon, another tool in his toolbox," Hurdle said. "His ability to have that slow heartbeat, take his own time, can cause some anxiety on the hitter's side."
Typically, clubs prefer their pitchers to work quickly, to get the ball and go. A quick pace keeps defenders engaged in the game and puts opposing hitters on the defensive.
But the Pirates have seen the advantage of a slower pace. Former closer Mark Melancon, for example, used to vary how long he would hold the ball between pitches.
According to Pitch-f/x data, Melancon has taken an average of 28.1 seconds between pitches this season, the seventh-highest total by a reliever in the Majors. Bastardo checks in just behind Melancon on the list of slowest-working relievers, waiting an even 28 seconds between pitches.
It's more acceptable for a reliever to pitch at a slower pace than a starter, Hurdle said, and the Pirates don't want to ask Bastardo to pitch quicker if he's not comfortable doing so -- especially if he's making hitters uncomfortable.
"The human instinct as someone's holding the ball on you is you start to tighten up," Hurdle said. "It's that internal clock that some of these guys have or develop that they can actually use as another weapon."
Pittsburgh acquired Bastardo, who pitched for the Pirates last year before signing with the Mets, to shore up the front end of the bullpen. And Hurdle has called his name often, nine times in 14 games since he was acquired from the Mets.
Bastardo posted a 2.98 ERA in a similar role for the Pirates last season, then struggled through 41 appearances with the Mets this year.
"Regardless of the numbers in New York, this is a man who pitched very well for us last year," Hurdle said. "He can provide a service for us that we need right now. He's not a left-on-left guy, and we've got some right-handers out there who have not done real well against left-handed hitters."
Adam Berry has covered the Pirates for MLB.com since 2015. Follow him on Twitter at @adamdberry. This story was not subject to the approval of Major League Baseball or its clubs.