Giants consider loading top starters for LA
Skipping Cain would allow lefty Moore to face division-rival Dodgers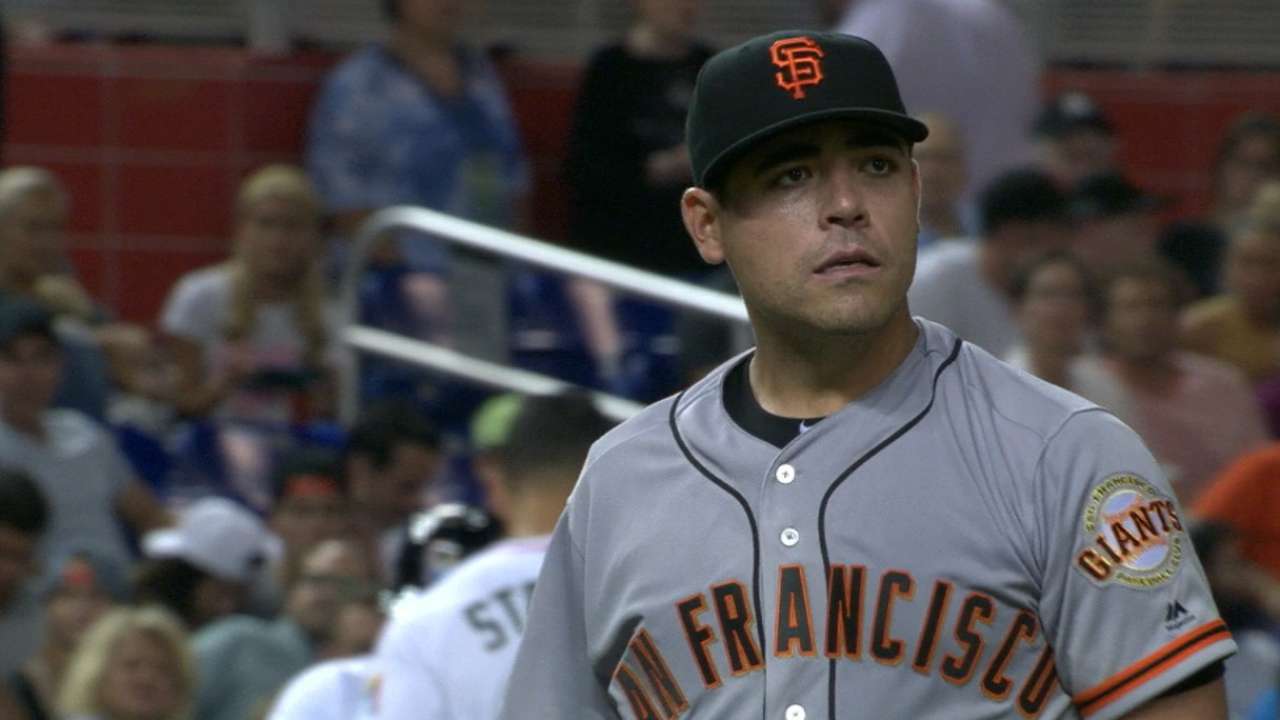 SAN FRANCISCO -- Giants manager Bruce Bochy did not reveal Wednesday whether he would alter the team's pitching rotation to enable its top three starters to oppose the Los Angeles Dodgers in next week's critical series.
"We haven't made that call yet," Bochy said before Matt Cain allowed six runs, all in the fifth inning, during the Giants' 6-5 loss in the series finale against the Pittsburgh Pirates. "I'll talk about that once we get a little closer [to the Dodgers series]."
To employ -- in order -- Madison Bumgarner, Johnny Cueto and Matt Moore in the series beginning Tuesday at Dodger Stadium, Bochy would have to skip Cain, the erstwhile staff ace who owns a 4-8 record with a 5.81 ERA.
Monday's scheduled off-day would allow Bumgarner, Cueto and Moore to receive their usual four days' rest before the Giants launch their series against the Dodgers, who wrested the National League West lead from them Tuesday.
Cain acknowledged that missing his turn against the Dodgers would disappoint him. However, he realized such a move could be necessary for the Giants.
"Those are big games in Los Angeles," Cain said. "Those are the games you look forward to and compete in. But we have to do whatever we have to do right now. We have to find ways to get back on the right track and get some mojo going."
If Bochy elected to keep the rotation as is, Cain would pitch Tuesday's opener against the Dodgers, followed by Bumgarner and Cueto.
Statistics reflect the wisdom of tweaking the rotation to use the left-handed Moore against the Dodgers. Los Angeles ranked last in the Major Leagues entering Wednesday with a .228 batting average against lefties. By contrast, the Dodgers' .258 average against righties was the NL's fourth-best figure in that category.
The Dodgers had amassed 110 home runs against right-handed pitchers, good for fourth in the NL. Their home run total against lefties was 27, ranking 12th in the league.
Moreover, Los Angeles took a 14-14 record against left-handed starters into Wednesday, compared to 52-38 against right-handed starters.
Cain might have thrived against any team with the skill he displayed in the first four innings against Pittsburgh. He yielded just a third-inning single to opposing starter Ivan Nova in that span. However, Cain suddenly was unable to find his release point in the fifth inning, when he hit leadoff batter David Freese with a pitch before issuing three consecutive walks.
"I think the biggest thing is, I just tried to make too good of pitches instead of staying a little more aggressive right there," Cain said. "It just got me out of whack."
Chris Haft has covered the Giants since 2005, and for MLB.com since 2007. Follow him on Twitter at @sfgiantsbeat and listen to his podcast. This story was not subject to the approval of Major League Baseball or its clubs.