Rotation big key to Sox's recent success
In midst of grueling road trip, starters raising their game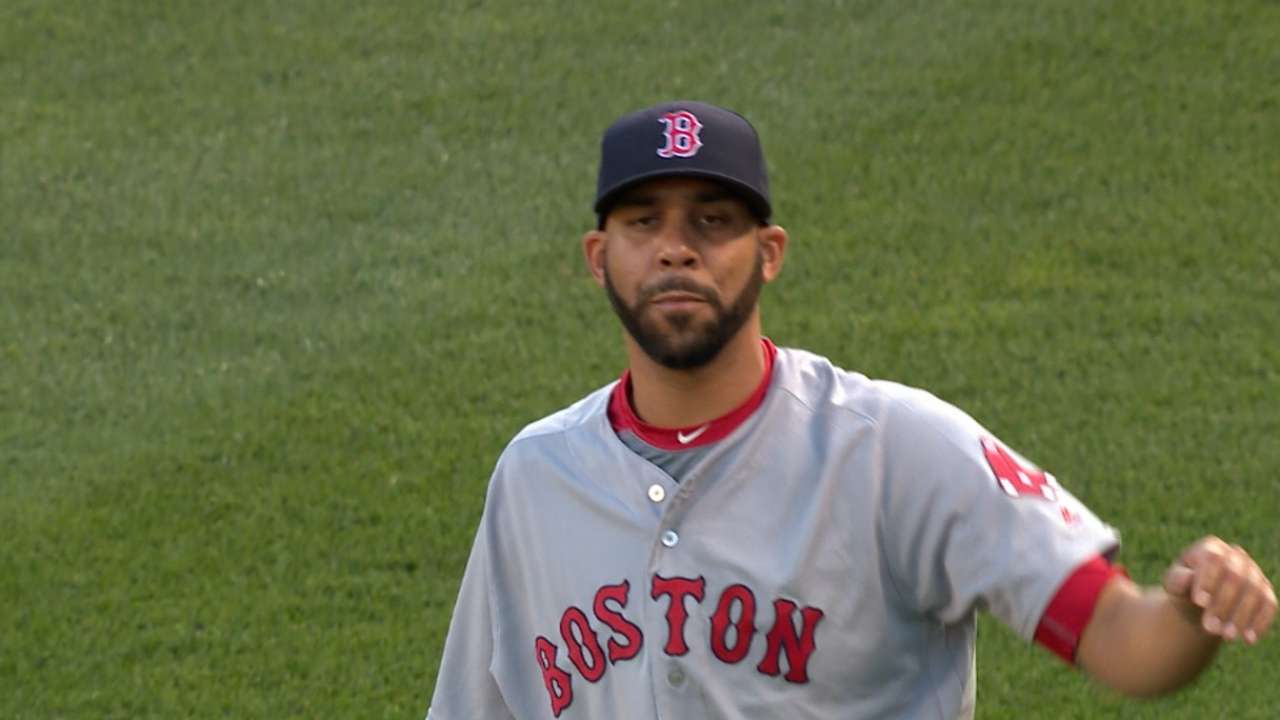 BALTIMORE -- This test that includes grueling travel logistics and quality opponents on the road is one that the Red Sox have aced thus far, continuing with Wednesday's rain-shortened 8-1 win over the Orioles.
The victory preceded a period of travel unlike any other the club will face this season. After Wednesday night's game in Baltimore, Boston was off for a late flight to Detroit, and then a 1:08 p.m. ET start time on Thursday at Comerica Park.
Keep in mind that this 11-game road trip started on Monday with a one-day makeup day game in Cleveland.
When you've won six in a row like the Red Sox have, these stretches are looked at as challenges instead of annoyances.
"For today, we're in a good spot," said manager John Farrell. "But we've got to wake up early and strap [on the equipment] at 1 o'clock tomorrow."
When they do that, the Sox hope that righty Clay Buchholz can continue the recent run that the starting rotation has been on of late, including David Price's stellar performance (six innings, four hits, one earned run, zero walks and four strikeouts) in the finale against Baltimore.
"It's all on the starting pitching," said Price. "We'll go as far as the starters take us. We've thrown the ball well as a group over I don't know how long. We've thrown the baseball a lot better."
The turnaround started when the calendar flipped to August. This month, Boston's rotation has a 2.62 ERA. Considering they have arguably the best offense in the Major Leagues, the Red Sox could become a truly dangerous team if they continue to pitch well.
"Our starters are doing a good job of keeping games under control," said Farrell. "We've been able to manage any kind of damage. We've been able to put up some low-run outings pretty consistently here. And that's been the biggest key to give us a chance to win the low-run game, come back if we've been down a run or two. It's not a big hole to dig out of. Our starters have set the tone in this stretch."
At 67-52, the Red Sox are 15 games above .500 for the first time this season. They trail the Blue Jays by just a game in the American League East and are leading the AL Wild Card standings.
Following Wednesday's win, the Sox didn't even know what time they'd wind up getting to Detroit.
"We've got a game in 13 hours," Price noted from Camden Yards.
But by 1:08 p.m. on Thursday, Farrell's team will be ready to go.
After winning Sunday in Boston and Monday in Cleveland, and Tuesday and Wednesday in Baltimore, the Red Sox will aim to win in a fourth city in a five-day span on Thursday.
"I guess our mantra is on to the next city," said Farrell.
Ian Browne has covered the Red Sox for MLB.com since 2002. Follow him on Twitter @IanMBrowne and Facebook. This story was not subject to the approval of Major League Baseball or its clubs.