Glasnow seems fine after throwing session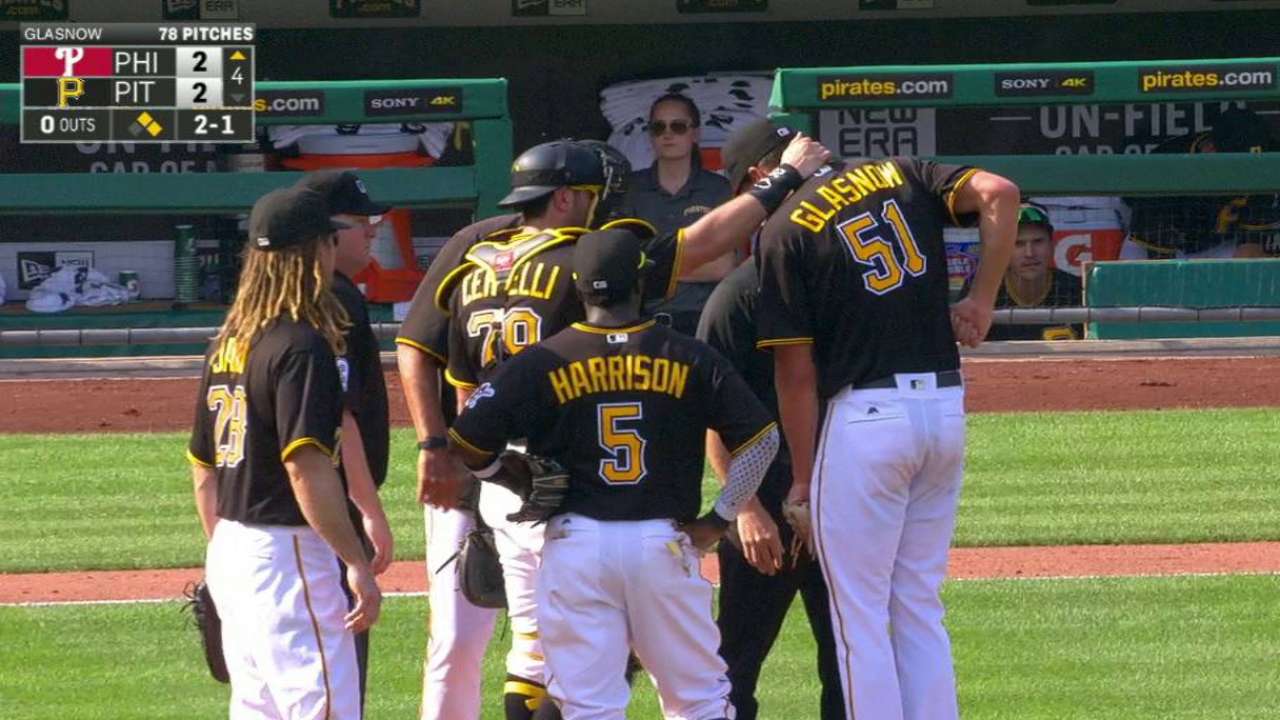 SAN FRANCISCO -- Pirates top prospect Tyler Glasnow exited early from a Minor League start Sunday, but it appears the rehabbing right-hander has avoided another injury.
Glasnow was scheduled to throw four innings in a rehab start for Double-A Altoona on Sunday, but he left the game after pitching three innings. He was examined in Pittsburgh on Monday and cleared to rejoin Altoona to throw a bullpen session Tuesday.
The throwing session went well, head athletic trainer Todd Tomczyk said, and Glasnow will work in the bullpen one more time before getting back on the mound for another rehab start.
Glasnow, on the 15-day disabled list due to right shoulder discomfort, did not require an MRI or any other scan. Tomczyk theorized that Glasnow may have been uncomfortable -- Altoona manager Joey Cora noted he was shaking his arm on the mound -- because his body didn't feel right the last time he pitched in a game.
"Anytime these guys come back from an injury, there's that mind-body connection, and I think something wasn't clicking on all cylinders with Tyler," Tomczyk said.
It seems likely that Glasnow, who made two starts for the Pirates, won't rejoin the big league club until September.
Stewart making progress
Catcher Chris Stewart, also rehabbing with Altoona, was scheduled to play seven innings behind the plate Wednesday after catching three innings of a rain-shortened game Tuesday.
Stewart's rehab assignment was designed to test his balky left knee, trying to work him up to catching nine innings and playing on back-to-back days.
"He's been doing well," Tomczyk said. "The knee's been responding well and he's looking forward to continuing to rehab and eventually helping this team out."
Scoreboard watching
The Pirates entered Wednesday's series finale at AT&T Park with the Majors' best record (27-17) since June 24. They pulled within one game of a postseason spot, trailing the Cardinals in the National League Wild Card race.
During that stretch, the Pirates have averaged 4.6 runs per game while posting a 3.48 team ERA. Has manager Clint Hurdle kept his eye on the standings during this late-season push?
"I don't. It doesn't help. I learned that a long time ago," Hurdle said. "The more scoreboard-watching you do, the bigger a distraction it becomes.
"I understand taking peeks, and sometimes they're put where you're going to notice them, but to keep running to it, it's like anything else. It doesn't do you any good. We need to focus on us playing better. ... If we play our best baseball, we'll find our way to the playoffs."
Adam Berry has covered the Pirates for MLB.com since 2015. Follow him on Twitter at @adamdberry. This story was not subject to the approval of Major League Baseball or its clubs.