Solis placed on DL with shoulder inflammation
Perez is Nats' only left-handed reliever; club promotes prospect Glover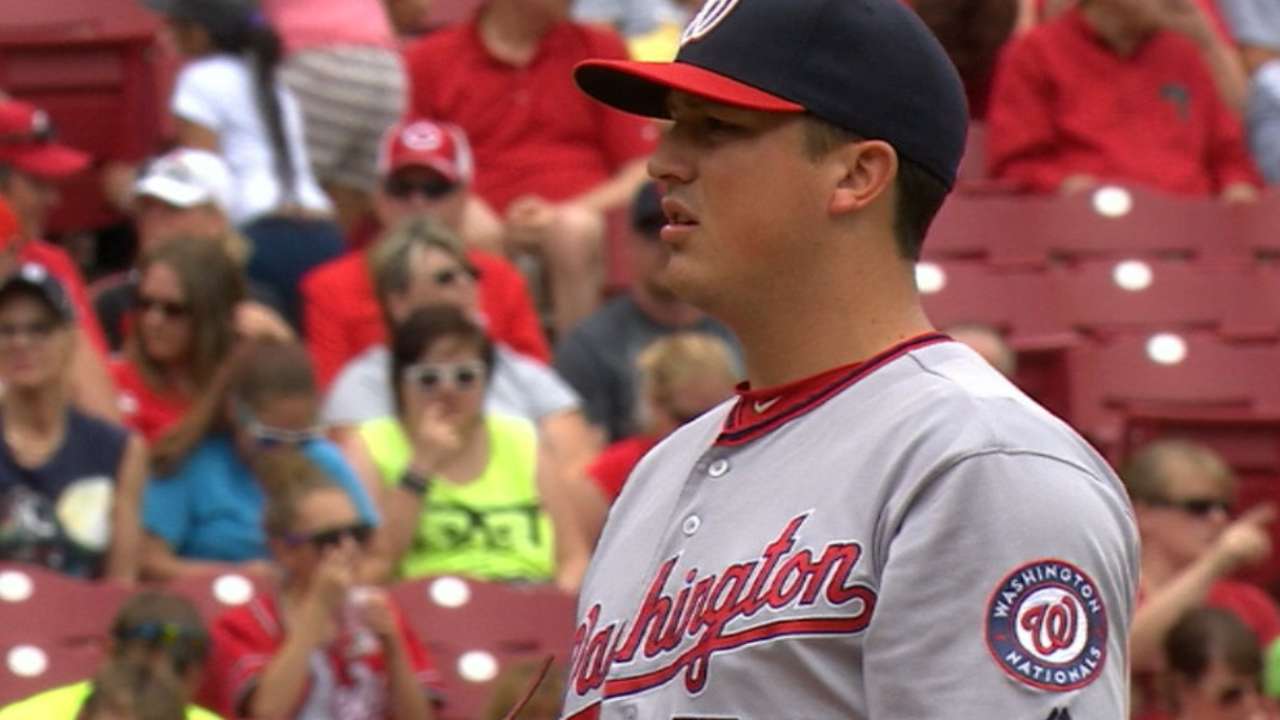 DENVER -- For much of the season, the Nationals have had three left-handed relievers in their bullpen, a luxury that manager Dusty Baker had come to enjoy. They traded Felipe Rivero, one of those lefties, on July 30 in order to acquire new closer Mark Melancon.
On Wednesday morning, the Nats placed Sammy Solis, who had developed into their most reliable left-hander and one of their best relievers, on the disabled list with left shoulder inflammation. He was sent back to Washington for an MRI to determine the severity of his injury.
One of the reasons the Nationals could endure parting ways with Rivero this season was the emergence of Solis as one of the club's primary setup men, along with right-hander Shawn Kelley. In 34 games this season, Solis has a 2.35 ERA and is striking out 10.3 batters per nine innings. Lefties own a .200 batting average against him.
To replace Solis on the roster, the Nationals promoted right-hander Koda Glover, the club's No. 12 prospect, who impressed during a brief stint in the Majors in July. He gave up one hit and recorded one strikeout across a pair of scoreless innings in his two big league appearances this season. Baker said he would be comfortable using Glover against lefties late in the game.
Washington is now down to one left-hander in the bullpen in veteran Oliver Perez, who has struggled lately and owns a 4.96 ERA. In his past seven appearances, Perez has allowed 11 of the 20 batters he has faced to reach base, with five walks and only one strikeout. Perez's overall numbers against left-handers are still strong -- they are batting .215/.316/.338 against him with a .654 OPS in 65 at-bats -- but he has not had the same success against righties: .283/.394/.433 with an .828 OPS.
Baker said Perez has been working with pitching coach Mike Maddux in the bullpen recently to try to correct some of those issues.
"We realized he's struggling," Baker said. "You don't have to tell [Perez]; he knows he's struggling some."
The severity of Solis' injury is still unclear, but it would be a huge blow to the Nationals if he has to miss an extended period of time.
"It changes a lot," Baker said. "It changes a lot, depending on Sammy's health situation, depends on what we have to do. It's tough just for one lefty, especially. Everybody had a role and a job at the time."
Jamal Collier covers the Nationals for MLB.com. Follow him on Twitter at @jamalcollier. This story was not subject to the approval of Major League Baseball or its clubs.