Green's message: Stay present, stay disciplined
Padres skipper believes playing in the moment leads to better performance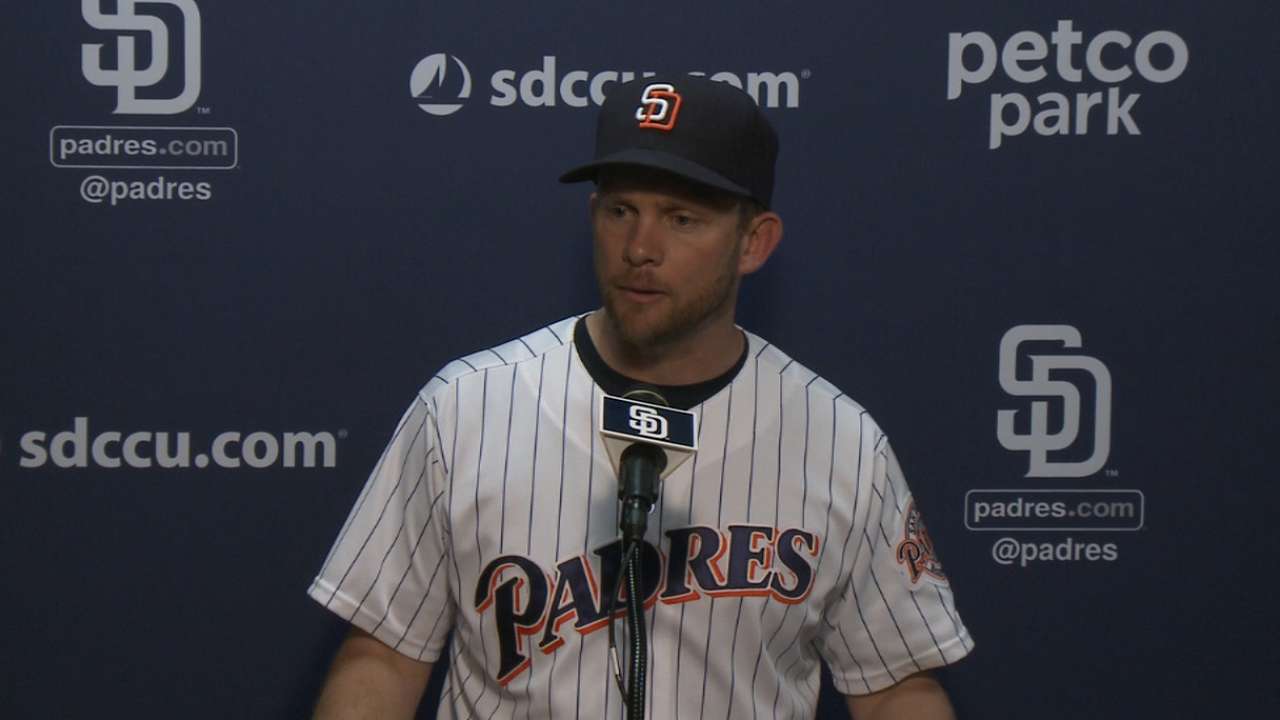 ST. PETERSBURG -- Whether it be because of injuries, trades or other necessities, some Padres prospects have gotten the call to the Major Leagues sooner than expected. As with such moves, some growing pains for the young players were to be expected.
Manager Andy Green doesn't want the players pressing too hard, reminding them to stay disciplined at the plate after they scored just six runs in the past four games.
"You have to be really stubborn with what you do well and stay true to that," Green said. "We are a team that needs to have the ball down in the zone to be successful, and if you look back the last few days, we have a ton of swings up in the upper third of the zone and balls out of the zone."
Green would like his players to avoid thinking of the opportunity to play in San Diego as a tryout for 2017. Going out and doing what got them to that point is the better school of thought.
"I don't want anybody to look at this as an audition, because then you're thinking about your future all the time," Green said. "This game is so hard that if you're not present in the moment, it eats you up. There's a lot of guys who have the opportunity to show who they are this day and not worry about the future.
"The guys that focus on today and not worry about what this means for tomorrow or next year, those guys are going to play better baseball. We have to send a continual message to them. They have an opportunity, and they have to go enjoy playing baseball."
What could make matters more interesting for future implications is when rosters expand on Sept. 1, giving even more players an opportunity to showcase their talents at the big league level. San Diego's Triple-A El Paso affiliate entered Wednesday with a seven-game lead in its Pacific Coast League division, with the postseason looming in September.
Having that postseason experience even at the Triple-A level could be just as valuable as time up in the Majors.
"Those types of atmospheres help their development in handling crucial situations at the Major League level," Green said. "There's things you have to execute in close games, in playoff games. Those playoff atmospheres teach you how to do that under stress. I think that's big to be able to do that as much as possible."
Greg Zeck is a contributor to MLB.com. This story was not subject to the approval of Major League Baseball or its clubs.