Miller likes new view of Tribe's defensive prowess
Challenge makes sure Lindor's sparkling play counts; Ramirez dazzles behind Kluber earlier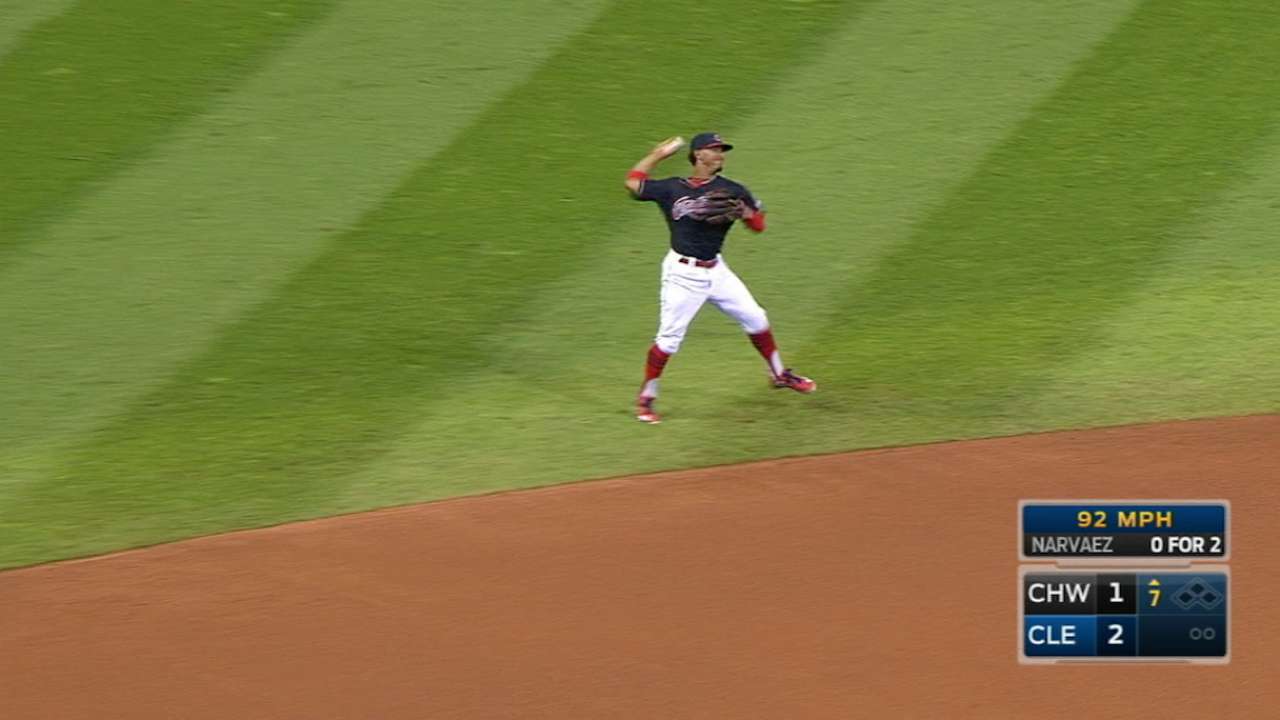 CLEVELAND -- Indians reliever Andrew Miller is still getting used to understanding the defensive wizardry of shortstop Francisco Lindor.
In the Tribe's 3-1 win over the White Sox on Tuesday, Miller entered the game in the seventh inning, and Chicago catcher Omar Narvaez connected on the lefty's first offering, which Miller thought was headed to left field for a base hit.
But Lindor went deep in the hole to backhand the ball, and he made an impressive throw to first. Initially, Narvaez was ruled safe on the close play, but the Indians challenged and the call was overturned after a review of one minute and 22 seconds.
"I thought I had a chance," Lindor said. "As soon as I caught it, I knew I had a chance. It was a catcher running. [Mike] Napoli grabbed the ball. It seemed to me he was out, but I wasn't 100 percent sure. It was too close for me to be sure it was a definite out. Then I saw the replay and was like, 'I think I got him.'"
"I saw him out, but I just didn't know if Nap was on the bag, which he was," Miller said. "No, when the ball was hit, I thought it was a base hit all the way. I thought it was lucky he got to it and just kind of a waste of energy. That was pretty special."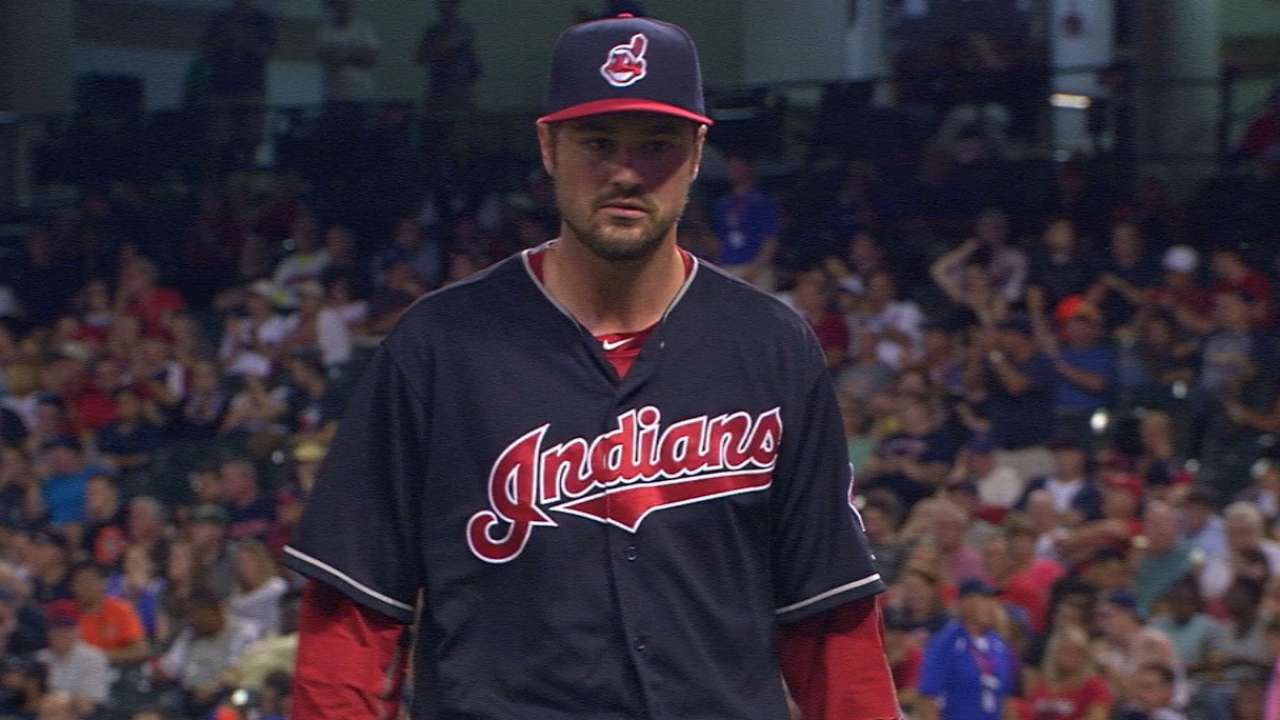 Miller retired the next two batters and completed a spotless frame on just six pitches. He came back out for a perfect eighth as well, and he credited the defense.
"There were some incredible plays, especially the first out, when I came into the game," Miller said. "So use those guys behind me. Strikeouts are nice at times, but I'll take ground-ball outs every time. I feel like, if I'm going to throw two innings, I might as well throw them as quickly as possible."
Miller wasn't the only one aided by a gem from the Indians' infield. Starter Corey Kluber also watched from the mound as third baseman Jose Ramirez flashed his leather against Narvaez in the fourth, charging a chopper and nearly making the diving catch before recovering and firing the ball to first from his knees to record the final out of the inning and stranding a runner at first.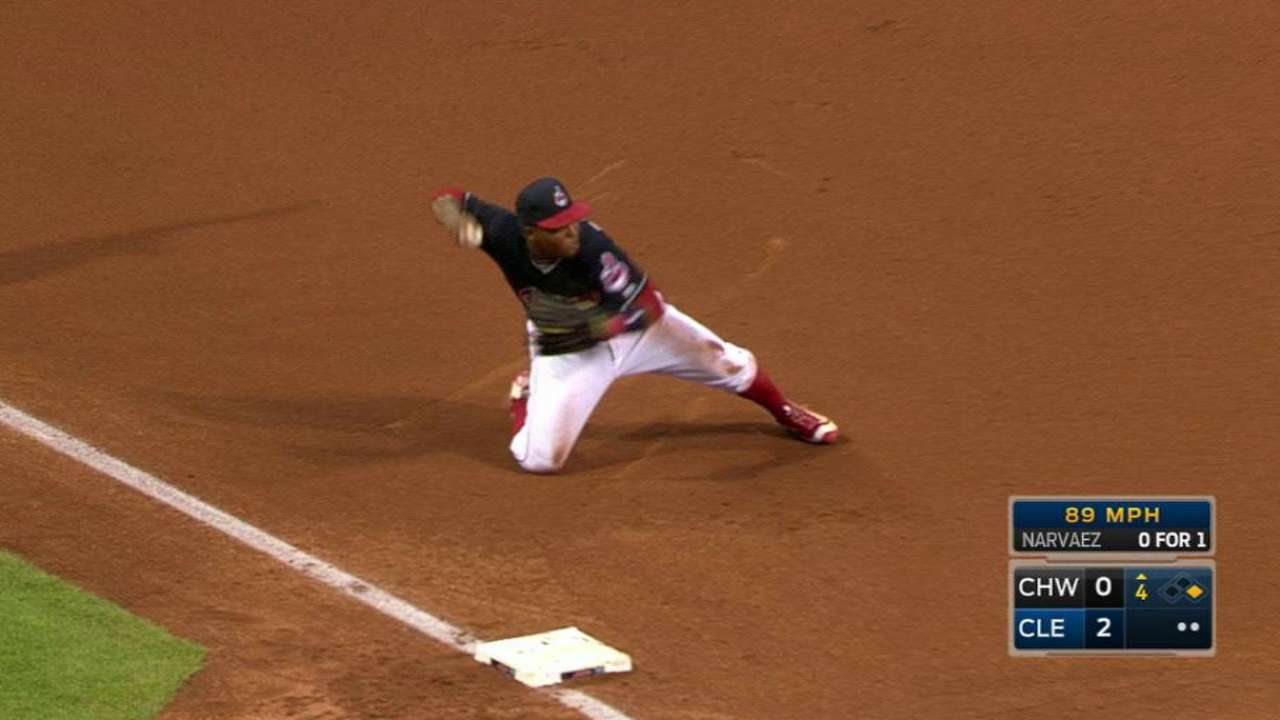 Like Lindor, Ramirez has routinely made superb plays since he's transitioned from the outfield to the hot corner.
"I don't think he makes those plays before," Cleveland manager Terry Francona said. "And I get it, because he's going back and forth. And the brunt of his work was in the outfield, because he hadn't played there. But, now that he's just been there, you can see he's getting his legs under him. His reactions are quicker. The ball has more carry."
The latest glove work played a big part in increasing the Tribe's lead to six games over the Tigers in the American League Central while also reaffirming Miller's confidence in his teammates playing behind him.
"It's increasing," Miller said. "It started pretty high, but [Lindor's] been incredible. I think top to bottom, our defense is really, really good. It's a lot of fun having those guys behind us and using them."
Shane Jackson is a reporter for MLB.com based in Cleveland. This story was not subject to the approval of Major League Baseball or its clubs.