Santana continues impressive run vs. Braves
After seven scoreless, right-hander is 5-2 with 1.84 ERA over last 10 starts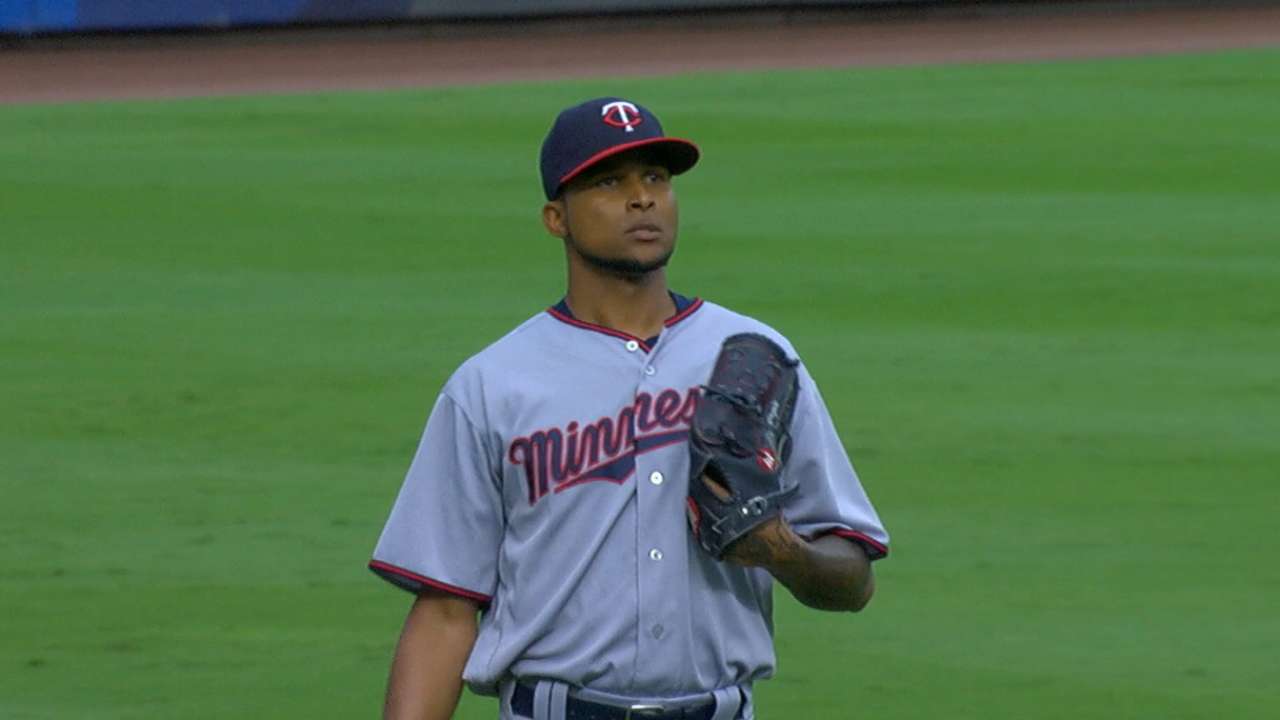 ATLANTA -- When Ervin Santana took the mound against the Yankees on June 19, he was 1-7 with a 5.10 ERA in 12 starts. Since that day, something has clicked for Santana, as he's been one of the best pitchers in baseball over the last two months.
Santana kept it going against his former team on Tuesday, as he tossed seven scoreless innings, scattering four hits and two walks in a 4-2 win over the Braves at Turner Field. Over his last 10 outings, Santana is 5-2 with a 1.84 ERA, which ranks as the best ERA in the American League over that span. The only other pitchers with a better ERA since June 19 are Cubs right-hander Kyle Hendricks (1.22 ERA) and Mets right-hander Jacob deGrom (1.76 ERA).
"I'm sure he wishes it was something he could bottle," Twins manager Paul Molitor said. "You enjoy the good trends in the game, and he's certainly been on one for a while. I think there was a point early in the year when we had to take a step back and evaluate how he went about his business. It was a little bit mechanical and a little bit mental, about slowing it down and not trying to overthrow."
Santana credited working on his mechanics during bullpen sessions for his turnaround, as he went through a similar stretch last year, when he had a 6.05 ERA through his first 10 starts before finishing the season with a 1.62 ERA over his final seven outings.
"I've just been working in the bullpen and doing my little things," Santana said. "And I've seen a difference."
Santana was well-rested headed into his outing, as his last start on Wednesday against the Astros was washed away due to rain after he had pitched 2 1/3 innings. He hadn't allowed a run in that start either, but the stats from the game didn't count because of the postponement.
So Molitor gave Santana more leeway with his pitch count, including let him hit for himself with two outs and a runner at first in the sixth inning with Santana at 89 pitches. Santana struck out to strand the runner, but followed it with a scoreless seventh.
The seventh, though, wasn't easy for Santana. Nick Markakis led off the frame with a single, before A.J. Pierzynski drew a two-out walk to put the go-ahead runners on base. Pinch-hitter Jeff Francoeur came to the plate and worked the count full, but Santana was able to blow a 94-mph fastball by him for his sixth strikeout.
"It was nothing but sliders until the last pitch, because I knew he was looking for it," Santana said. "So I threw a fastball. I was just trying to make a good pitch. I wasn't worried about velocity. I was trying to locate."
Rhett Bollinger has covered the Twins for MLB.com since 2011. Read his blog, Bollinger Beat, follow him on Twitter @RhettBollinger and listen to his podcast. This story was not subject to the approval of Major League Baseball or its clubs.