Slam extends streak for defensive-minded Barnhart
Catcher thinking less, doing more at plate of late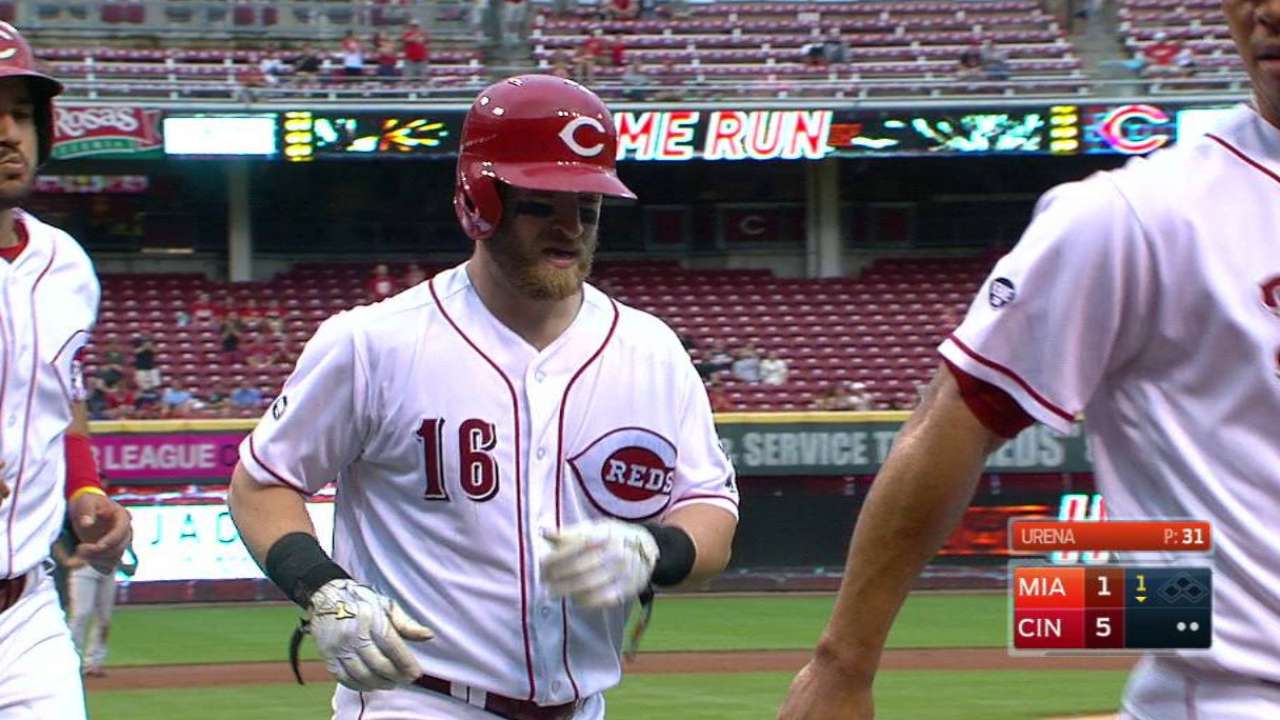 CINCINNATI -- In the areas where he places the most priority -- catching and defense -- it would have been more than enough for Reds catcher Tucker Barnhart to say he had a good night on Tuesday. Barnhart called a quality start for Anthony DeSclafani in a 6-3 victory over the Marlins, made a couple of putouts and threw out the speedy Dee Gordon trying to steal.
Barnhart also has repeatedly reminded opponents he can do plenty with his bat. It was his first-inning grand slam -- the first of his career -- off Jose Urena that gave the Reds a 5-1 cushion.
"I'm there to contribute on both sides of the ball," Barnhart said. "Being able to do that, it's really nice, especially when you've got a couple of guys banged up and out of the lineup and you'll be able to produce and give them those days or that day they need. It's nice."
• Grand slams mean 40% off pizza
That slam extended Barnhart's career-high hitting streak to 12 games. He is batting .357 (15-for-42) with two homers during the streak, and .308 over his last 37 games since June 22 to raise his batting average from .238 to .267.
Although he has been doing more at the plate, Barnhart noted that one of the things that has helped him is doing less behind the scenes.
"I have to say, I don't hit nearly as much as I used to, earlier in the season and in years past," Barnhart said. "I just give myself a mental break. I'm not up there thinking as much as I used to. I go in there, get loose, take BP and get ready to hit."
Barnhart, 25, is playing regularly for the first time this season, a necessity since late April when Devin Mesoraco was lost for the season because of left shoulder surgery.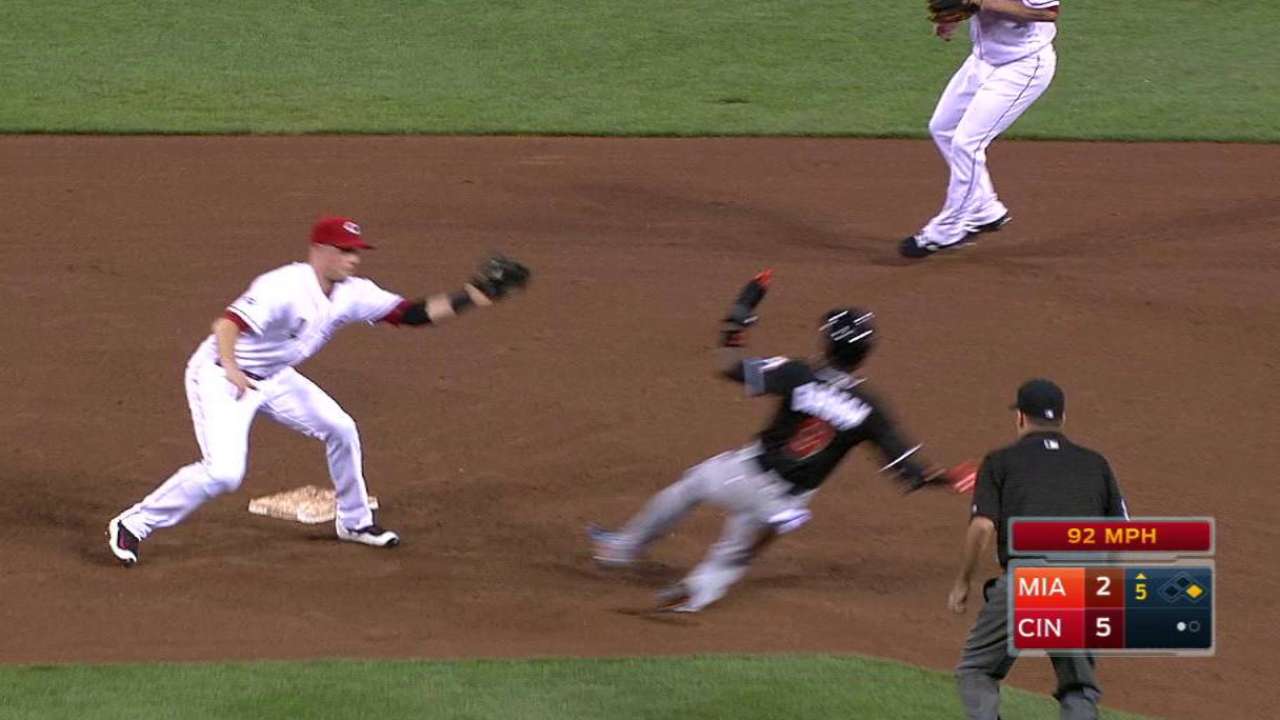 "He's been terrific, you know that," Reds manager Bryan Price said. "The question would have been, as a young player, can he handle the bat enough to play regularly? For me, if he's doing what he's doing as a defensive-first [catcher], that to me is paramount to a guy who plays regularly. Unless you're just some kind of offensive player, and he's doing a lot of both for us and [is] a big part of our turnaround here in the second half.
"The thing he gives you, and what I'm seeing is an at-bat you can trust, a green light on 3-0, or the ability to lay off a tough pitch to get into a good count, the ability to -- I'd hit and run with him, based on the circumstances, I'd squeeze with him. There's a lot of things I trust he can do offensively."
Since he's been in the organization, Barnhart has been known for his skills behind the plate. He won a Minor League Gold Glove Award in 2011 with Class A Dayton and spent the past two seasons as mainly a well-regarded backup who could call good games and limit mistakes.
Reds pitchers this season have often credited Barnhart for navigating them through a strong performance on the mound. He's worked particularly well with DeSclafani, who has also been pleased with what his catcher is doing offensively.
"He's been swinging real well. That's Tucker all season, I guess," DeSclafani said.
Mark Sheldon has covered the Reds for MLB.com since 2006, and previously covered the Twins from 2001-05. Follow him on Twitter @m_sheldon and Facebook and listen to his podcast. This story was not subject to the approval of Major League Baseball or its clubs.