Polanco showing power, prowess vs. lefties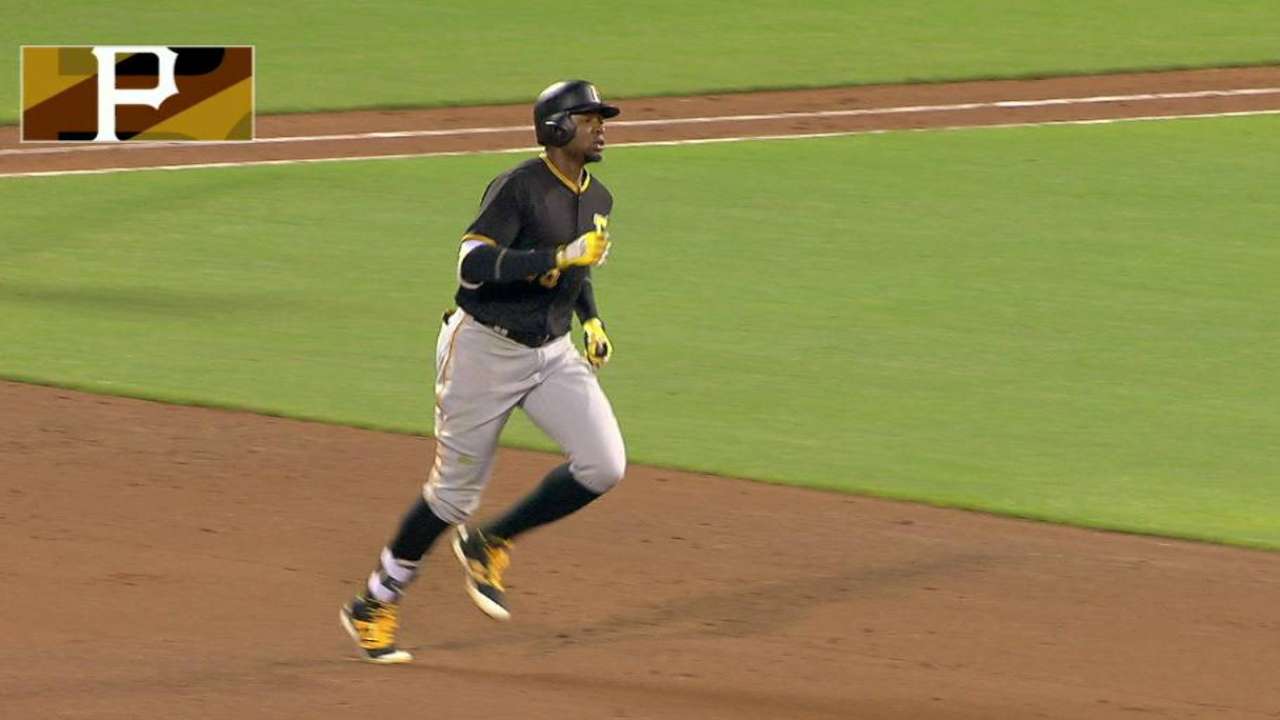 SAN FRANCISCO -- With one smooth, powerful swing Monday night, Gregory Polanco provided proof of two giant strides he's taken this year.
Batting with two outs in the sixth inning against Giants starter Matt Moore, Polanco swung at the first pitch he saw, a 92 mph fastball, and lined it just over the 24-foot wall in right field and into McCovey Cove. What was so significant about the two-run blast?
First, it was Polanco's 17th home run of the year, a team high and one more than he hit in 2014 and '15 combined. Polanco's power has emerged this season, a product of the 24-year-old's development and the changes he made to his swing this offseason.
Polanco entered Tuesday slugging .495 on the year after posting a .369 mark his first two years in the Majors. The former top prospect hit for power in the Minors, and the Pirates believed he eventually would do so in the big leagues.
"I always believed in that. It's very nice when you see the hard work that you put in, it's getting better," Polanco said. "I feel very happy and very proud for me and the people who helped me. Keep working because it's the beginning. I believe I've got more in me."
Second, Polanco's latest homer came off a left-handed pitcher. With a long, looping lefty swing, Polanco struggled to hit same-handed pitching the last two years. This year, he's posted a .267/.326/.488 line in 95 plate appearances against lefties.
"I feel much more comfortable this year because I'm facing more lefties. The more you face them, the better you get and the better you see them," Polanco said. "That's what it's about, to see more and to get better every day working."
Around the horn
• Manager Clint Hurdle shared two factors that play into his lineup construction: He prefers to avoid putting two high-strikeout hitters back-to-back to challenge pitchers, and he tries to space out left-handers by at least two batters to affect opponents' bullpen usage.
The latter was evident Tuesday, when Polanco hit fourth and first baseman John Jaso, the only other lefty in the lineup, batted seventh.
• Even though it wasn't a save situation, closer Tony Watson pitched the ninth inning of the Pirates' 8-5 win Monday night because Hurdle wanted to keep Watson sharp. Watson, who allowed an unearned run, had only thrown 21 pitches over the previous seven days; he recorded a three-pitch save and a four-pitch save during that span.
"For a closer to stay sharp, too, and he hasn't been in that role much, I wanted him to get a full inning of work," Hurdle said.
• Starling Marte recorded his 14th outfield assist Monday night, most in the NL and second-most in the Majors behind Adam Eaton's 17. Marte led the NL with 16 outfield assists last season and won his first Gold Glove Award.
Adam Berry has covered the Pirates for MLB.com since 2015. Follow him on Twitter at @adamdberry. This story was not subject to the approval of Major League Baseball or its clubs.