Rays set team record for runs scored over 3-game stretch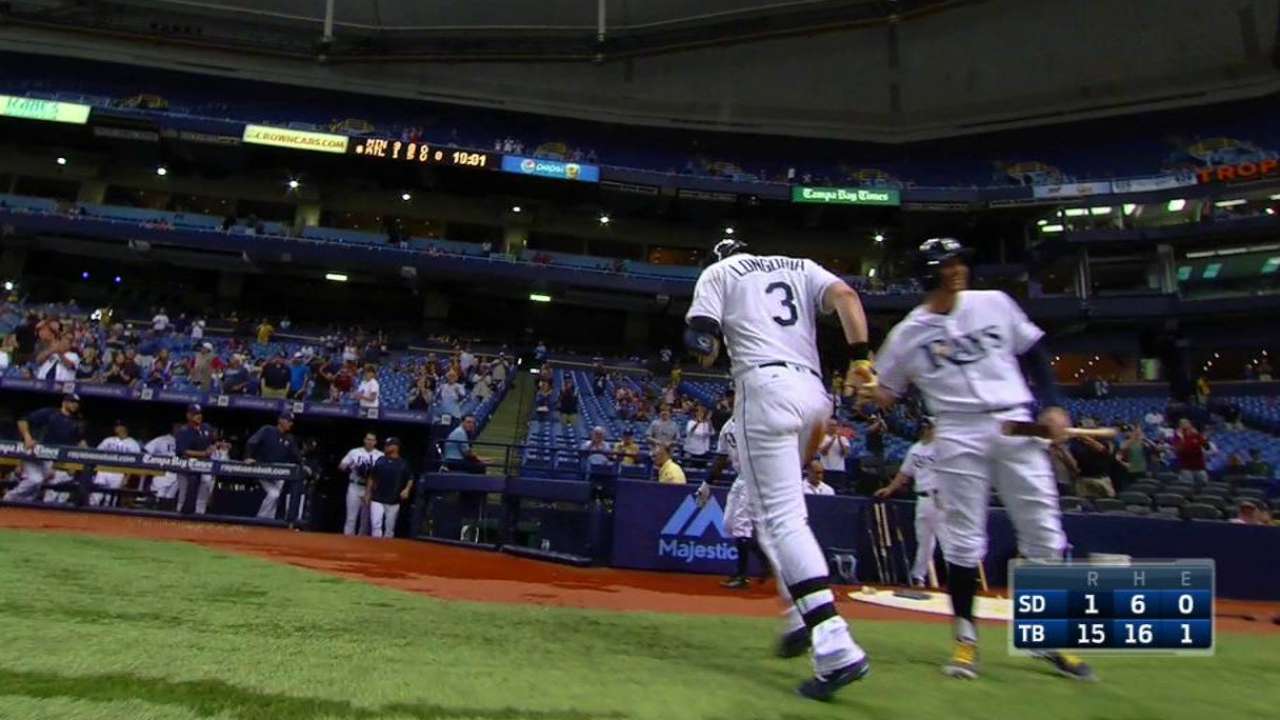 ST. PETERSBURG -- When Evan Longoria hit his 27th home run just over the head of a retreating Christian Bethancourt in left field, all it did was extend the lead in a win that had long been inevitable.
The Rays were up 15-1 in the seventh inning, the same score that they'd eventually defeat the Padres by at Tropicana Field on Tuesday.
The home run also gave the Rays 35 runs in the past three games, the most over any three-game stretch in the 18 years of baseball for Tampa Bay.
The Rays had 10 extra-base hits, tying a club record at The Trop. The 14-run margin of victory is the third largest in club history. The Rays have now outscored opponents by 52 runs in the second half, the most in the American League.
"What an offensive show we put on tonight," Rays manager Kevin Cash said. "That was fun to sit there and be a part of. Everybody played a part. Lot of home runs and a lot of good at-bats. Hard contact."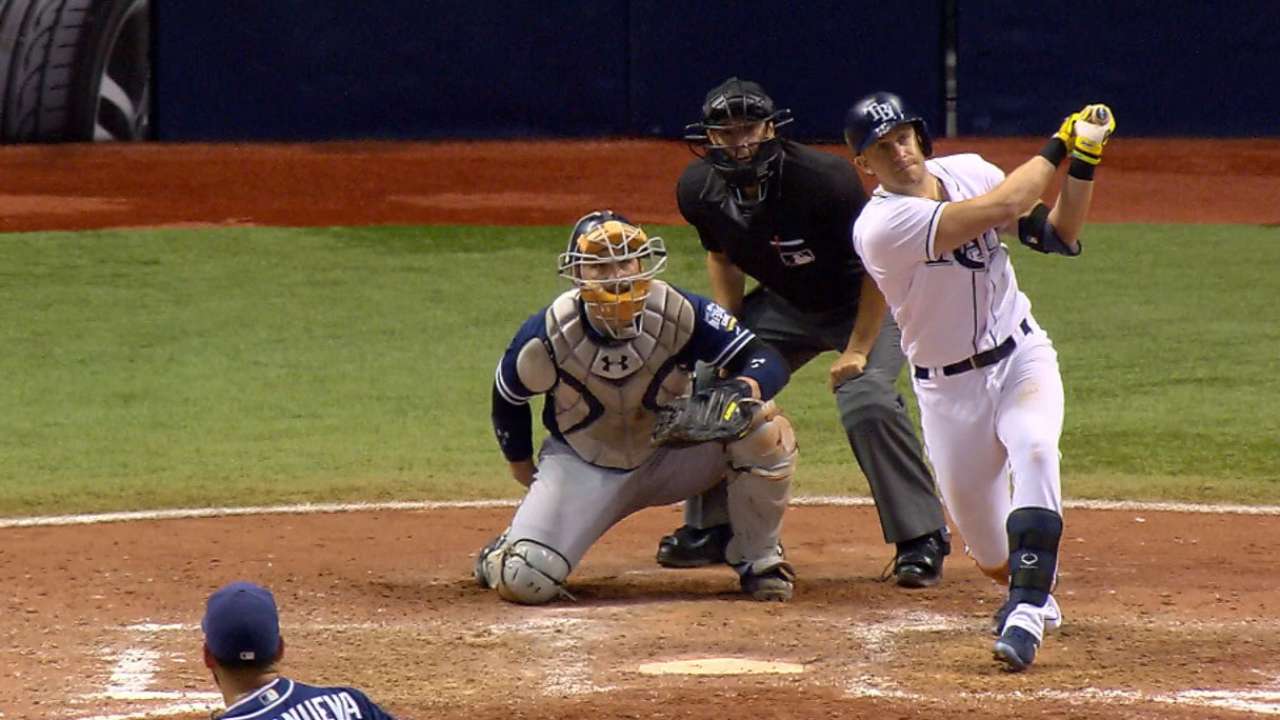 Luke Maile had three hits and four RBIs. Brad Miller had two homers, including a 446-foot shot as tracked by Statcast™. Longoria, Nick Franklin and Corey Dickerson hit homers. Logan Morrison had two doubles and the Rays had 16 hits and scored in each of the middle six innings.
The Rays won their third game in a row, and have outscored opponents by 29 runs during that stretch.
"It was awesome," Miller said. "We hit a ton of balls hard. A lot of fun. I like how we kept it going. Nobody gave away at-bats."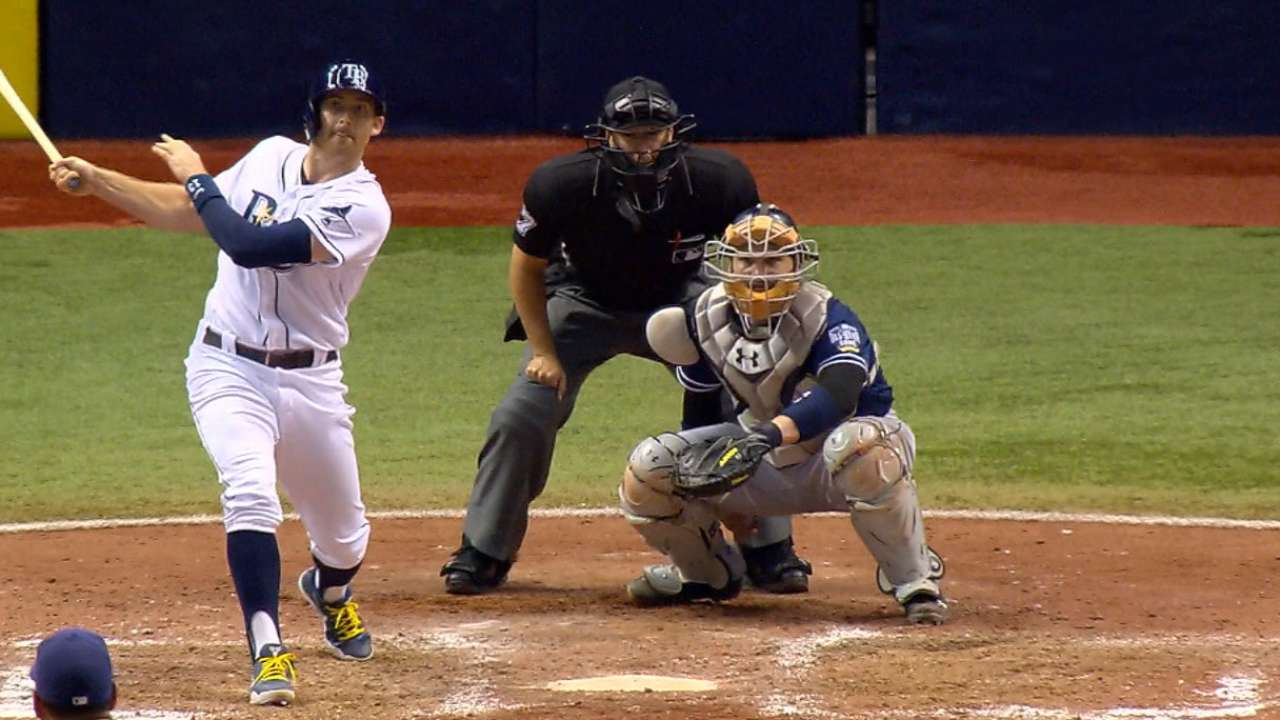 Miller hit a home run in the fourth inning that bounced off the batter's eye in center field. Cash said it was likely the "most impressive home run we've seen at this ballpark this year." Then for his encore in the fifth inning, Miller hit the batter's eye again.
At that point, the damage had been done by Maile, who started off the night with a three-run double in the second inning. He had another RBI with a single in the third inning to make it 6-0.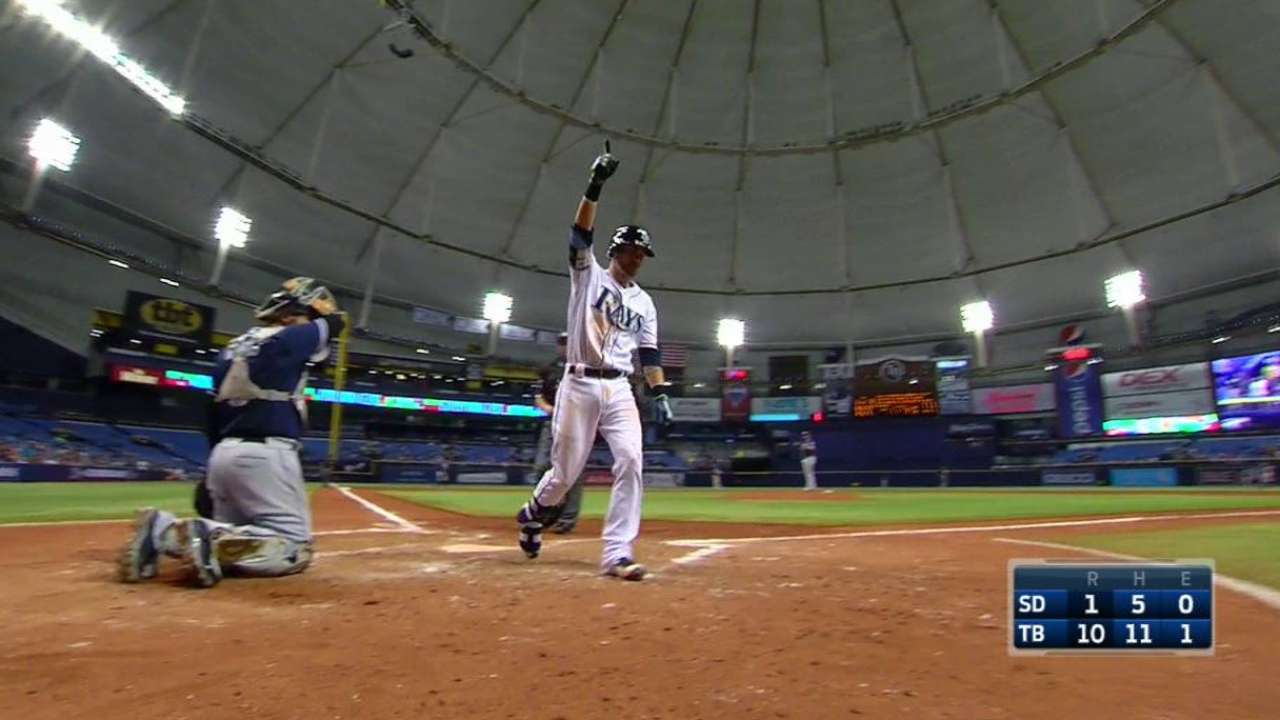 Padres starter Edwin Jackson said he "single-handedly [took] the soul out of the team" by giving up eight runs over four innings. Carlos Villanueva, his replacement, wasn't much better. He allowed four home runs in four innings, the most by any reliever in Padres history.
Nights like this for the Rays have been few and far between amid a tough season. But for a three-day stretch, there's never been a Tampa Bay team that's ever reached this kind of dominance.
Said Cash: "We've just got guys that are seeing the ball really well right now."
Sam Blum is a reporter for MLB.com based in Tampa. This story was not subject to the approval of Major League Baseball or its clubs.