Harrell exits with groin strain after 2 innings
Claudio steps up with 4 scoreless; Rangers likely to call up reinforcement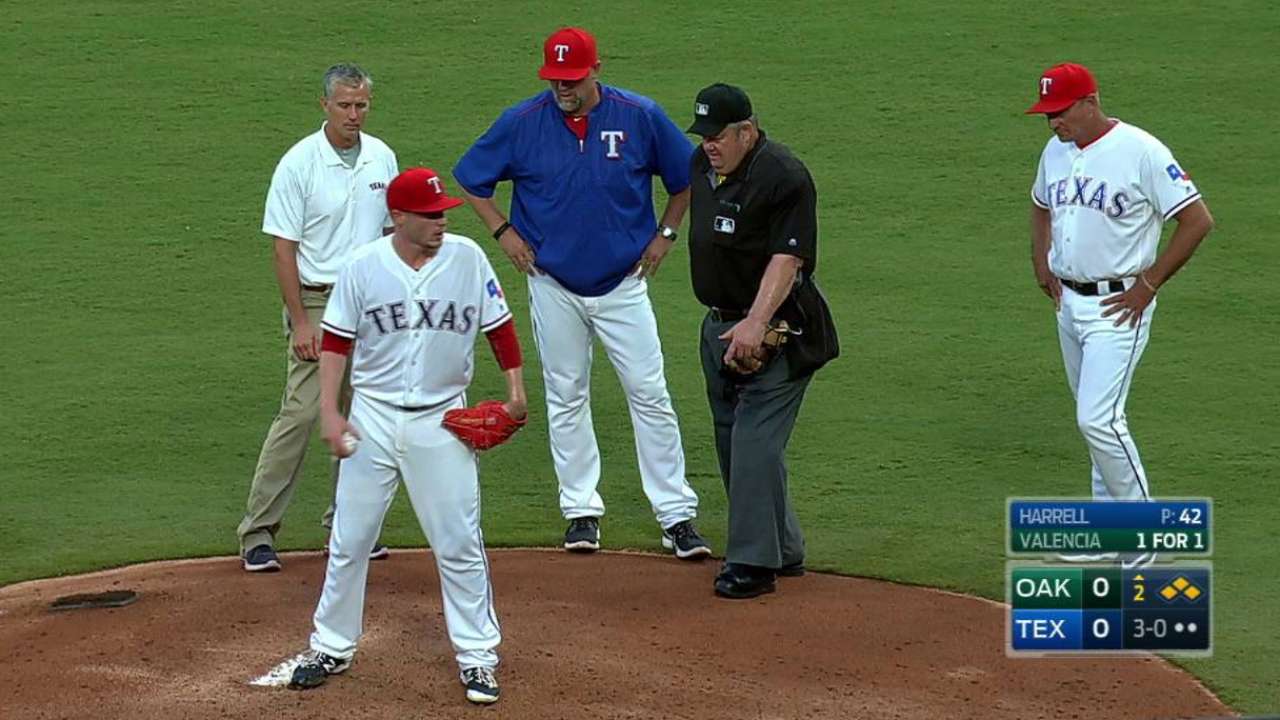 ARLINGTON -- Rangers right-hander Lucas Harrell exited his start against the A's on Tuesday after just two innings due to a right groin strain, leaving his next scheduled start on Saturday in doubt.
What seems certain is the Rangers will need to call up another reliever on Wednesday after needing eight innings from their bullpen in a 5-4 victory over the A's. Left-hander Alex Claudio, their long reliever, threw four innings.
"I'm sure we'll have to start considering having one available to us," Rangers manager Jeff Banister said.
A couple of candidates on the 40-man roster include right-handers Luke Jackson, Jose Leclerc and Nick Martinez, and left-handers Dario Alvarez and Michael Roth. All five have been with the Rangers this season.
If Harrell, who was acquired from the Braves on July 27, has to go on the disabled list, left-hander Derek Holland would be a candidate to take his place. Holland, who is eligible to come of the 60-day disabled list (left shoulder inflammation) on Saturday, threw five innings in his third rehab start with Triple-A Round Rock on Monday.
The Rangers could also go with a four-man rotation until Aug. 27 because of off-days on Thursday and Monday.
With the bases loaded in the second, Harrell slipped on the follow-through of his first pitch to Danny Valencia. After going to a 3-0 count, athletic trainer Kevin Harmon, manager Jeff Banister and pitching coach Doug Brocail went out to look at Harrell. He remained in the game, but walked Valencia to let a run in before getting a flyout to end the inning.
"I don't know, [groin] was just tight. Usually it loosens up, but today I felt a little twinge and, you know, kind of just going from where we're at now," said Harrell, who will likely get an MRI on Wednesday. "In the second inning, the second batter, I felt [the tightness] a little more than normal. It felt kind of better when I stretched and I was thinking maybe it was all right."
Claudio replaced him in the third to begin the eight-inning bullpen effort, which included Sam Dyson's fourth blown save of the season. Claudio worked four scoreless innings before giving way to Jake Diekman in the seventh. It was the second-longest outing of his career, allowing just two hits and a walk.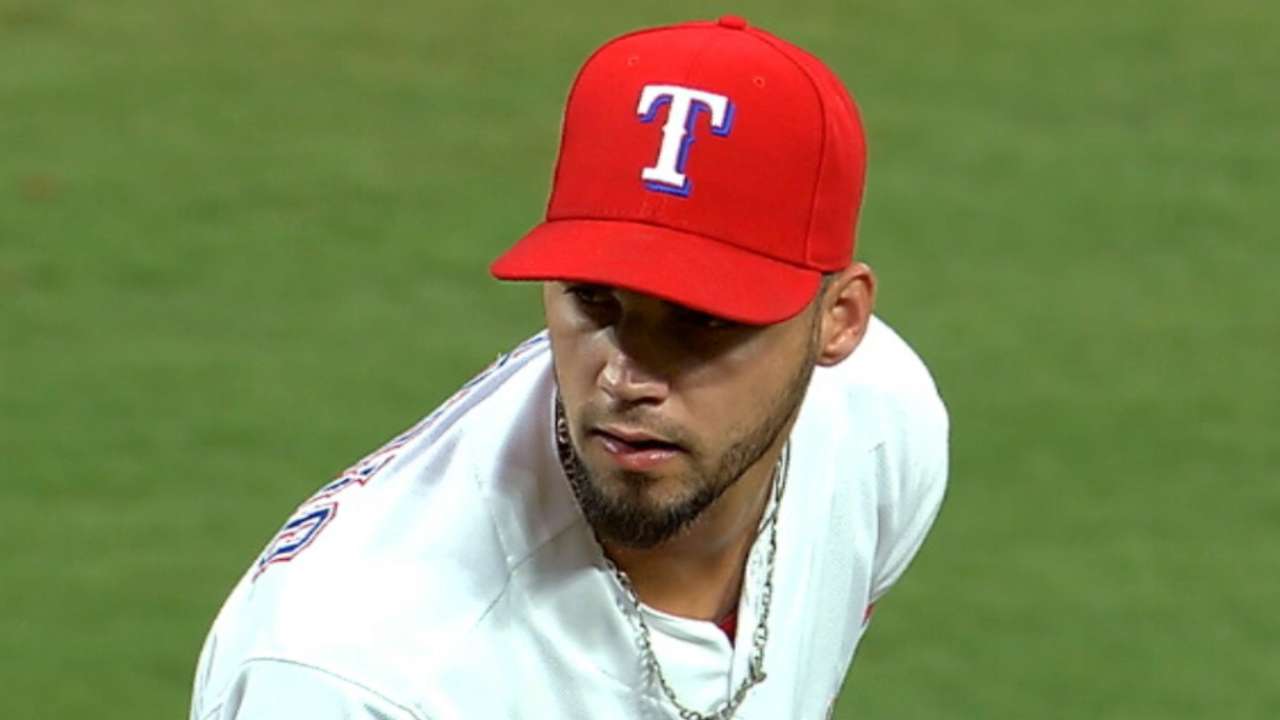 "I'm always ready for this kind of situation because I know I'm not going to pitch every single day," Claudio said. "But when these things happen, I need to be ready and tonight I was. I was able to throw strikes and keep the ball low."
Since being recalled from Round Rock on July 8, Claudio has given up three runs (one earned) over 18 1/3 innings in his fourth stint with the Rangers this year. He's been the club's long man in relief in his latest stint, and has also earned trust to work in middle relief.
"This guy has continued to pick us up, over and over again," Ian Desmond said. "It's a heck of a lot easier to get guys out throwing 98 mph, but throwing 85 mph with sink and locating -- it's an art, what he does. I've got a ton of respect for him."
Scheppers begins rehab assignment
Right-hander Tanner Scheppers, who is on the 60-day disabled list following left knee surgery in February, began his rehab assignment with Double-A Frisco on Tuesday. Scheppers threw 15 pitches (seven strikes) in a scoreless inning, working around a hit and a walk.
There has been no announcement on the next step in his rehab assignment. Brocail said on Saturday that the Rangers want to see Scheppers throw every three days until the end of the month before the club makes a decision on when to activate him.
Ryan Posner is a reporter for MLB.com based in Texas. This story was not subject to the approval of Major League Baseball or its clubs.