Health a contributing factor to Cruz's success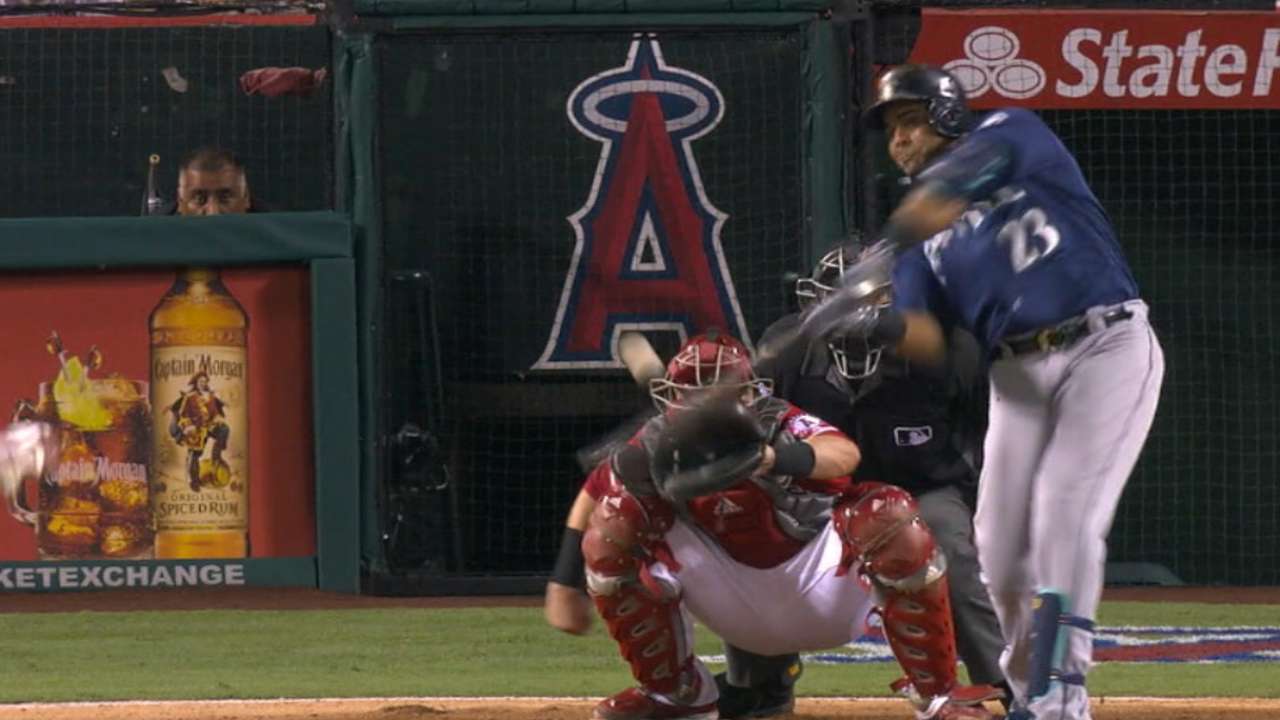 ANAHEIM -- Nelson Cruz reached the 30-home run mark for a third straight season in Monday's 3-2 win over the Angels and that's something the Mariners slugger doesn't take for granted.
Cruz hit 30 home runs just once in his first eight seasons in the Majors, but now has done it three more times over the past three years -- hitting 40 with the Orioles in 2014, cranking 44 last year for Seattle and now reaching 30 with nearly a third of the season still to play.
Only Cruz and Edwin Encarnacion of the Blue Jays have reached the 30-homer mark for the last three seasons. Mark Trumbo of the Orioles leads the Majors with 34 home runs, while Cruz is tied for fourth with his 30 going into Tuesday's games.
Cruz said it's pretty simple why he's having such consistent production now at age 36. After years of dealing with leg injuries in Texas, he's trained harder in the winter and through the season to stay strong and healthy and the payoff is clear.
"Just to be able to play many games, that's the difference from the past," said Cruz, who played more than 128 games in only one of his eight seasons with the Rangers. "With other teams I wasn't able to stay on the field for long and now I'm preparing myself and my body and know what to do. As soon as the season is over, I start working out. And during the season, too. I've been blessed."
Mariners manager Scott Servais said Cruz's diligent work isn't limited to the weight room.
"The preparation is awesome," Servais said. "We have all the video and the programs where everybody gets the video sent to their iPads. He watches more video than anybody else on our team. That says a lot.
"He knows the league and the league knows him, but he has a very good idea of what he's looking for and is able to make adjustments and it's paid off. He's gotten a lot smarter and that's the veteran, where sometimes you get a little older and maybe a little slower and all this other stuff, but you also get a lot smarter and you can make up for it."
Servais worked with Cruz in his younger years in Texas when he was the Rangers farm director and said he has indeed developed a better workout regimen as well.
"He had all kinds of leg problems when I was with him in Texas," Servais said. "He missed a significant time almost every year it seemed with a hamstring, quad or calf. It's gone away, so it's certainly a testament to him taking it seriously in the offseason and doing what he needs to do to prepare.
"But mentally, this guy is there every night. He really is. A key part of our club, besides the 30 home runs, is how he brings it and prepares every night."
Greg Johns has covered the Mariners since 1997, and for MLB.com since 2011. Follow him on Twitter @GregJohnsMLB and listen to his podcast. This story was not subject to the approval of Major League Baseball or its clubs.