Stiff back keeps Walker out again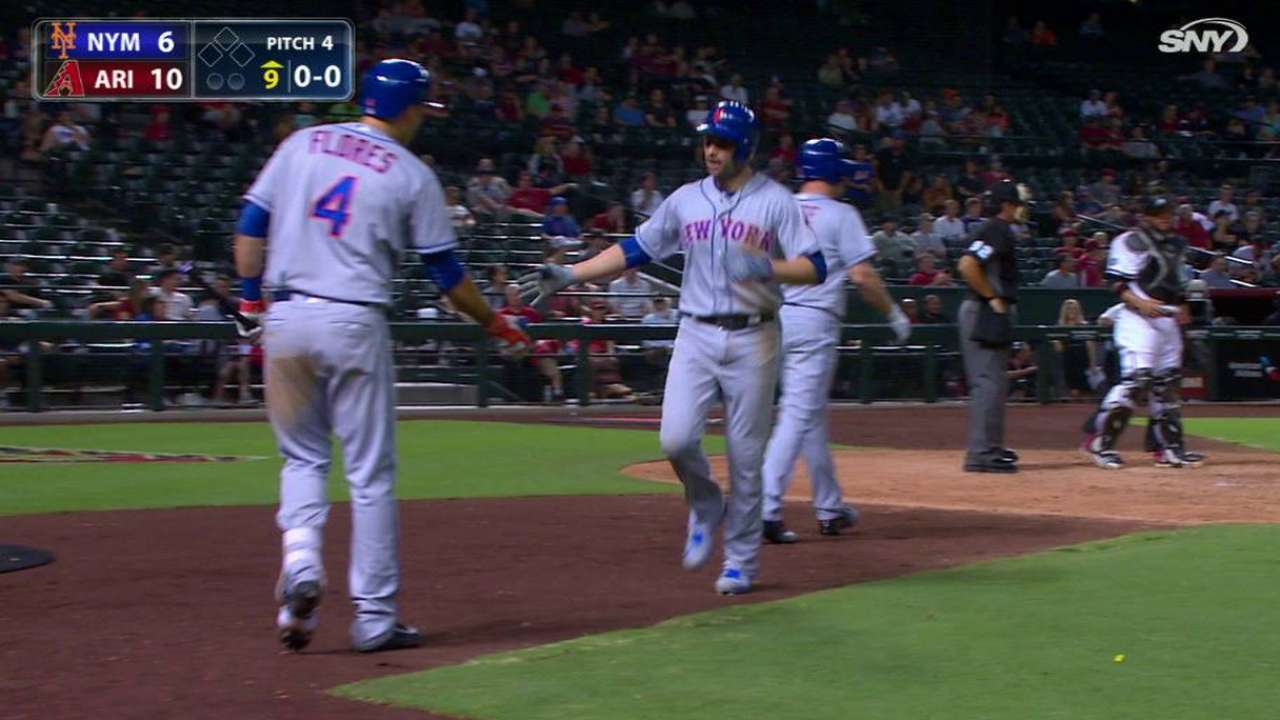 PHOENIX -- Mets second baseman Neil Walker was scratched from the starting lineup before Tuesday night's 7-5 win over the D-backs because of lower back stiffness. He was also left out of the lineup for the series finale on Wednesday and is considered day to day.
Walker, who has played in 20 consecutive games, experienced stiffness in the same area in June and missed three games.
"Anytime it's the lower back, it's day to day, and that's why I took him out today," Mets manager Terry Collins said. "He wanted to play and I said, 'Not today.' I don't need this to tighten up. Due to the weather we have been playing in, these guys have been sweating a lot and the last thing we need is for his back to knot up. I told him to get some treatment tonight and hopefully, he's OK tomorrow."
The Mets will miss his bat in the lineup. Walker is hitting .455 with two doubles, one triple, six home runs and 14 RBIs in 19 games since July 27. He's also scored 14 runs during that span and has hit four home runs in his last eight games. He hit his 22nd home run in the ninth inning of Monday's series opener, putting him one off his career high.
The club had already made plans to play without the infielder this week. Walker's wife, Niki, is expecting to give birth to the couple's first child anytime, and Walker will go on paternity leave when the baby is born. The baby's due date was Tuesday.
Worth noting
• Yoenis Cespedes went 0-for-3 with an RBI groundout as the designated hitter for Class A Advanced St. Lucie on Monday night against Jupiter.
Cespedes, who has been on the disabled list since Aug. 4 with a strained right quadriceps muscle, played seven innings in left field for St. Lucie on Tuesday, going 0-for-3 in the first game of a doubleheader. He's scheduled to play left again on Wednesday before rejoining the big league club on Friday for the weekend series against the Giants in San Francisco.
"I feel perfect," Cespedes told reporters as he left the game. "I'm going to play nine innings in left field tomorrow for St. Lucie and then hopefully join the team in San Francisco."
• Injured infielder Asdrubal Cabrera, who has been on the DL since Aug. 1 with a strained left patella tendon, started at shortstop for St. Lucie in Tuesday's nightcap.
• Justin Ruggiano, who has been on the DL since Aug. 2 with a mild left hamstring strain, went 1-for-3 for Triple-A Las Vegas on Monday.
Jesse Sanchez is a national reporter for MLB.com based in Phoenix. Follow him on Twitter @JesseSanchezMLB and Facebook. This story was not subject to the approval of Major League Baseball or its clubs.