Hamilton has knee contusion among bumps, bruises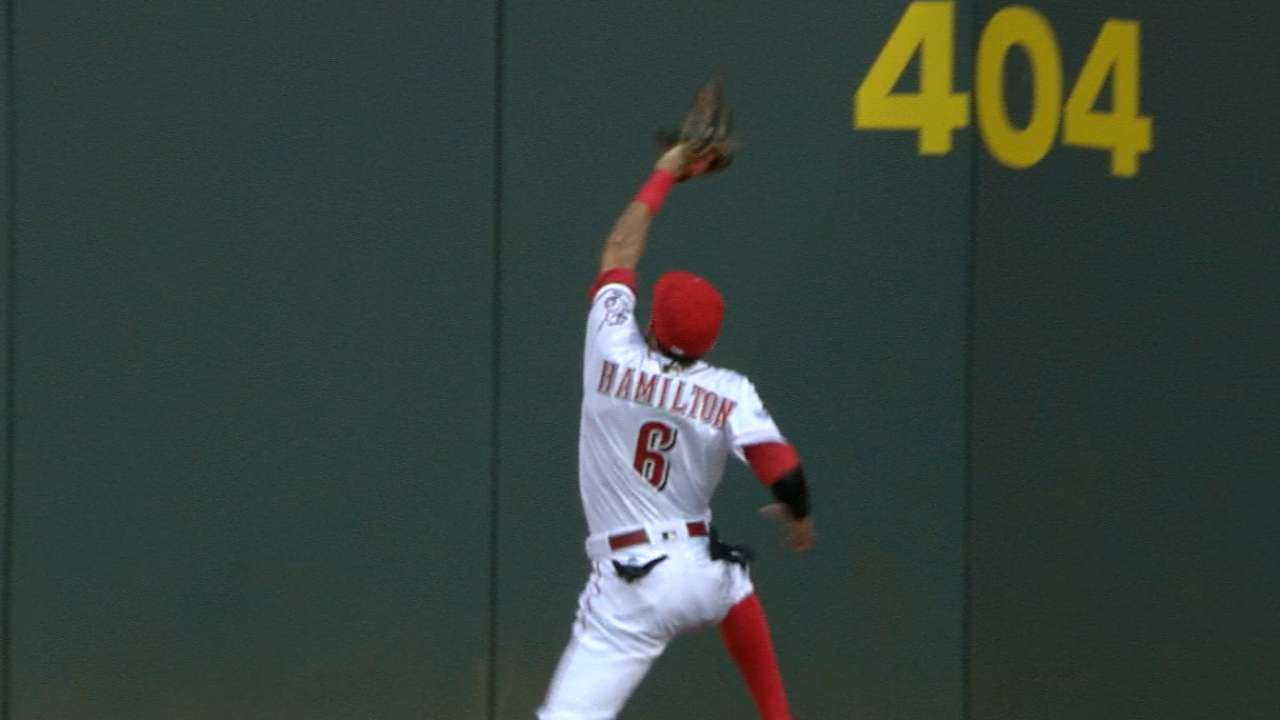 CINCINNATI -- When Reds center fielder Billy Hamilton woke up sore Tuesday morning, he felt similar to how one feels the day after a hard-impact collision. In essence, because of his speed, Hamilton's crash into the wall on Monday was probably pretty similar to one.
Hamilton, who exited Monday's 6-3 loss to the Marlins before the fifth inning, slammed into the center-field wall in the third inning trying to catch Martin Prado's fly ball. The speedster was diagnosed primarily with a right knee contusion, but described also feeling sore in his shoulder and entire right side.
"Full speed into a wall," Hamilton said Tuesday afternoon. "That wall came up faster than I thought it was. I've hit the wall a few times this year, but this one was the worst one, I think. It's not moving, I'm the one moving. The wall 6, me 0. I haven't beaten the wall yet, I'm not sure I've beaten the wall yet. The wall is undefeated."
Hamilton was not viewed as available to play on Tuesday. He planned to undergo more treatment in the training room.
"I'm not doing anything today, but I think in the next couple of days, I should be doing better," he said.
Hamilton has given up his body to make plays since he debuted in 2013, but has paid for it. Among the injuries -- he suffered a concussion during a wall collision in September 2014, and in August of last season, he tore the labrum in his right shoulder trying to make a diving catch.
Reds manager Bryan Price was asked if the club would direct Hamilton to use more caution.
"If he misses too much time because these two- and three-day periods where he can't play because of injury due to his style of play, it might be something somewhere down the line we might have to address," Price said. "At this time, I think it's how he plays the game, and I would hate to talk him down from that level of play."
Hamilton is batting .263/.319/.361 this season and leads the Major Leagues with 51 stolen bases. He's batting .321 with a .393 on-base percentage and 29 steals over his last 26 games.
In the midst of one of the best stretches of his career, Hamilton wasn't worried about the injury stopping his streak of production at the plate.
"My approach is still there, I'm not going to change anything, so I feel like it'll be better to come back into it after these couple of days than it has been in the past," Hamilton said.
Mark Sheldon has covered the Reds for MLB.com since 2006, and previously covered the Twins from 2001-05. Follow him on Twitter @m_sheldon and Facebook and listen to his podcast. This story was not subject to the approval of Major League Baseball or its clubs.