Braun day to day after spraining knee, ankle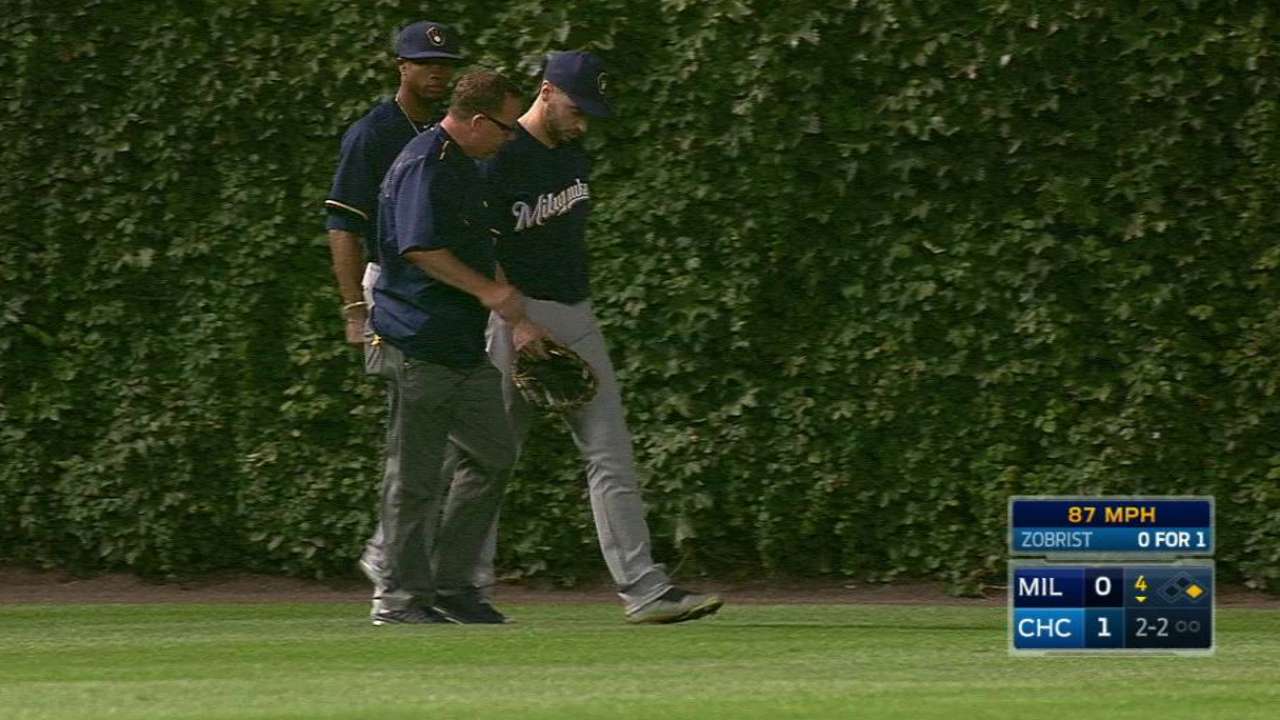 CHICAGO - Ryan Braun and the Brewers were feeling fortunate Tuesday that their painful doubleheader against the Cubs didn't turn out worse.
Besides losing both games, the Brewers lost Braun and starter Chase Anderson to injuries in a 4-1 defeat in the nightcap. Braun walked off the field gingerly in the fourth inning after sliding hard into a padded wall along the left-field line in an effort to catch a foul ball, and said later that he'd suffered a sprained left knee plus a sprained ankle, but no apparent ligament damage.
"I think, all things considered, it's the best-case scenario," Braun said. "We'll know more [Wednesday] when we see how swollen it is in the morning. If it's really swollen, then we might end up getting an MRI. But MCL, ACL, all that stuff, is all intact. That's a good thing. I feel fortunate."
As Braun slid into the wall, "you're fearing the worst," said Brewers manager Craig Counsell.
"We think we dodged a bullet there," Counsell said. "The doctor checked everything out. Everything looks good. We're just going to be day to day with him right now."
According to Statcast™, Braun reached a top speed of 21.1 mph in pursuit of the fly ball. He slid with his right leg extended and his left leg bent.
"I hit the wall hard," he said. "I slid quite a bit later than I should have, but obviously the ball wasn't foul by very much, so I didn't have a choice. I've played here enough to know there's not a lot of foul territory. As I slid, I kind of got stuck and my knee twisted a little bit. It didn't feel good."
Braun was 0-for-3 Tuesday, including his pinch-hit flyout in Game 1 of Tuesday's doubleheader, but entered the series swinging a hot bat. Including his two-homer effort on Sunday against the Reds, Braun entered the week hitting .392 (31-for-79) with nine home runs over his last 22 games. He carried a .962 OPS into play Tuesday, good for third in the National League.
With Braun out of the game, Ramon Flores took over in left field for the Brewers and logged their top defensive highlight all day. Flores' strong throw home in the fifth retired Matt Szczur and kept Milwaukee's deficit at the time to 1-0. The Cubs challenged, arguing that Szczur got a hand on the plate before he was tagged, but the umpires lacked sufficient evidence to overturn their original call, and it stood.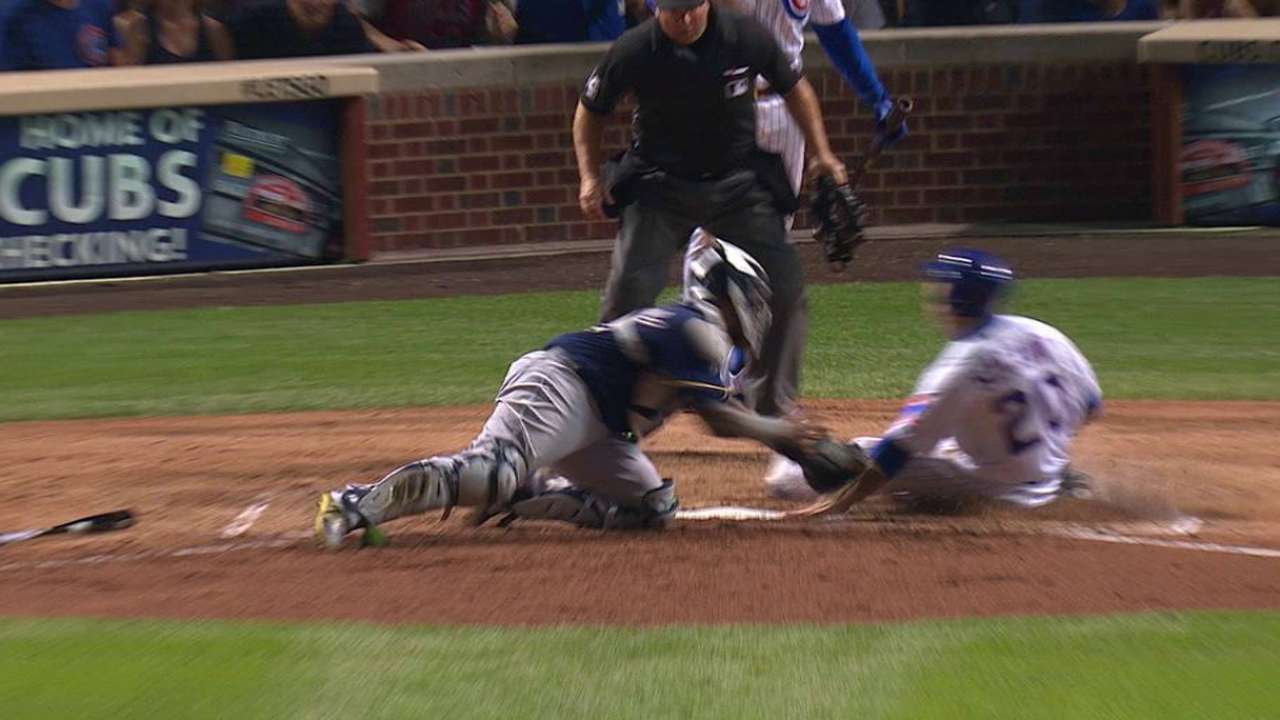 Flores is one candidate to man left field if Braun requires some days out of the lineup. Opening Day right fielder Domingo Santana is also nearing a return from the disabled list; he played his first game Tuesday at Triple-A Colorado Springs on a rehab assignment.
Adam McCalvy has covered the Brewers for MLB.com since 2001. Follow him on Twitter @AdamMcCalvy, like him on Facebook and listen to his podcast. This story was not subject to the approval of Major League Baseball or its clubs.